There was the final scheduled league game (against Barnsley), then there was the final EFL game (the play-off second leg against Swansea) and finally a very last and final game, a B Team match in the London Senior Cup. For some it felt like 'more farewells than Frank Sinatra' or more recently, Simply Red's 'Farewell (The Final Tour)' first held in 2011 and now taking bookings for 2021.
Few would have predicted that Erith Town of the Southern Counties East League Premier Division would have been the last visitors to play at Griffin Park. Our 6-3 win had some extra symbolism as a team of our young hopefuls played an exciting version of our club's brand of football making it an appropriate transition to our new stadium. Peter Gilham was there to bless the proceedings and admitted he was emotional before his final sign-off to Brentford's home for 116 years 'Thank you Griffin Park. Thank you for everything'.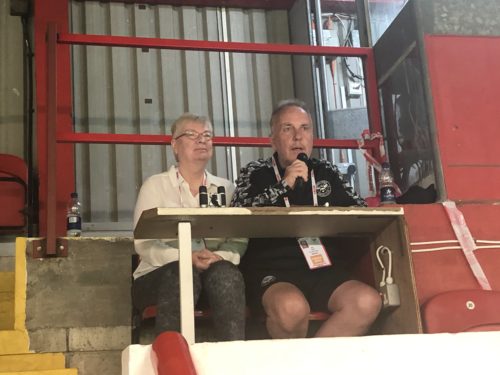 More than 3,500 other Bees fans were able to say their own farewells to Griffin Park as a result of tours of the ground organised by the club. There were 39 tours most days- all COVID compliant of course- of up to 15 people at a time, all guided by staff or volunteers through sun and rain.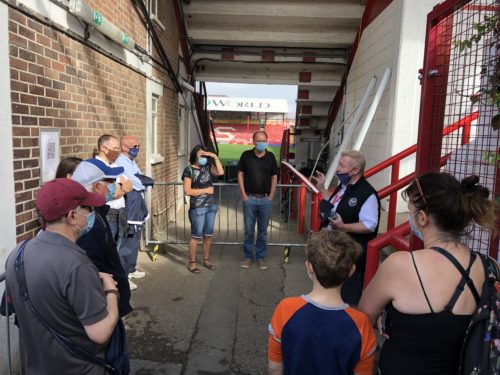 There was even a marriage proposal. Heather Maundrell decided she wanted to propose to Tim Griffiths at one of her favourite places in the ground where they first met. When they reached that point she went down on one knee and proceed and Tim said yes.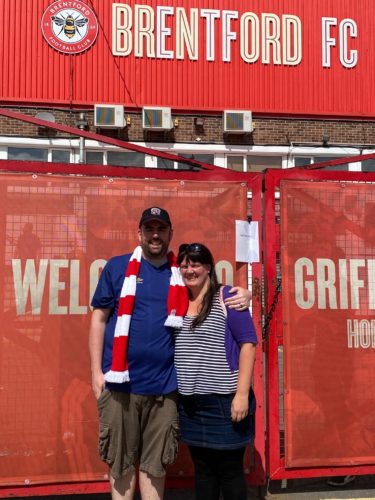 Tim, who'd been going to Griffin Park for 30 years then tweeted about it.
I thought I was going for a last look round Griffin Park to say goodbye.

I didn't dream I'd end up saying Yes! #BrentfordFC #Engaged pic.twitter.com/U6JsajpLU5

— Tim Griffiths (@TimGradio) August 24, 2020
Overall the tours produced great feedback from those who'd taken part : 'what a fantastic experience' and 'walking around our creaking fortress was extremity poignant and quite emotional'. Fans praised the tours themselves, the tour guides and the sensitivity that was shown by all concerned as fans bade farewell. The Rev Peter Crumpler, a Church of England priest and a Bees fan, wrote in an article for a Christian website that 'Thousands of pilgrims have been descending on a west London place of worship as it prepares to close after 116 years of playing a vital role in its local community'. His article is here. West Country Bee and BU Board member John Scott has written about how much he enjoyed his tour, that's here.
There was praise too for Brentford from fans of non-league clubs who had asked Brentford if they could have any equipment left over from the closure of Griffin Park. Some Bees fans would like to have bought the seats they had sat in at Griffin Park for so many years but for health and safety reasons the club weren't able to do this.The type of paint on the seats is unsafe inside a building. However they remain safe in the open air and the club were contacted by at least a dozen non-league clubs asking if Brentford could donate to them items from GP including seats. The first many Bees fans knew of this was when one supporter tweeted that a block of seats had been removed because 'seats have been SOLD to a non-league club'. The fact that these were gifts from Brentford not sales became clearer when the recipient clubs began telling their own supporters.
Non-league clubs are not the only people to have a piece of Griffin Park to call their own. An online auction of around 400 'stadium assets' and another 400 'memorabilia assets' created great interest among Bees fans and collectors in general. More than 12,000 bids were submitted before the auction closed.
Amidst all this activity the unsung heroes were the Brentford staff. Operations Director Alan Walsh and Operations Manager Dave Gregg, working from the tiny office they share at Griffin Park, have been dealing with double deadlines – moving out of our old ground so that the demolition crews can move in and getting our new stadium ready in time for the first games of this new season. 
Sally Stephens, who is in charge of Fan and Community Relations, not only organised the tours but personally put up the fan flags at Griffin Park and Wembley. The morning after the play-off final, when we were all consoling ourselves, she had to take all the flags down again and get them back to their owners.
The smiles that greeted arrivals for the tours belonged to two familiar faces to Bees fans; Peter Reeves who conducted 31 tours and Madeline (Mads) Tarrant.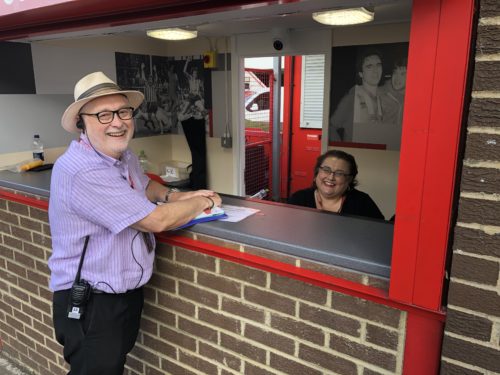 Our thanks to them and to all those who worked with them.