From the Chair
Brentford FC is part of my family history and I was used to few home wins, barely any away wins, rare occasional Cup runs and never any promotions. Everyone knew about Griffin Park, with a pub at every corner of the ground as well as being (at the time) the longest serving members in the Third Division. That was the life a Brentford fan knew and accepted in those days, and I had managed to hone my response to the " Why do you support Brentford?" questions to a pithy "for the glory and the trophies".
Now, knowing where we have come from we are in very different place as a club in almost every respect – other than the friendly community feel.
As Bees United we summarise what we are, and how we run ourselves, in four ways, which we call our "Four Pillars" to remind us of where we come from and what we want to be. Our past has to be part of our future.
Our Vision, Standards and Principles
Vision
To Promote and protect the history and heritage of the Club
We want fans to know and understand where we have come from as a Club. There have been near disasters that have threatened our existence but we remain here and we want to cherish the history and heritage of a club formed in and part of the local community since 1889 and how that heritage has led to the culture and values that the Club has today.
Brentford FC has been around since 1889, there is a lot of social history and there is a lot the club has done in the community since it began.

Management
Maintaining first class governance and financial management of Bees United with a view to growing the membership.

Representation
In discussions with the Club we represent you, our members, and the wider local community on decisions that are taken. Bees United has unique influence through our director seat on the BFC board going back to 2003. We also 
Co-Chair (and have 4 representatives) on the Club's Fan Advisory Board.

Sharing with you
We aim to have increased transparency of what we do as BU Board, we will share information and provide opportunities for you the fans and our Members, to give your personal views and input.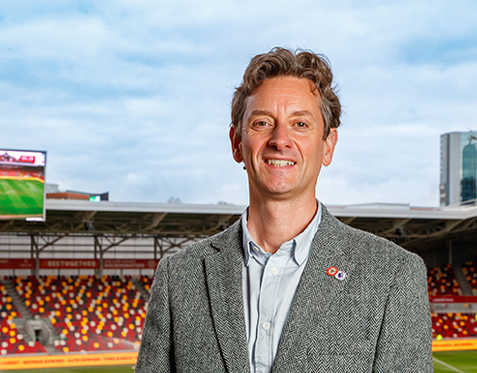 These are the most exciting times in the club's history at least within living memory) and my ambition is for us to ensure that we never forget any part of the stories which are our history.
We want Bees United to be something that you are all proud to be members of and for you all to feel engaged with your BU Board and for the aims of this organisation to be relevant to you all and for you to see how we can contribute to the Club and the community.
Our past is a very important part of the reason why BU exists and also an important part of BU's future.
Where did we come from
In 2000-01, the owner, Ron Noades, had concluded that the Club could not be financially sustainable at Griffin Park. Under his stewardship the Club had lost over £1.5 million. His simple strategy was to sell Griffin Park to a housing developer, create a ground share with a non-league club outside the borough and therefore pressure Hounslow Council to find us a new site within the borough. The Club had actually applied for and achieved outline planning permission for housing on 
Griffin Park.
The stadium was an issue, the ownership was an issue and the results didn't help.The fans group, BIAS, set up in 1998 and led by Chairman, John McGlashan, decided to set up a supporters trust.
At a public meeting in March 2001, the response to this idea was favourable and the group behind the idea worked with the government advisory body, Supporters Direct and put together a constitution and prospectus for what would become Bees United. An official launch on 26 April 2001 took place in front of over 200 fans at Hounslow Civic Centre.
Bees United was registered with the regulator, in June 2001 and our first AGM was held at the Princess Royal, 
Braemar Road, TW8, on September 22nd.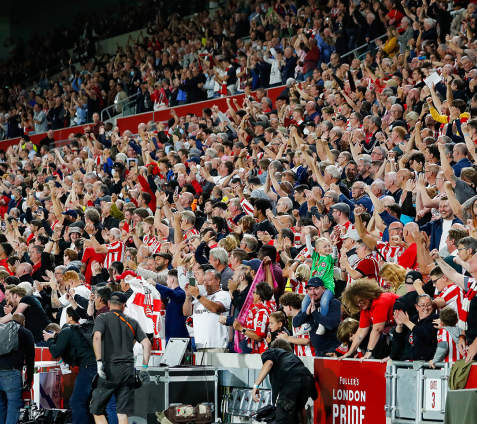 In John McGlashan's words, "The time has now come to move forward. The prospect of a new stadium means an opportunity for a new start. The Trust will raise funds and become an important stakeholder in Brentford FC."
At the same time two other lobby actions were growing – the Stadium Action Group had been set up to create the vision for a new ground at Lionel Road and linked, the ABeeC party took part in local council elections winning a seat (after two recounts!) with Luke Kirton's historic victory the following year, May 2002.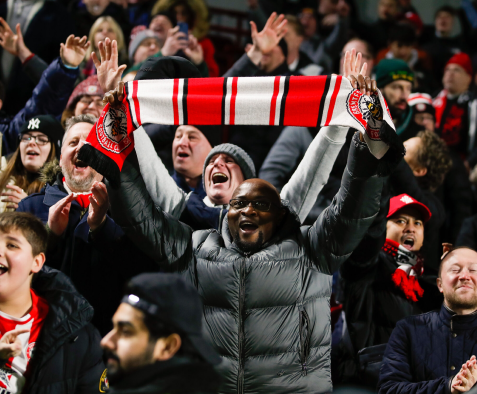 Where did we then go
The years of Bees United from inception, reveal a special relationship with Bees fans, famously determined and resourceful people as they are, and Bees United, with fantastic support from BIAS and an army of volunteers watched the Kingston ground share proposal quietly dropped as the relationship with Noades deteriorated, till in 2003, Noades gave up his place as Chairman, stood down from the Club Board and Bees United took three seats on the Club Board. (John McGlashan, Andrew Wainwright and Stephen Callen)
Noades had also offered Bees United a conditional option to buy his majority shareholding in the Club. The details that followed and the huge number and variety of fundraising initiatives, over those next few years, have been shared widely. Despite even the threat of the Club going into administration in September 2005, on January 20th, 2006, Bees United acquired the majority shareholding in Brentford FC and the next day, Greg Dyke was introduced as the new Chairman of the Club at Griffin Park before the home game against Huddersfield and this success was dually celebrated with a 2-0 win (Lloyd Owusu, DJ Campbell – referee Keith Stroud)!
The future that lie ahead – for £1
In the Autumn of 2005, a supporter had asked if he could have a meeting about how he might be able to help. Club Chairman, Eddie Rogers, called BU Chair, Brian Burgess, to suggest a meeting, which took place in the Griffin Park Boardroom on 15th November, and another, the day after, in an office in Kentish Town. An agreement was forged for an interest free loan of £500,000 from an investor by the name of Matthew Benham. Matthew was and is, a Bees fan from his teens, whose physics degree in 1989 from Oxford took him, via the Bank of America, into the world of statistics, probabilities and football.
As more support was agreed and provided, in August 2009, BU members voted for a formal partnership with Matthew Benham which was a five year plan to provide £1m each year over five years increasing Matthew's equity to 35% with an option to transfer the ownership of Brentford FC from Bees United by 2014. As part of the terms of this agreement, Bees United negotiated its own "BU Special Share" giving it vital veto powers over a sale of Griffin Park or a subsequent stadium (under certain circumstances) and representation on the Club Board.
Having committed funds to the Club for a period, Matthew Benham then wanted to accelerate the Club's progress and so engaged with Bees United to accelerate the option to acquire the Club. The BU Board then held a special members meeting, on June 18th, to explain the proposals, to the BU members and there was overwhelming support for this resolution: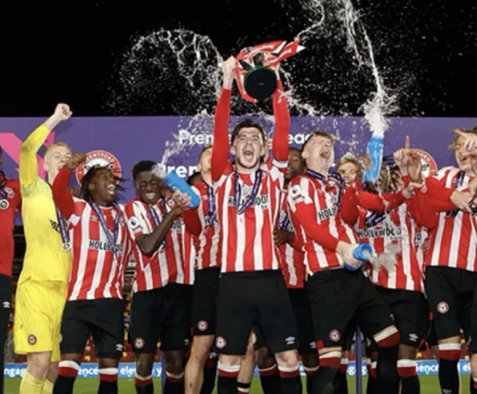 "We support the recommendation of the BU board to sell its entire holdings of Ordinary Shares in Brentford Football Club Ltd, Brentford Holdings Limited and Griffin Park Stadium Limited to Matthew Benham in accordance with the Summary of Terms provided to the membership."
On the 28 June 2012, Matthew purchased the controlling shareholding of the Club from Bees United and under the terms of the agreement, section 2.4, Bees United transferred,
" … the entire issued share capital of Brentford Holdings to MB. The total consideration payable by MB for such shares will be £1".