On Thursday 27th August, I said my final goodbyes to a wonderful old lady, who is trying very hard to bow out with dignity. However the fact is there is little or no dignity in having your insides ripped asunder by people for whom it is just a job. That apart, I think she has dignified herself in allowing me to see the 5 nil win over the Owls and the great final memories of the win over Swansea, albeit watching a screen from my chair in my home office.
Yet, the grand old lady is still loved by so many, and our guide around the ground, Peter, was simply fantastic in allowing myself and all my West Country Bees colleagues the time to say our personal goodbyes and relive some previous memories, yet still have the time to make a few new ones. He did all this, whilst at the same time, making sure we kept in front of the tour behind us.
I have cried a few times in my life, mainly as a kid when having a scrap in the playground or when saying my goodbyes to my dad, so many years ago, and I fully admit to having a tear in my eye when walking out of the ground for the last time. That might sound daft, but I bet I am not the only one.
I know that moving to Lionel Road is the right thing to do, to progress the club both on and off the pitch, especially financially and my old knees will be very grateful of the extra room. Without going into too much detail, I look forward to being able to use "the facilities" without having to queue up for the entire half time break and of course doing this without getting rained on.
Our guide Peter said that if we did not like his tour then we were to say in any feedback that his name was Robert. So I have no qualms in saying thank you Robert/Peter, you were superb. Thank you for the way you showed us around. Thank you for your humour and above all, thank you for the respect you showed us. We heard and saw how much work and effort had been to put into the "Covid Protocol" matches and how the grand old lady was adapted to put on that final show.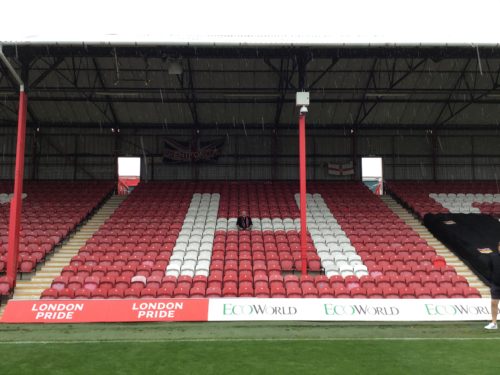 I sat in my current season ticket seat as well as previous seats on Brook Road and Braemar road and each time it brought back some wonderful memories. As the last match had been played the night before, and therefore the "red" zones were no longer applicable, I had the wonderful opportunity of being allowed to go onto the hallowed turf and take some "selfies". 
As I walked around the ground, I remembered the 70's where we could walk from one end of the ground to the other at half time, via the New Road, which was standing only, passing the away supporters going in the opposite direction. How times have changed. I remembered the metal fencing that was erected around the ground to "keep the fans safe" and right from the first game, when all us kids were allowed to be at the front but then jostled with other kids for the best vantage point behind the goal. We all wore our rosettes with pride and waved our wooden rattles, and at half time bought, from the man donning the cinema style "purchase tray", small packs of monkey nuts which made one hell of a mess. No wonder they stopped selling them.
To have the opportunity of viewing the pitch from the dugouts, and quite frankly, the awful view that offers, makes you realise why Thomas Frank, Brian Rimmer and Kevin O'Connor never sat down.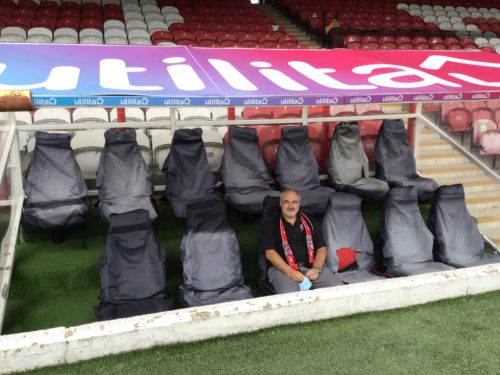 I am grateful, thankful and very proud to be a Bees supporter but more so because "my" club, despite its obvious move towards being run as a business, remains a family club, a friendly club and a club where business and supporters seem to be able to coexist. Yes you get some idiots who will never be happy and some who will be upset that we did not get to the Premier League this year but overall, I believe that the rapport between the club and our fans is second to none.
So thank you Peter, for a great tour and the opportunity of reliving those memories but also thank you to Brentford and Matthew Benham and his team for making us a real football club.   
Goodbye to Griffin Park, gone but never forgotten and for giving me so many memories, thank you. Hello Lionel Road and the making of new memories and more 600 mile round trips with my West Country Bees friends.