My Dad (Tom) and my Uncle Fred (his brother-in-Law) were both Brentford supporters in the pre-Second World War days.  Dad rarely saw the team play as he worked on Saturdays in the grocery trade.  Uncle Fred, was one of the several Cook brothers who were enthusiastic fans, and they became quite well known at Griffin Park.  Uncle Fred followed the Bees for many years after the War.  
He not only went to first team home matches, but every other week saw the reserves at Griffin Park.  He suffered a serious accident in the early days of the War, and his injury resulted in him being discharged from the Army.  Consequently he was able to continue watching The Bees, not only that but he kept most of the programmes.  When he stopped attending matches, in the late 1950s he handed to me his programme collection, which started in the early 1940s.  The programmes during these early years, due to Wartime restrictions were incredibly flimsy and printed on poor quality paper. Many were single sheets, and yet he kept them all in an immaculate state, with no tears or folds.  
Towards the end of the 1950s he gave me, a schoolboy, his Brentford rattle which presumably he had taken to matches.  The rattle was in fact an ARP (Air Raid Precautions) rattle, manufactured by Clement and Sons in 1939.  Uncle Fred no doubt used it during the war period, and although such items are rare now, in the post-war years many war 'adapted', i.e. painted in football club colours and with a team name.  Such was the one I inherited, suitably painted with red and white stripes, and inscribed 'Up The Bees'.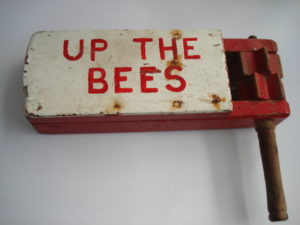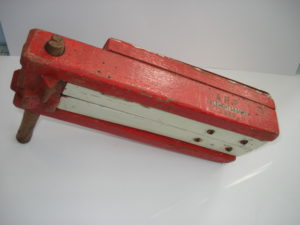 In those relatively non-violent days of the 50s and 60s, such rattles were a common site at matches, as was mine, and it accompanied me to games, both home, and on my travels to away games.  When we were drawn 'away' to First Division West Bromwich Albion, in the fourth round of the F.A.Cup in 1959,  I travelled to the match by train from Ealing Broadway, along with several friends.  There was massive support for The Bees, and after we alighted at Birmingham's Snow Hill Station, we were greeted by the local Press.  The Birmingham Evening Post chose to use a photograph on the front page of their next edition that had been taken of me at at the forefront of our group, complete with home made red and white painted hat, and brandishing my rattle.  
It was an exciting day out, but we lost 2-0 before a crowd of nearly 42,000.  There was, however, was one compensation after the girls in our small group decided we would wait and greet the team outside, after the match.  The delay meant we had missed the buses taking supporters back to the train station.  The team took pity on us, and allowed us to travel back to Snow Hill on the Team Coach.
Another match was particularly memorable, when I traveled to Vicarage Road in the 1961/62 season.  Although we lost 2-1, in my enthusiasm I used the rattle to good effect when we scored… and accidentally hit a Watford supporter with it, who was sitting next to me.  He was not sympathetic or supportive!
The days of taking rattles to matches soon dwindled, and within a few years they were banned completely.  But I still have Uncle Fred's rattle, now silent, to one side.
You can read more about Dave Twydell and his Brentford collection in our previous article about the models of Griffin Park he made and the video he produced.