FC Midtjylland, 2014 to 2023

For many years now, there has been a strong Danish link with Brentford, given a co-director of football, a coach (then manager!), assistant coach(es) and a number of players (even spawning the meme – "you don't have to be Mads to play here, but it helps!") and in addition to all that of course the ownership by our owner Matthew Benham of a Danish football club, FC Midtyjlland (FCM). Given the recent news that Matthew had agreed to sell his interest in FCM and it seems his time at FCM is coming to an end, Bees United were fortunate enough to have Matthew give us some of his time to talk about his time at FCM.
We hope you enjoy this insight into his period of ownership gleaned from this exclusive interview.
Stuart Hatcher
It seems that there have been some great achievements for FCM since you bought the club. How enjoyable was the whole experience of your time at FCM?
MB: Yeah, it was very enjoyable, you know, no real big downsides. It was all pretty smooth. It was good, good fun.
We were able to do something quite different there as against what was happening at Brentford at the same time. There was the European football experience at the time Brentford had just been promoted to the Championship so with FCM that was obviously a very different thing. Then because FCM were successful almost immediately, lifting a trophy (the league title at the end of that season) and shortly after that there were European trips, which included playing Southampton (which was a big thing before we were playing them regularly as Brentford) and then going to Manchester United and having Manchester United come to FCM, playing Liverpool and these massive teams before that was regular for Brentford.
Out of all of the achievements that you had with FCM, what would you say are the highlights or are the most memorable events of your time there?
MB: I think winning the league in 2018 must be the highlight because FCM were sort of massive outsiders a few games before the end of the season. This was a highlight because if Brondby had won their  penultimate game, they were very, very likely champions, and it was the evening of my 50th birthday, and Brondby were winning 2-0 away to Horsens in the 90th Minute, as we sat down for my birthday and then they conceded two very late goals [Note: let the record show that Horsens scored in the 89th and 96th minute in that game Clip. That result changed everything and suddenly meant that if FCM won their final game then FCM would win the league. So that was probably the highlight for me, yes, that was the big one.
Looking back, were you always actively looking to get involved with another club as well as Brentford? (or was the FCM investment a case of right person, right place, right time)
Really the latter – right place right time. It really came about through knowing Rasmus, I got on very well with Ras we had a lot of ideas and viewpoints in common and we clicked very well. It just sounded like an interesting opportunity. It was around early 2014 and Brentford were having our promotion season to the Championship. Rasmus told me about this club in Denmark (FCM) and that they had a great set up but that they had some financial challenges. It sounded interesting and like a good thing to explore.
Given the history at Brentford of proposed club "mergers" (1967 and all that…) was there ever any concern that FCM was a club formed from a merger of rival clubs?
MB: To be honest, I didn't even think about that. FCM was created really as a merger of equals – two clubs in the same area came together and said "look, neither of us can really survive on our own. Why don't we merge?" and so I didn't get the impression that it was a particularly contentious merger. Also, the FCM merger was back in 1999 and I came in in 2014 so if there were any issues around the merger it didn't seem that it was an issue after that time period had elapsed. There didn't seem to be any  fans pining for the original clubs.
Did you see Brentford benefiting from your ownership back then? Was the plan for it to be testing ground or nursery club?
MB: Yes, we thought there could be benefits via an exchange of ideas, etc. One particular benefit we thought could be interesting was in terms of non-EU players, especially at that time (obviously the original investment was pre Brexit). But certainly we thought it could be a nice tie up.
You owned Brentford and FCM separately – was there ever a plan for a multi-club model or were you always keen to keep things separate?
MB: The idea was always to keep the clubs separate. I don't think it would have gone down well at all to FCM to say "you are going to be a subsidiary feeder club to Brentford" and so that was never part of the plan in investing in FCM.
What inspired you about the opportunity to buy FCM? Could you already see that there was the chance to win titles and play in the Champions League?
MB: Yes, I always thought Champions League football wasn't going to be too far fetched. That season they had had a pretty good go at winning the Danish Superliga and so I didn't consider it was far fetched that they would win titles and qualify for the Champions League.
What changes did you instigate? Did you fancy many challenges in suggesting changes or implementing new ideas?
MB: I can't recall there were that many at all, really. They had had financial challenges and had agreed for me to come in and invest and so they were open to ideas as a result. There weren't that many changes implemented but one example would be a bigger focus on set pieces at the time, which went really well. With hindsight, a lot of the success came as a result of them having some pretty good quality individuals in the building at the time – particularly in terms of set piece takers and people who could finish them off. That change was really the main thing and there wasn't anything else really drastically different.
And we were massively lucky. But there were also good players like Jakob Poulsen, who had amazing delivery and Pione Sisto was very good, and also had players like Erik Sviatchenko, Tim Sparv, Duncan (Morten Rasmussen), who was very, very good at getting on the end of set pieces as well. But there was there was quite a lot of luck as well.
One other thing was a change in focus on recruitment and we identified Tim Sparv and brought him in and he was a bit of a marker for a new era at FCM as while they did have some good players (some really good players in fact) in the team already, Tim Sparv was not a player that FCM would have naturally looked at as part of their recruitment before. So I think that was probably a Brentford style transfer. The change was in motion at the time and with me coming in I was able to put my vote in and so the recruitment strategy changed subtly following my arrival .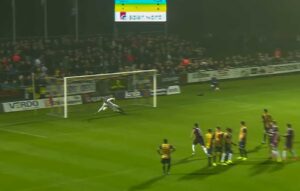 Do you have a single favourite game or moment from your time there?
MB:  Other than the Brondby game already mentioned, there was one in late 2014 when FCM won 5-1 away to Hobro. We had this period where we copied the famous Gianni Vio free kick routine and we scored two goals using the same routine. That was a very nice moment.
Can you give us a sense of how the different leagues strengths are? Would Brentford teams have beaten FCM teams throughout your ownership period?

MB: Until about 5 years ago, I would say the levels are similar or even FCM was slightly better. And then after that with Brentford getting better I think Brentford have been stronger than FCM since then.
The Danish league at the moment – mid level Danish Superliga is probably a little bit weaker than English Championship but probably I'd say the typical level over the time I was at FCM it was around Championship top 6.
Was FCM a testing bed for new initiatives to introduce at Brentford? (Did any Brentford influences seep in to FCM – what did they learn if anything from English football?). Was there anything you wanted to try or to achieve but didn't manage to?
MB: I think the thing to bear in mind is that I wasn't throwing grenades into both clubs and saying make this change make that change. But at this point it was very much about good quality work by Phil and Ras at Brentford and then what Ras was doing at FCM. So really change was more about the influence from the people who were involved in both clubs and what changed things in both clubs is embedding the right people in the clubs.
Was there anything you wanted to try or to achieve but you didn't manage?
MB: At FCM? I feel we should have won at least one if not two more league titles. Two more league titles would have been a big thing. I would also have liked to do a bit better in Europe as well. We only reached a Champions League group stage once.
Can you give us a flavour of what the key differences between the Danish and the English markets are at say club, owners and player, levels? Are there any standout differences?
MB:  I would say that there may be overall a bit more humility in Danish football. Although, having said that, I think pretty much every country does have some belief that they know more than any other nation and so don't think they have anything to learn from any other country. I used to think that that was a peculiarly English way of looking at things but now I think that every country has that. But overall, there's probably a little bit more humility in Danish football.
And in terms of the sense of any difference amongst the owners or players.
MB: I didn't really speak to any of the other Danish owners to be in a position to really say if there is a difference.
What about the standard of refereeing in the Danish league versus the Championship?
MB: It did feel different in Denmark to the English game in that they didn't let as much go in Denmark as they did in in England. Although, I think that might be a general thing as in the Championship there is just more physical contact typically allowed. That did make for quite a different game and quite a different style in Denmark and therefore quite a different need for players – physically different style of play and physically different players – which in respect of recruitment means that there tended to be different types of players for both Brentford and FCM.
Was there much collaboration both on and off the pitch between the two clubs?
MB: Beyond the work that Rasmus and Phil were doing, there wasn't that much collaboration more generally I would say, not a huge amount at all. If you think about the staff at each club they're  really focused on the next game, so they can't really be taking time talking to other staff in other clubs. It's really the director of football level (Rasmus and Phil) that you have collaboration.
Would you have liked there to have been more in terms of transfers, loans or even a friendly match? We obviously sent some young players on loan and Dalsgaard moved there and we bought Onyeka – could there have been more? Or even a friendly between the two clubs?
MB: A friendly match could never work just because of the Danish season starting a month earlier.  We did think that maybe once Brentford made it into the Premier League there could be perhaps more of an exchange and we did sign Frank Onyeka. Prior to that it didn't really make much sense – we preferred the idea that the best players at FCM should go to the top level of football rather than to Championship. So we really only had a year or two to try that out. There wasn't anyone else who really sort of fit as a possible transfer.
That raises the question as to whether there was any risk of competing on transfers in terms of both clubs wanting the same player?
MB:  Not so much. I mean, the great majority of the time if both clubs were interested in a player, the player would end up making a choice where to move, so it was never an issue.
So it wasn't a case of us thinking where would it be best to place a player for a season or to get some experience in and around?
MB: no, that wasn't an issue we had.
Given the success you have had with FCM, could you share some thoughts about what led to the decision to pull back – with an initial sale of a minority stake – and to then divest your interest in FCM in full?
MB: My idea has always been to try and ensure clubs are run pretty much break even on the financial side and so when Anders Holch Povlsen came on the scene as a possible investor and being based in the area and having substantial financial resources it was a question of working out what was in the best interests of FCM in the long term. So some of the thinking was access to new funds to build a fantastic new training ground and work on the stadium and so I was happy to have him join as a minority investor. As time went on, given that Anders had the minority stake already and is based in the area and was open to buying the whole club it just made a lot of sense for someone local with his resources to make the investment to take them to the next level.
There was also a little thought that what might happen with my ownership of both clubs if Brentford got into Europe and could that be an issue (although UEFA have softened a bit in this area) with Brentford being able to compete in European competition if I owned both clubs.
So no interest in potentially having Anders – as the richest man in Denmark and largest single individual landowner in the UK by all reports – come and invest in to a West London football club?
MB:      We might have mentioned it in passing from time to time but for us Anders was someone to bring in because of his ability to invest in his region.
Smartodds are going to continue to supply FCM with data and collaborate – does that mean that FCM will have the same "edge" that Brentford have in terms of analysis of players and games? Will they be a competitor in terms of signing talent?
MB: Smartodds data is just one little part of the clubs. People over estimate how much is the "data" and underestimate how much is improved decision making and structures – like how do ideas get implemented and how do you use data and everything else you have available to you to make decisions. You can fire as much data in as much as you like from Smartodds or anyone else (it is not so far away from data you can buy in from third parties). It is the decision making that is important and I think they have good people on the ground there making decisions.
Success came quickly at FCM after you bought FCM ownership – was that a surprise to you at how quickly they won titles?
MB: Not a huge surprise as the level of FCM and Copenhagen was pretty close at the time I came in, so not a huge surprise.
How do you think the FCM fans would describe your time there?
MB: I would say pretty good considering the state they were in but I wouldn't like to speak for them! But I think overall pretty positive. I guess I could say that I took them from one level to another, and I think that they are now pretty positive about a local – in Anders – being able to take them to the next level.
Probably a ridiculous question to ask, but I have to ask it, does the FCM sale impact in any way your involvement and ownership with Brentford?
MB: No.
Might we expect to see another club being bought in the future or you investing in another club in the future?
MB:  It's possible. It is something we might think about.
Final question: Knowing what you do now – would you do it all again if given the chance to go back in time before the FCM purchase?
MB: Not sure! It had some challenges – but then it did also help push Brentford along as well, so I don't know – Maybe!