If you supported Brentford in the 1970s, 80s or 90s, how did you find out when we signed a player?
Your choices were limited.
You could wait until the end of the week when the latest edition of the Middlesex Chronicle newspaper came out, packed full of Bees news and reports from the previous weekend's match.
Or you could find out about it in the matchday programme when you got to Griffin Park.
But the quickest way was to put on your TV and go to the BBC Ceefax news in brief page on 312, where all the lower division transfer news appeared every day.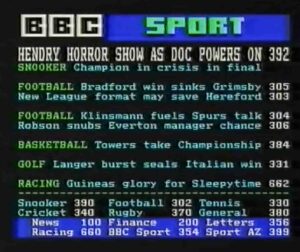 Ceefax, for those of you who are too young to remember it, was really the first version of the internet.
Together with its ITV counterpart Oracle (later Teletext), it was available on your TV sets 24/7 for free and was a service giving you all the latest news, sport, weather, travel and other information, all continually updated. By using various buttons on your remote control, you overlaid the picture with a screen of text and then punched in the three-digit page number to find the relevant story, index or in the case of sport, scores or tables pages.
When I was younger and writing a column for the Brentford programme of news from around whichever division we were playing in (usually the equivalent of League One) I used Ceefax as my main source of news from other clubs, given that the national newspapers covered nothing on the lower divisions other than the results and tables.
I worked for the Ceefax Sport team from 1992 to 2004 when the service merged with the BBC Sport website. In that time I rose from being a freelancer to a permanent reporter to becoming the service's final sports editor.
It was a brilliant place to work and having used the service for so long before working there, it was the dream job for me.
When I first started, everything, including all the latest scores, used to be typed out by hand. In my early years, the latest scores came in on a printed wires service and you literally tore off the scorers for your division and typed them into the Ceefax page.
With TV screens being quite small, it was not possible to have 10 or 12 matches with scorers on one screen so each division was divided into three or four sub-pages – with four matches on a page to allow space for scorers.
Each sub-page was on screen for roughly 12 seconds before moving on to the next one so it meant if you called up the page at the wrong time you had to wait for it to move through all the sub-pages before the one you wanted came on to your screen.
In later years, the scores became automated for football and most other sports which we covered.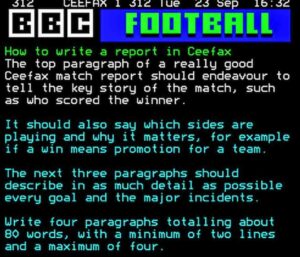 Writing match reports was challenging and also fun.
With each page only containing four paragraphs, every word counted – a tough task sometimes when you were writing a football match report on a 4-3 game which needed a brief description of every goal (shot, header) and some context for the league table too!
I will never forget one Brentford moment during my time there.
One drawback of the job was working two out of four weekends, which affected my attendance at Bees games. I did as many swaps as I could and favoured home games over aways, but despite that still missed some matches.
One was on the final day of the 1992/93 season when we went to Bristol City needing a victory and other results to go our way in order to survive in our first season in the second tier for nearly 30 years.
I had to work and a colleague was a Sunderland supporter and they were also in relegation trouble so, given our nervous states, our boss put both of us on other sports rather than football.
We concentrated on the rugby and athletics while the games, all at 3.00 on a Saturday took place. Well I say all at 3.00 as crowd congestion at fellow relegation rivals Birmingham delayed their kick-off 15 minutes.
As it turned out, Brentford surrendered 4-1 and went down, with Birmingham and Sunderland surviving, and I was the most miserable person in the office that evening.
Everybody used Ceefax for latest scores – I used to work at the World Snooker Championship, where the players used to hang around the press room when they were not playing. On Saturday afternoons, they crowded around our desk to see the scores as there was no other way of finding them out.
If you went shopping on a Saturday afternoon, people would crowd outside electronics shops where the managers had cleverly placed TV sets with the Ceefax scores on them.
And if you went into the pavilion at Lord's cricket ground, there was a series of TVs each displaying the latest score from a different County Championship or one-day match.
Over the years I was also lucky enough to work for Ceefax at many major sporting events – including Wimbledon, The Open, and the Commonwealth Games. It was always at events where we could add more by being there, which was sadly never the case with football.
Ceefax started in September 1974 and finally closed in October 2012 with the switching off of analogue television.
A form of it lives on in red button text on BBC digital channels and some of the old Ceefax page numbers – 301 for sport headlines, 302 for football etc – are used there.
I often think that given people's love of X (formerly known as Twitter) and TikTok etc and shorter forms of writing generally, Ceefax would still be hugely popular if it was around today.
All the information you could possibly need in 80 words!
Ian Westbrook is a sub-editor on the BBC News website since August 2015 and was the last-ever Sports Editor of Ceefax before it merged with the BBC Sport website in 2004
He has co-authored three Brentford books – 100 YEARS OF BRENTFORD (official club history published in 1989), BRENTFORD FC, THE CHAMPIONSHIP YEAR (published in 1999) and BRENTFORD FC THE COMPLETE HISTORY 1889-2008 (published in 2008).