The nickname 'Zanka', as Mathias Jørgensen is commonly referred to,  came about during his youth career at the Danish club B.93 (Boldklubben af 1893). After an away game, Zanka felt there were a lot of people in the car that was taking the players back home, and he mentioned it felt like a bobsleigh. Because of that comment, Johan Lange, who is now the Sporting Director of Aston Villa, started calling him Zanka as a reference to Sanka Coffie from the popular movie 'Cool Runnings', which is about bobsleighing.
Born in Copenhagen to a Danish mother and a Gambian father, Zanka signed his first full-time contract with FC Copenhagen at the age of 17. He played there for five seasons before Dutch side PSV Eindhoven bought the young defender. However, his stay at PSV was rather unsuccessful and he returned to FC Copenhagen after two years, where he would stay for three more years. After three years, he moved on to newly Premier League promoted Huddersfield, which proved to be a massive success, as he played an integral part in Huddersfield's successful relegation battle. It is undoubtedly this Premier League experience that influenced Brentford to take the opportunity to sign Zanka when his contract with Fenerbahce was terminated.
In fact, this is not the first time Brentford have tried to sign Zanka. In an interview with the club, Zanka revealed that it wasn't just a sudden interest, but that Brentford have previously contacted him on multiple occasions: "There have been talks between my agent and the club, which is the Danish connection, and I have previously played under Brian Riemer at FC Copenhagen. So there have been talks in previous years about the possibility of joining Brentford. And this year we actually made everything come together and I'm really pleased about that."
This relationship with Brentford's Assistant Head Coach Brian Riemer is another major reason why Brentford signed Zanka. In an interview with the Danish football magazine, Tipsbladet, Riemer clarified the reasoning behind the signing: "My biggest responsibility is the defence, which is obviously heavily inspired by how we did things at FC Copenhagen. Just like me, Zanka has also been formed by the time at FC Copenhagen with Ståle Solbakken as the manager. The principals we work with now are actually very similar to those we worked with at FC Copenhagen. So, we have brought in a player who doesn't need to learn our way of playing as he is already accustomed to it". Riemer continues: "He is clearly a player that we have faith in, and we hope he will play a significant role, both as a backup, but also as someone who will play more later on in the season. Ultimately, the amount of playing time is up to Zanka himself. If he does well, he will play more.  But we know we have a player we can trust".
Many Danish football fans were quite sceptical of the move and feared it would be a so-called "bridge-transfer", where Brentford sign Zanka and loan him out for little to no money to Matthew Benham's second club, FC Midtjylland. However, this fear and scepticism were soon put to rest by FC Midtjylland's CEO Claus Steinlein who blatantly denied all the speculation by saying Zanka will never play for FCM: "We already have a lot of good defenders. But it's funny that he is now playing for our sister-club. However, Zanka is basically 'Mr. FC Copenhagen', so it will never happen."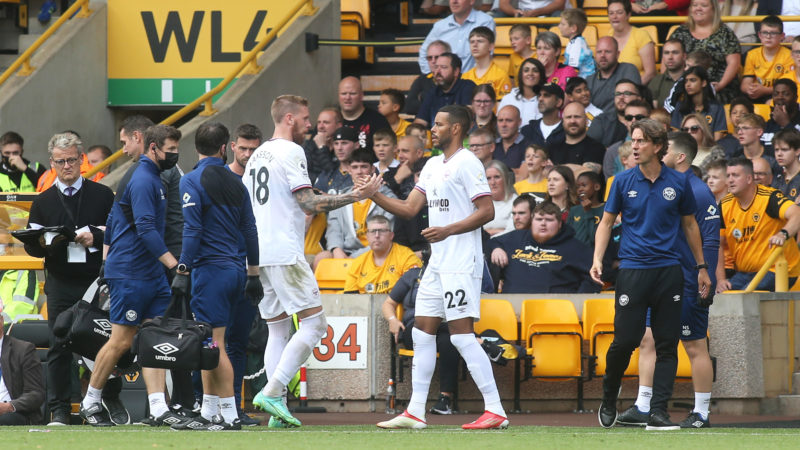 The speculation was also put to rest against Wolverhampton when Zanka was subbed on in the 82nd minute and performed well. After the game, Thomas Frank praised Zanka's performance and said: "He is a solid and experienced defender who contributes with composure, control, leadership, and communication, and he had some amazing clearances. It was really good to see". With Mads Bech Sørensen out, Zanka will most likely be getting some very important minutes in the next period of time, and he will be just as important off the pitch where he will continue to contribute with his experience and leadership.