So far in our series on 'Unsung Heroes' we've saluted those who've given long service to the club in traditional roles. Now we focus on a young member of a little known unit inside Brentford as it faces the pressure of nine games in a month on the road to the playoffs. Our article is written by David Anderson a Bees fan, a BU Board member and – to listeners to the Beesotted podcast- he's best known as 'xG Dave' because of his interest in stats and analysis. David talked with Brentford's 'First Team Performance Analyst' Joe Newton and over an hour Joe explained what that job title means, what he does each week and what's happened during his relatively short but eventful time at Griffin Park. The conversation ranged from his favourite player to his funniest moment, how he shares video clips with players, and trying not to be nervous talking to Thomas Frank. Many thanks to David for writing the article, to the club for agreeing to the access and, of course, to our latest 'Unsung Hero' himself, Joe Newton.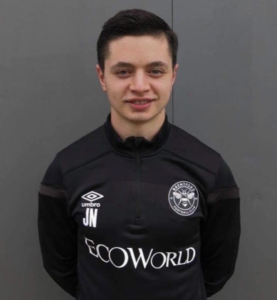 If you were to ask 50 Bees fans to tell you what they know about Joe Newton they might come back at you with a glazed look. A young and highly rated new signing for the B-Team, maybe? The latest instalment of the unsung heroes series sees us venture into the world of Performance Analysis.
'Performance Analysis is a specialist discipline involving systematic observations to enhance performance and improve decision making, primarily delivered through the provision of objective statistical (Data Analysis) and visual feedback (Video Analysis)'. – English Institute of Sport
Highly regarded behind the scenes at football clubs, the work of analysts is largely lost on fans. The big match occasion on a Saturday or Tuesday can easily fool supporters into thinking Brentford's players and coaches turn up and perform because that's just what they do. An analyst's preparatory work before games, the objective observation and reaction during matches, plus the immediate examination after the final whistle is essential work in helping to stitch together a relentless football campaign.  
When we talk for the first time via zoom Joe starts by introducing himself in a relaxed and steadied manner. At 24, he's polite, confident in the way he articulates during conversation and comfortably displays a deep knowledge of the mechanics of the game. 
We talked first about how he got into football. He comes from Warrington and was on the books of Tranmere Rovers as a player from the age of 9 until he was 18. "Tranmere Rovers was huge for my early development, a lot of the coaching I got there and a lot of my understanding of football I'm able to take into my analysis now. I've been fortunate enough to have worked with some really good coaches, John Ebbrell especially, and Warren Joyce also had a spell at Tranmere during my time there. Kenny Shiels was also really good and went on to manage Kilmarnock after starting as an assistant." 
Signing professional terms with Wrexham, Joe was able to combine football with a Degree in Sports Science in the afternoons and after training. His first ever hands-on taste of player analysis was with the Football Association of Wales youth sides as they were looking to pick up elite northern players who needed video and performance capturing during training sessions and internal tournaments. Assigned to a team, he gained experience in supporting and fulfilling a coach's specific analysis requirements and the passion grew from there. 
The playing football side of things at Wrexham didn't quite work out as expected and he found himself out on loan at various sides in the Welsh Premier League and Evo-Stik League. Although the change of clubs was disruptive, he was still able to gain valuable playing experience in the men's game. "Up until then I'd only tasted under 18s and the occasional reserve team game at Tranmere Rovers" he says without remorse. 
While juggling playing football part-time and alongside his second degree, he became an analyst at the club variously known as ''TNS' and 'The New Saints FC' (Total Network Solutions in old money) gaining two years experience on the football staff treadmill. He completed his Masters in 'Enhancing the Formulation of Shared Mental Models in Football Players' in the summer of 2019. 
https://twitter.com/JoeNewton_7/status/1136998041657991169?s=20
September 2019 saw Zaheer Shah, Brentford 1st Team Analyst for a number of years, take the leap into the vacant job at Premier League side Tottenham Hotspur, opening up the position for Joe at Jersey Road.  
When asked about fostering a culture at the club and the so-called 'No Dickheads' policy in terms of players and whether that's a whole club thing, Joe describes all of the players as hungry and dedicated, all with a keen eye for their own personal improvement, receptive to criticism and a working within a culture of constant development.
"I'd say the 'No Dickheads' thing is a whole club thing from everything I've come across so far. It's well documented, I remember reading an article before my interview, we don't just recruit staff based on quality, we recruit based on personality as well and that says an awful lot about things and the people that are involved in and around the club.
"The friendliness and togetherness of the club stand out most to me, since I've joined I've been made to feel so welcome by everyone. I think some people assume players at this level are big time or arrogant. None of the players have appeared like that to me. Coming from the North of England this has been a big step but everyone at the club, being the way they have been, made it one hundred times easier."
Joe's role has a particular focus on post-match analysis. Looking at video clips of all manner of on-field events supports the discussion at debrief meetings. He'll create a style of play report after every single game to see how the team has performed in relation to Thomas Frank's style of play ideals.  
"Straight after the game I'm getting the match onto a USB stick so that it's available to review and watch as soon as physically possible. Ideally on the coach trip home if it's an away trip or straight onto the coaching staff's laptops so that as soon as they get home they can watch the match again." 
Full time Performance Analysis roles at professional sports clubs are now as normal as beating QPR. But it hasn't always been like that. Ultimately, analysts are focussed on objectively analysing player performance and football situations, continuously on the lookout for areas of improvement. It's counter-intuitive to not invest in this area. 
"Top level sport is all about fine margins. Opposition analysis gives you that head start and insight into how a team and certain individuals play. Where can we exploit them? What do we need to be wary of? Once a game is finished it's important not to just forget about it, you've got to constantly look at areas to improve and also the areas where we've done well. 
It's especially important in the first half of the season as you know we will play that team again. It's good to go back to these games before the rematch to see where and how we hurt them previously and what we may need to be aware of again."
A typical week for Joe is dependent on whether it's a two or three game week. There's understandably a lot less stress if the fixtures fall Saturday to Saturday than that of a Saturday, Tuesday, Saturday round.
"If there's a game on the Saturday I'll be working at the game and then analysing and sending clips late into the night. Luckily Sunday is a day off. Monday is by far my busiest day because I have to have prepared clips for the coaching staff for an important debrief meeting. That content then gets trimmed down for the players too. The coaches generally ask for extra clips and alongside this I've got to make sure my style of play report is complete. Wednesday is usually a rest day but all other weekdays are focussed on capturing training sessions and making sure they're recorded and stored, as well as producing an opposition report for the upcoming game for which I'll also collate individual clips of the upcoming opposition players. If it's a three game week there's sometimes no time for a midweek day off."
It's a time pressured, detailed role where organisation and delivery have to always be on point. Imagine telling Thomas that the report for him isn't ready.  "I obviously expected the intensity and detail of things to be at a high level, but the intensity and quality of the players, the eye for detail of the coaches has all slightly exceeded expectation."
Joe speaks of feeling a slight nervousness at stepping into the First Team Analyst role supporting the Head Coach and Head of Analysis at an established Championship club.
"It's difficult, because from the outside people may see that you're speaking regularly with Thomas and that must be crazy, but, even though he (Thomas) is much higher up in terms of roles, he's your colleague and you're there to do a job. Going in at first I did think, Oh My God, I'm going to be speaking directly to a Championship manager, but if you're shy or nervous around those sorts of people it's probably going to affect your work negatively, although, a slight nervousness probably gives you that thing inside that drives you and makes you perform and think to yourself, I've got to make this work well but it's truly amazing and as I said earlier, when I first joined it was brilliant. It's a real family club and however big the name is in terms of title, for instance, 'Thomas Frank Head Coach', it's still the same as speaking to the Chef, everyone treats you the same and it's great."  
On a match day in the buildup to games at Griffin Park, the analysts feed final clips and bits of information through to the players once the starting opposition lineup is known.During the game itself, Luke Stopforth (Head of Performance Analysis), Taylor Irving (Analyst) and Joe can be found just to the side of the press box, behind a small wide angle lens camera which is able to catch all 22 players on the field in a continuous video shot at all times. 
During away games, the team are in the gantry, with Joe again filming matches on the wide lens camera and Luke live coding events in the game as it happens, feeding useful clips and information down to the bench and coaches. With the latest safety measures around Coronavirus still being drawn up, it is still to be determined whether or not Performance Analysts teams will be allowed into grounds as they were before the pandemic. 
Favourite game so far? Joe fires back after a second of thought, "Millwall at home". He mentions key matches to him personally: the Barnsley away 1-3 win and the match under the lights against Bristol City which finished 1-1 but these were nothing compared to the drama and jubilation of the home game against Millwall. It was a strange game where everything that could go wrong did go wrong and at half time Brentford somehow found themselves two down. 
"The funniest moments after the third goal were the clips of celebrations from the bench for that game (Brentford 3 Millwall 2 ). We have these full panoramic cameras which can pick up any HD view of the pitch connected to an ipad (Three cameras connected, the technology stitches the three cameras together). The celebration was (Assistant Head Coach) Brian Riemer going absolutely mad, (he) ran down the touchline, fully mad with fists shaking, Bob the kitman jumped for joy and slipped. Using 'Coach Paint' (a tactical annotation software package where analysts and coaches can animate and edit certain video clips similar to Monday Night Football on Sky) the celebrations were shown in the team meetings on Monday. Millwall was a big game because of what it meant and kick started the season."
 When asked to recall a game where everything planned pre-match matched up with the performance on the pitch Joe suggests that the last game to be played at Griffin Park to date, the 5-0 win against Sheffield Wednesday, seemed close to perfection.
"Hmm, Luke is great at what he does, he'll watch 3-5 games and it won't necessarily be the most recent, it can be how they've fared against teams similar to us, so for instance Swansea vs Sheffield Wednesday. Leeds matches and their 433 system, West Brom too. If they've played those teams recently that's definitely games that Luke will be watching. Away and home obviously makes a difference too. If you're asking the game that most fit in with our game plan, the one that comes to mind straight away is Swansea away, the 0-3 win."
"We knew exactly how they'd play at home, that they'd want and have lots of possession but that they'd be open on the counter attack, and if we were solid enough in our middle and low press, if we ended up cutting lines we'll get opportunities on the break and all three goals were on the counter attack. We have best practice clips which we keep track of our style of play and our principles and a lot of them come from that Swansea game. The first goal is perfect for a lot of things, we're so compact really good distances, Bryan and Säid are back in for a 451 shape and we're solid, Bryan intercepts the pass, bang, Christian forward pass, bang, Olly forward pass, switch the play, quick skill, magic top bin, goal and it's about 40 seconds long the clip but its great and shows that game plan. Not to take any shine off of the Sheffield Wednesday match, they were not as strong as Swansea were at the time."
I put it to Joe that from the stands it looked like Sheffield Wednesday were playing a different sport in that final game before football was shut down due to the Coronavirus. 
"Not to take anything away from us, the Swans game stands out even more because it was a night game and went well tactically and to gameplan."
There was something a bit special about Cardiff at home, wasn't there? "It was interesting because it felt like a little bit of showboating crept in at 2-0 with Säid trying some tricks and giving the ball away when something simpler was on and in previous years we may have given that lead away completely when Pack scored the free-kick and it went to 2-1. It felt like that in a few chats we've had and it came out, how'd you say, the resilience of this team, it's got that real dig in mentality, we're not conceding again, we're not going to let this slip, I know we've let leads slip like up at Sheffield Wednesday where we lost 2-1, but I'd agree I could feel a buzz (that night against Cardiff).
Did Pontus have a big say in that? 
"Yeah i'd say it's certain key men, Henrik, Pontus, Christian, the spine, the mentality, getting everyone together, and we have clips of this from when we've gone behind and those three get everyone together in a little huddle before the next kick off and we've gone on to get something out of matches."
I ask Joe if he's allowed to have or has a favourite player and he immediately replies  "Christian Nørgaard". 
"It's the quality he's got, he's pushing for the next step up. Myself and Luke have had this discussion after a number of games. Some of the games (he's played), his positioning that we've picked up on is exceptional, there's still work, everyone still has work to do."
Nørgaard has provided the defensive midfield quality and discipline in front of the back four not really seen since Alan McCormack moved on in 2014. 
"It's also an attitude to be better. I'm not a dead confident person, especially when I first came in mingling with Championship players, my job around the changing room before the game, I've collated some individual clips of opposition players so when we get the team sheet in I'll go around to the team and maybe say to, for instance, Rico, this is their right winger, this is what he looks to do, he's all right foot, he'll try to knock it past you and cross it, little details around that kind of thing."
"Christian was probably the first player that used to approach me, have you got anything on this guy, he'd say, that made it more comfortable for me knowing that oh ok right, he needs and values me, plus he's just a really nice guy on and off the pitch, they all are but he goes above and beyond to say hello and find stuff about players.
"We'll upload clips to HUDL (a performance analysis software) and he'll say I've seen it already but please can we go through it and you show me again and tell me what you think and that's exactly what I mean about him wanting to get better, he's got what it takes. 
"What about his recovery runs? It looks like he finds himself in the back four to hold his position and not get caught out by space behind? What do you think his main area to improve on is?
"When we're trying to initiate the high press he is sometimes a little bit slow to push out, he can get higher and do it quicker we still get those units of back four, midfield three rather than him being so deep in the back four".
"I've learnt a lot about what Brian and Thomas want from them, but yeah, I think Christian is very good, obviously the front three speak for themselves. I've said Christian because he probably goes under the radar more than those three. Rico has been absolutely excellent as well this season, he's also great at asking for things. If they had a negative attitude to wanting to improve then I don't think they would be at the club."
I put it to Joe that it seems like there's more of a natural absorption of data analysis and statistics than at other clubs, are Bees players more receptive to this kind of thing?
"I'm still fairly young in the tooth in analysis so I've not really worked with an ageing squad so I've not experienced an old school player who's not dealt with detailed analysis and not bought into it. So especially working at Brentford, we're on the whole dealing with young players who've had this kind of detail throughout their career so they're so used to it and buy into it. We don't have a player saying I've not had this input for the last 20 years, I don't need it now sort of thing, whereas everyone at the club is used to it. Not saying that just because you're old you won't buy into it of course. I've not had the experience of working with players at the same level to compare, so the stats we have access to are much more powerful than those that I had at TNS for instance, so I'm not exactly sure what all clubs do but I'd say Brentford are right up there with player adoption." 
The Performance Analysis team try to get hold of wide angled replays of the top teams, Manchester City and Liverpool to learn and to look at how they set up, their tactics, and other top teams and how they play. "It's not just managers and head coaches that get credit these days, it's also people underneath them. Pep Lijnders at Liverpool, Klopp always sings his praises about how good he is and him having an influence on things." 
The culture at Brentford clearly comes across as hardworking, inclusive and family orientated. That's something that has been purposefully worked on before Dean Smith was Head Coach to even more so now with Thomas at the helm. Having one big manager distanced from training and all powerful seems like a dynamic we're moving away from in football. Joe's asked, is there a natural movement towards the harmony of the group and many people being important? 
"It's like Managers versus Coaches – even in the last 10-15 years it's going away from what it was, I don't know if players would look at power cultures differently now compared years ago. It's more important to look at the group. Guardiola says Arteta is more important than him, that's probably why Arsenal went in and felt good to give him their Head Coach role. Ronnie Moore never watched training at Tranmere, he was labelled a manager and just picked the team on a Saturday." 
With the final chunk of the season due to restart on June 20th and finished by the end of July, we're going to no doubt have some of those Saturday, Tuesday, Saturday match-day weeks. It's interesting to know how after a period of downtime like this will impact a  Performance Analysis department as it fires back up and is immediately needed at full speed. 
"It's going to be hard because we'll be bang straight into it, no build up time, no pre-season, similar to the Christmas period in the fixture schedule, but longer. If this does happen and games get played as normal you've got to be as ahead as you can. We were well prepared for Fulham before that was pulled so a lot of that work is still in place and then West Brom on what would have been on the following Tuesday. We're prepared"
Still to be confirmed at time of writing, the official body is looking at potentially approving the possible use of five substitutions, up from three, during a single match. On the face of it this seems like it gives Brentford more cards to play but also more problems the opposition can give us. Surely a major impact on the analysts.
"The substitution rule change is probably not going to affect us too much, in terms of how we prepare. We still come up with a predicted 11 for opponents and who's played the most in those games. It's not just 11 names, it could actually come about that it's 14 that are most used as you may have another striker that's played regularly across the fixtures so that becomes a possible striker option for opponents and that ties into who is most likely to come on threat wise, but we'll always have background and knowledge on a subs bench. You'd have seen opponents in person previously so you know what sort of size they are, Taylor will know if opponents come up for corners, Luke will know what footed he is, we build this up with data and reports so these little insights might be enough. Then add in Luke's knowledge of the Championship, he's probably seen them play before if they've been around. Even if the subs do go up to five per match, there will still only be three sub slots available to prevent time wasting and teams gaming the system. That's a good way to do it, people take advantage with three, teams would definitely do it with five."
As technology improves the working life of analysts, time spent on repetitive or limiting jobs like being stuck behind a camera should free up analysts to provide even more insight. The sky really is the limit for the future of Performance Analysis. 
"When I was lucky enough to go into Liverpool's Academy to see how they do things, the analyst role of whatever age group you were looking at was also a coach as well, so you're labelled as an Assistant Coach, taking care of individual sessions and the technology helps you take care of the analysis side of things. With a fixed camera on every training field it allows the Head of Analysis to be stood on the pitch and set cameras off by remote. He or she doesn't have to be stood behind the camera, they can be giving session orders on the side of the pitch and not stuck in the office watching footage (this isn't me pushing for a coaching role by the way), that could be the future, that tech allows you to be on the pitch at all times. 
"Because of the deep knowledge a coach has, if they also have the analysis, knowledge and combined that with the use of say a software package, obviously it's additional work, you would get exactly what you wanted as a coach, instead of bouncing back and forth to an analyst. If you have a good relationship between coach and analyst your minds are so similar you're seeing ideas that when a coach asks for something of an analyst, they'll know that what they're getting is exactly what they want to see. I can see more Coach Analyst combinations roles in the future for sure. 
"Things already look like they're heading towards the blurring of the two roles. Gary Rowett has a right hand analyst – Joe Carnall, who has followed him throughout managerial roles at Birmingham, Derby, Stoke and now Millwall, with each role slowly evolving towards the blurring we speak about, almost fully into a Coaching Analyst role – his title at Millwall is now Technical Coach.  
"If you're a good coach and you've got that knowledge and you're knee deep into it, if you were able to clip things out just like that it would be easier for both you and the player."
"But also as an analyst you've probably got more (in you) than some coaches think, in terms of football knowledge. You've been working around football, you've been working around good coaches for how many years you've obviously developed that and that can be transferred onto a pitch, so the next step in development is important and how you deliver things and that's why coaching training is important, how you get messages and knowledge across."
"Increasing department size and capability, technology improving, tracking data becoming widespread. In terms of those things and the role itself, I can only see it going that way"
Whatever the final stage of the season has in store, (playoffs fingers crossed) we know that Joe and the team of Analysts will be well prepared and ready to give Thomas, the coaches and the entire first team absolutely everything they need to succeed. 
It's been an absolute pleasure chatting with Joe Newton, who no doubt won't be unsung for long. 
David Anderson.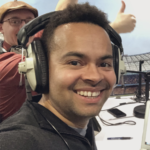 David Anderson tweets as @DavidAnderson_1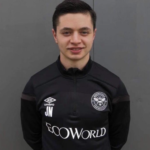 Joe Newton (left) tweets as @JoeNewton_7