"I was just walking up the pitch collecting footballs, Thomas was coming across and he was all happy." That how the man with his back to us in the picture, Brentford's groundsman Steve Honey, explains how it came about. But behind that story there's another one because the reason Steve was collecting footballs as well as looking after the pitch is COVID. "We are now ball retrievers as well as ground staff, we have to collect the balls and wash them after each game." Steve's extra duties are just part of what has been a strange 2020 for him and his team.
At Bees United we first met Steve Honey in 2018 when we made a video about how the Griffin Park pitch was torn up after each season and relaid. At the start of the year Steve knew this summer would be different. With Griffin Park closing at the end of the season the pitch wouldn't need to be relaid because it would never be played on again. Instead Steve and his team would turn their focus to ensuring the pitch in the new stadium was in top condition for the first game scheduled for August. 
Then came complete lockdown, the 2019-2020 season came to a grinding halt and many wondered if it would ever be completed. "We let the pitch at Griffin Park go completely for a time because we thought we are not coming back to play here, the season is going to be null and voided. We did the bare minimum.Then all of a sudden we were told 'we are playing in two weeks'. If you'd seen it a fortnight before the first game you would have thought how are we playing here. But we started cutting it and whatever else to get it back into shape".
Steve and his team now faced a triple site challenge: get Griffin Park ready for match action and keep it that way, make the new stadium pitch ready for the next season whenever it started and ensure the Jersey Road training ground stayed pitch perfect.  And do all three things within the Government's COVID rules and the EFL's protocols. 
They came up with a plan. "There are five of us so we split in half so that we didn't cross-contaminate the training ground with the other two sites. Me and two others were doing Griffin Park and the new ground and the two other team members did the training ground. We were the only ones on the sites for some of the time. It was like a ghost town, quite surreal to be honest.
"In case we were stopped by the police on our way to work the club organised a letter explaining why we were essential, after all the grass wasn't going to stop for COVID, we had to keep going in. To be honest we are pretty worn out at the moment. Two stadiums and one training ground, all looked after with limited people. We are still very careful, we do what is necessary, we try to keep ourselves safe."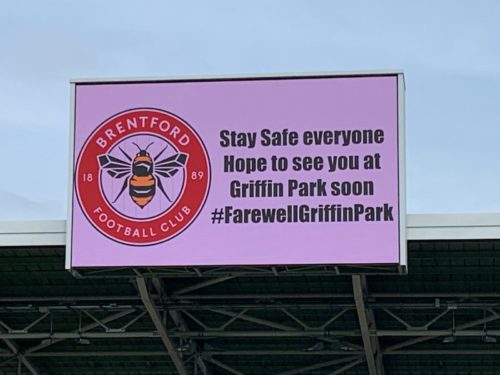 Steve wants to pay tribute to all his team who've worked tirelessly and also to the Operations Department at Griffin Park for all their help and support through this period and the three years he and his company Elite Ground Care have been contractors to Brentford. "We are part of the Brentford team, that's how we feel." 
During lockdown he decided to spread some good news:  "I took photos of the new pitch which looked really good, the sun was out, we'd just cut it so it was all nice and stripes.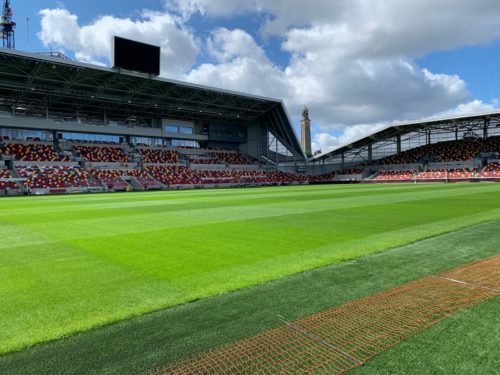 "We've got a WhatsApp group with the first team staff who were all sat at home so I posted the pictures of both grounds to keep a few spirits high and to assure them we weren't letting things go to rack and ruin and that they still had a pitch to play on. It would have been a bit odd if they'd come back and found a load of sheep out there."
Brentford's sports psychologist Michael Caulfield, who is in the business of keeping spirits up, confirmed in a post on LinkedIn that Steve's idea had worked. He posted the picture of what he said was our 'humble but highly effective head coach, Thomas Frank, showing immense gratitude to his head groundsman Steve'. But that, Michael Caulfield wrote, 'was only half the story'. He explained: "During lockdown, Steve worked in isolation for nearly three months tending to not only Griffin Park, but the new stadium the club move in to next season.  He would often send pictures of the pitches to let us know how they were progressing, and the results were phenomenal". 
"At the final whistle on Friday, Thomas Frank, made a beeline for Steve, to thank him as the pitch was like a snooker table, which helps the team so much.  So often it is the players, managers or others who get all the praise, but it is the likes of Steve who make things possible, in all walks of life. They work what I call "Invisible Hours" so please do share this as the likes of Steve deserve it."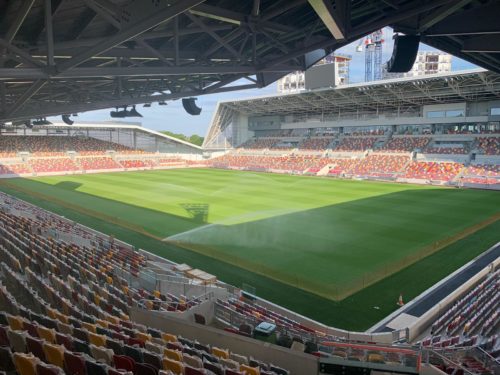 Looking ahead, Steve thinks the new stadium is "fantastic, absolutely brilliant. We've been going in there to do the pitch since it was laid by a specialist firm called Hewitt Sportsturf who lay a lot of big grounds."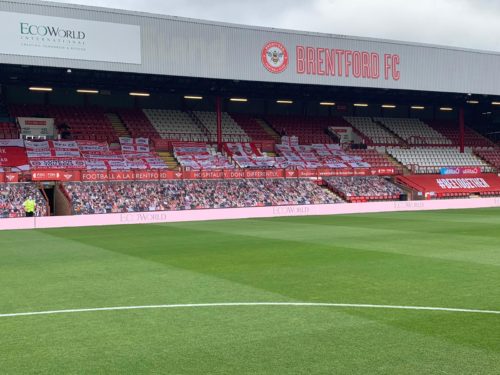 As for Griffin Park Steve says; "we fertilised it the other day and I said this could be the last time we do this. When we prepare the pitch for the final game it is going to be quite emotional, we've had some good times there haven't we?
The Bees United 2018 video of Steve and his team at work  'Meet The Groundstaff" can be seen here