"It was a crazy lockdown idea really" says Bees fan Steve Tidy. "I'd been furloughed from my job at the airport and I was on a bike ride with my friend Paul Davis. I took a picture outside the new stadium with my Brentford flag and his flag.That night I was laying in bed admiring the picture and I just thought 'how good would it be if I could get enough flags to fill the whole of the fence down the side of the new stadium and get some pictures'."
To deliver Steve's ambition he had an impressive logistical plan that involved 289 miles on that bike."I went back to Lionel Road with a tape measure and measured the fence at around 680 feet. I started to get my idea out to people that I knew had a flag. Then I put something on Brentford FC Facebook chat and I had a great response from supporters. I'm an all or nothing sort of guy and so I thought I would collect all the flags from the fans. I got their post codes, agreed what time they would be at home, then rode around for a few days using google maps collecting flags. Some people paid to have their flags delivered to me. I reassured them they'd get them all back as I know what a flag can mean to its owners."
Steve created a master list of what was on each flag and who had lent it. Then he sought the co-operation of the security team on the stadium site: "we agreed that if I put the flags up on a weekend it wouldn't get in the way of the building workers. On a Saturday evening I put up 57 flags that took up about 540 feet of the fence. I didn't leave the flags there, they are worth a bit of money, mine alone is worth about £400."
Steve took them back to his bedroom where the flags, all tagged and named, took up one side of the room. "Brentford contacted me and asked to put all the flags in Griffin Park for the remaining games. That meant me asking all the owners and checking that they had fire certificates for their flags."
Brentford's Director of Fan and Community Relations, Sally Stephens, was already bringing in flags as part of CEO Jon Varney's plan to create as much colour as possible in Griffin Park for the remaining games. The flag movement developed further momentum when another Bees fan, Gary Levine at TW8 Casuals, offered special discounts to supporters who could have a flag made with their own message and delivered to Griffin Park in time for the WBA match. The club confirmed; "We want to do all we can to make Griffin Park feel like home for the team during this time when we can't be there in person to cheer them on – so absolutely we'd like to have as many flags on display as possible! For those that already have flags at Griffin Park, we will keep those in place unless you would like to move them."
On the night TV viewers got a good look at what the club and Steve had brought together at Griffin Park.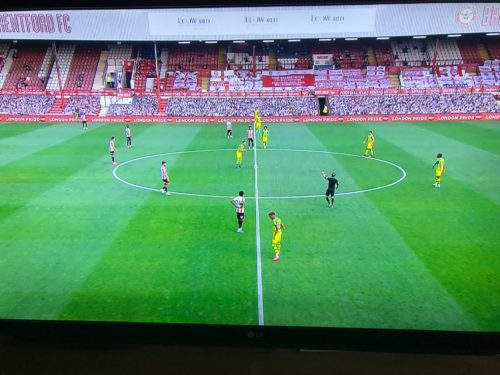 Steve Tidy's own history in flags goes back to the 1999 victory at Cambridge that clinched the Division Three title . "I had a Union Jack with Brentford written across it which a family friend had done for me. I've got a picture of me with my hair sprayed red.Since then I've always had at least one flag, at the moment I've got 2 or 3, its just a passion of mine."
Steve comes from a QPR family but began supporting the Bees at the age of 9. Now he's back at work with American Airlines Cargo but not before he thanked on Facebook Paul Davis, Chris Gillbert, Chris Parsons, Nick and Michael Catchpole, James Saupin, Craig Tillyer and Sarah Farley plus Brentford photographer Mark D Fuller. And, of course, the other fans who lent him their flags; 'I can only thank you from the bottom of my heart in all your efforts of helping me complete this little project'.