When Brentford players did an end of season lap of honour after the Leeds game most eyes were on Christian Eriksen and his family trying to discern from his body language whether this was a farewell to the club. But some of the others, among them Vitaly Janelt with his girlfriend Ines, were looking out into the crowd for anybody they recognised.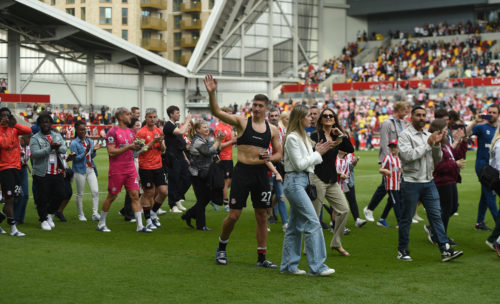 Which is how Vitaly spotted a banner which translates from the German as  "Konigsbach-Stein hails Vitaly Janelt'. The German player was curious enough to go over and find out more. Konigsbach-Stein is a small town in South-West Germany- there was a mark on the map to show where it is – and has no apparent connection with Vitaly. But it was the home town of Jens and Stephanie Hinnenberg who were holding the banner.
Jens explains: "That was the first game we had the banner with us at Brentford, we produced it just the week before, Vitaly was very surprised, he said 'do you work in England?'  I said 'no we fly in every two weeks from Germany'. He couldn't believe there were German fans who were coming regularly to the games." Jens and Stephanie are season-ticket holders in the South Stand who commute to every Brentford home game from Stuttgart Airport.
Jens explained how he and his wife came to be Brentford fans. "When I was visiting England I was looking for an opportunity to go to a game. The four pubs at Griffin Park grabbed my attention. I did some research about the club, learned about the darker days at Brentford and about how the fans took over the club and then Matthew Benham. I  was also very impressed by the philosophy of the club, developing under-rated players, making the squad stronger and then selling them for bigger prices. I was especially impressed by the Benham business model because in my daily work I am also involved with statistics, mathematics and probability as well. I am not as good as Matthew Benham but I can imagine his approach to the business strategy. Before hearing about him I could not imagine that you could use that kind of strategy in football so effectively."
Jens is the Head of Finance in the Volksbank, a regional bank in South-West Germany with about 100,000 customers. He is responsible for accounting and risk management. "People there don't even know about my hobby. I have kept it secret so far because they'd think I must be crazy travelling that much to England". Stephanie has been interested in football since she was young, her father and two brothers were passionate about football. "She's realty interested, it's not her doing me a favour by coming, she's passionate too."
Indeed so passionate are both of them that they decided to spend part of their summer following Brentford whose training camp happened to be in their region of German. Of course the banner went too, and Jens displayed it at the game against Stuttgart in Friedrichshafen, at the home end amidst some bemused local fans.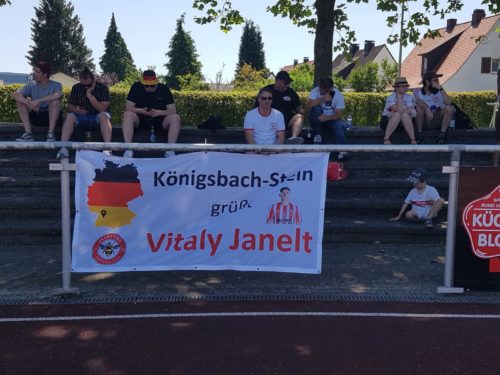 Jens says: "From time to time I'm in contact with Vitaly's mother in Germany and she knows the banner very well. I sent her a picture after the Stuttgart game and she replied 'I already know that you were there, Vitaly's girlfriend was also there and took a picture and sent it to me'." At Friedrichshafen who should Jens and Stephanie meet in the main stand but Brentford Chairman Cliff Crown who had travelled over for the game and to visit the training camp.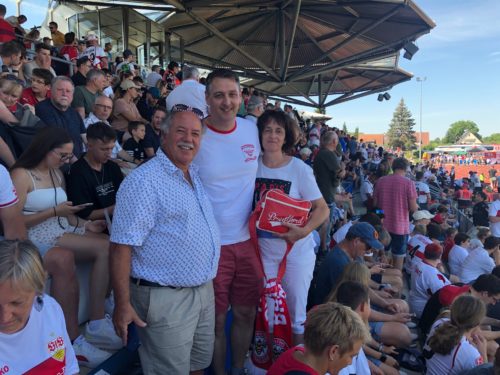 After the game Bees United Chairman, Stewart Purvis, who was also at the game introduced the couple to Thomas Frank, who added his autograph to their impressive collection written on team shirts. Thomas thanked them for their support of Brentford. Jens says he and his wife plan to make even more trips to England this coming season. I did one away game last season against  Norwich in March and our plan is to do more away games next season, we will be at Fulham on August 20th."