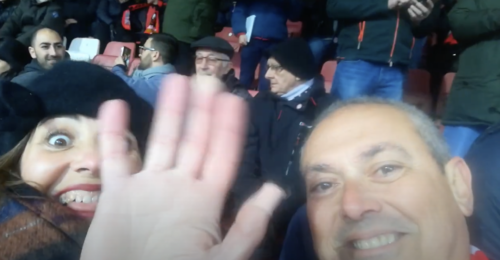 On a cold and wet day in February 2018 a Spanish headmaster Alfonso Sánchez-Palencia Morillo and his wife Maria stood in Griffin Park listening to 'Hey Jude' being played before a game. In truth Brentford v Preston in the Championship wasn't exactly what his colleagues back at his school near Seville had hoped for when they planned the surprise trip as a celebration of his 25 years of service. They knew Alfonso had always wanted to attend a match in England and they hoped to get tickets for a Premier League game in London. But that proved impossible so a friend of a friend came up with tickets for the Bees. The one-all draw wasn't that exciting either. 
But something happened that day that made Alfonso shout 'Viva Brentford' into a video camera as Hey Jude was played. He has kept the video as a special souvenir. Its worth a watch, especially if you are missing cold, wet days in Griffin Park.
So what made the difference? It could have been a visit to the pubs on each corner beforehand.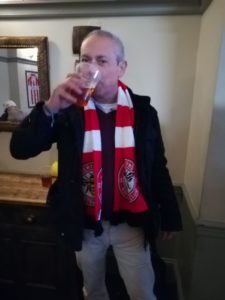 It might have been meeting fans while clutching a banner 'To Bee or Not To Bee' that the school had made for him.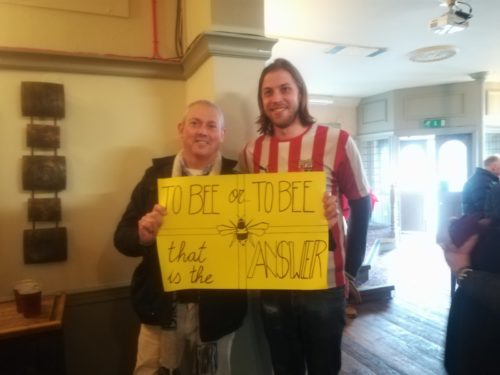 Certainly meeting Kamo Mokotjo in the Ealing Road created another memory and helped turn the school head into a fully fledged Bees fan.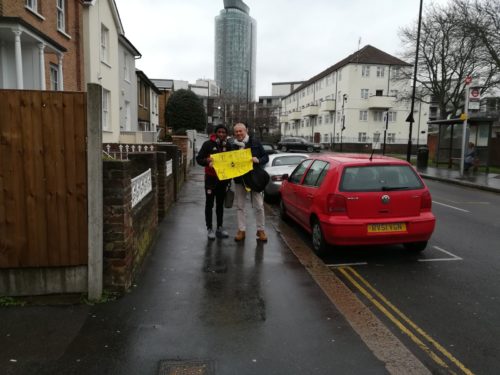 Now three and half years later Colegio Cardenal Spinola in Sanlucar La Mayor is a hotbed of little Bees fans, it even has a 'Brentford Fan Club' with its own logo.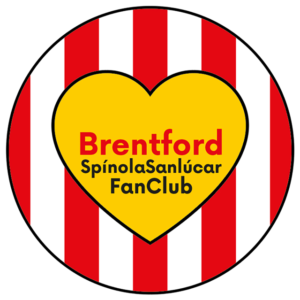 The pupils are practising for a special concert where they will sing 'Hey Jude' as 'a tribute to Brentford FC and the Beatles'.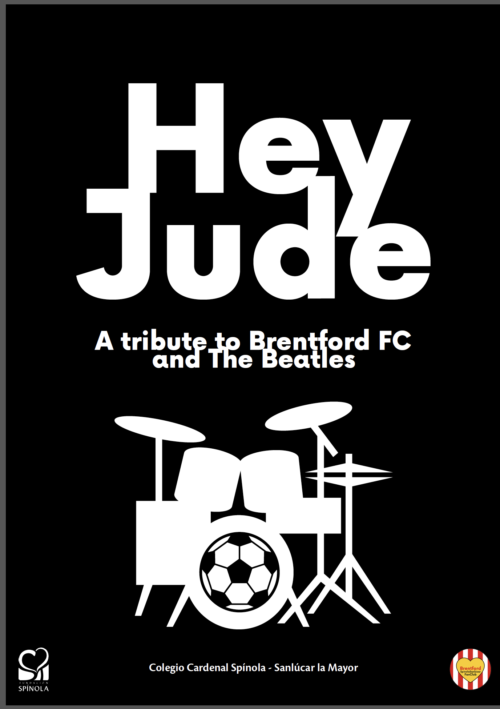 Next year Brentford will provide a weekly lesson  to pupils to help convert this interest into lasting educational value. The Premier League are backing the project with financial support.
All this only came about because of the 'Brentford family' . The short version starts with the friend of a friend who got the tickets back in 2018. Jen Kavanagh is a museum curator who worked with Bees United on the 'Farewell Griffin Park' exhibition currently at the London Museum of Water and Steam. She gave details of Bees United to another teacher at the school and he contacted us asking for our help in creating a link with the club. We passed on details to the Community Sports Trust who immediately connected with the school and began planning a programme of events starting next month. This is being run by Calum McHardy who is the Trust's co-ordinator for 'Premier League Primary Stars' (PLPS) programme which uses the power of football to educate and inspire pupils aged 5 – 11 via workshops in English, Maths and PSHE (Physical, Social and Health Education) .The Premier League, always conscious of their image around the world, are fully behind it.  They already had plans to launch French and Spanish based learning resources in the New Year.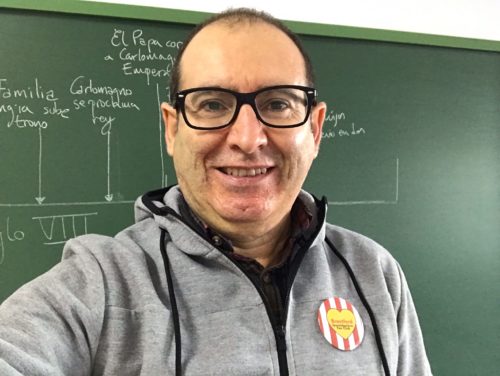 The teacher who first contacted Bees United, Antonio Recio, told us "Alfonso fell very much in love with English football, the same happened to many of us because England is the country where football was born. Going to Brentford was an amazing experience for him. He went on the underground and a bus, he loved the neighbourhood and the stadium was the kind he expected from memories of when he was a teenager. It was amazing for him to visit each of the pubs because his family has always worked in the beer business.
"Ever since that visit Brentford has became very popular, we started following the results and the last six months have been incredible. Especially the play-off final at Wembley which we watched on the television. I thought it would be a good idea to create a project based on Brentford  as a way to connect with our students. Every week we post about the Brentford game on our social media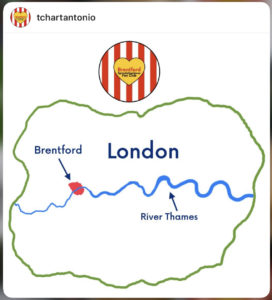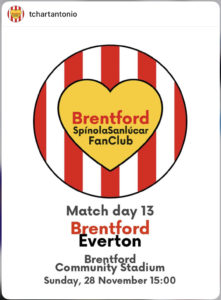 Every Monday morning the students want to talk about that weekend's game. After the Chelsea game they said 'We played much better than the Champions of Europe'. Sometimes it seems they forget about their local teams- Sevilla and Betis -and only want to talk about Brentford. 
We have also created a reading comprehension lesson about the history of the club.I'm sure the students will never forget this school project.
Alfonso's cousin has a band that specialises in Beatles songs so on December 14th they they will play 'Hey Jude' in front of all the students at the school, Alfonso will give a talk about Brentford and then as the finale everybody will join in and sing. I think it will be a very exciting event and the students will love it".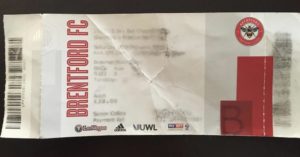 Alfonso still has the ticket as a souvenir of his visit to Brentford. He 
says: "Since I was a teenager I have felt appealed by the unique atmosphere in England's football grounds. In 2001 I visited the old Wembley stadium on a tour: it was really impressive even without people in the stands. I longed for something else though; I needed to attend and see an English football match alive. Destiny and randomness took me to Griffin Park on a freezing and rainy February afternoon in 2018; I do believe no Premier League fixture would have allowed me to enjoy such an authentic experience as that Brentford v Preston did: the four pubs in the stadium's corners, the wooden seats in the stands, and… Hey Jude. I've since been a genuine Brentford fan. Up the Bees!!"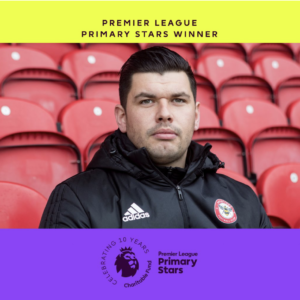 Last year Calum McHardy won the 'Premier League Primary Stars Facilitator award' as one of the Trust's staff recognised for 'their intuitiveness and passion for inspiring young people' during the pandemic. In the New Year he will be speaking to pupils in the Spanish school by video link every week for two months. 
Calum says of the project:
"This is an amazing opportunity for us to engage with some of our international fans, and promote the club's BeeTogether message. The lessons and resources will help develop English, Maths and PSHE skills using the Brentford players and values to inspire the next generation of Bees fans across the globe".