Daniel Sichlau:Could you tell us a bit about the Danish "colony" at Brentford? You're away from Denmark, but it must feel a lot like being home because of all the Danes at the club.
Roerslev: It's very funny. I don't think there are other places in the world, outside Denmark of course, where you feel so Danish. When I first arrived, I spoke more Danish than English. You never feel alone because there are so many you share the same culture and language with. That said, it's not we Danes just keep to ourselves. There is definitely a Danish culture at the club, but it's something everyone is a part of, and everybody benefits from it. We don't isolate ourselves by any means.
James: Who is your closest friend in the club?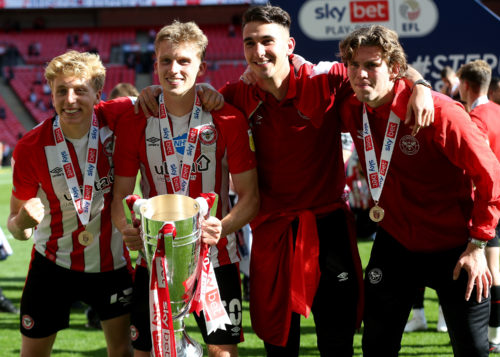 Roerslev: Hmm, I often hang out with Mads Bech, Bidstrup and Luka Racic. I mean, we Danes are all very close, but I see those three the most.
Sichlau: Just how Danish is it? Do they serve Danish food in the canteen?
Roerslev: Haha they do not. We showed them Gifler and everyone was so crazy about it. Everyone loved it. I remember one time when I was injured, I was about 4 minutes late for my rehabilitation session. They told me that I could either pay the fine as you normally do when you're late, or I could buy the physios a Cinnamon Social from Ole & Steen. It's this huge Danish cinnamon cake. I obviously went with that option, so I took my car and went to Ole & Steen and bought them their Cinnamon Social.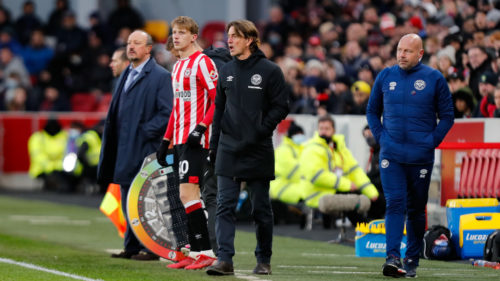 James: What about Thomas Frank and Brian Riemer? Do they pull you aside ahead of games like that and talk to you about it?
Roerslev: Yeah, they both did. They told me that they wouldn't start me if they didn't feel I was good enough. They gave me the confidence and the trust a young player needs in a situation like that. They handled it all really well.
Sichlau: I think it's about time you get to talk about the best season you had in the Championship. I know the entire season was fantastic, but let's skip to the play-off final. How was it to play in that game?
Roerslev: It was insane. We stayed at a hotel the day before the game, and I had no idea that I was going to start in the game. We had gotten the team sheet, but Nørgaard was dealing with an injury and wasn't sure whether he could play or not. It was the play-off final, I was sure that Nørgaard would play that game, so I didn't count on starting. I went to bed very nervous even though I was going to be on the bench. I mean, you're playing for promotion to the best league in the world, and all of my family had made sure to tell me how much money we were playing for haha. Anyway, I wake up the next day and join the others for breakfast. Then suddenly Thomas Frank pulls me aside and tells me that Nørgaard is unable to play and that I was going to start. My legs started trembling and I remember saying to myself: Remember an extra pair of underwear. It would undoubtedly be the biggest game of my career. He told me right before breakfast, and I remember not being able to eat anything. But I had to. I had a game in just a few hours. I kept poking my oatmeal and trying to force it down, but it was almost impossible. Anyway, this is our second play-off final at Wembley in a year, but this one is with fans, which was fantastic.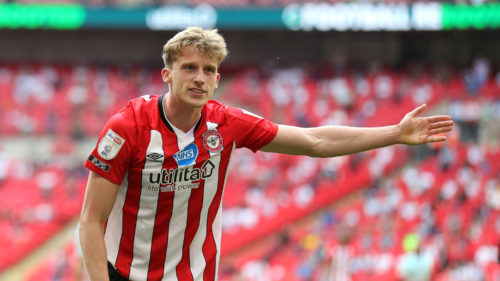 The game starts and the adrenaline level is a bit higher than it usually is. However, we came from a great season, we were on a good run and we had plenty of confidence. We played well and also scored relatively early in the game. A penalty after just 10 minutes with Ivan Toney as cool as you like. We continued playing well after the goal and I assisted the second goal. It was a counterattack after one of their set-pieces. It was a corner and I saw it was cleared towards our rapid winger, Bryan Mbuemo. I saw an opportunity to just get forward, and so I did. I ran as fast as I could and tried to get in a beneficial position. The ball is then passed to me inside their box. I cut back and squares it to Marcondes who puts it behind the keeper. My life peaked at that moment haha. We went absolutely bonkers! It felt almost unreal. However, we knew that we couldn't celebrate too early, so we kept working as hard as we could. We controlled the game and took no risks.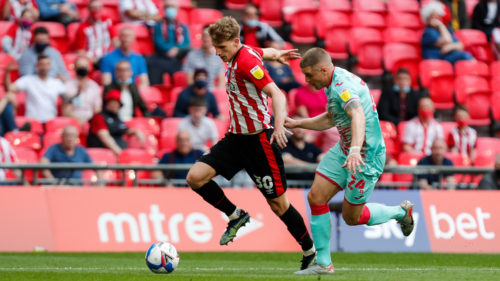 After that, it was all one party. It was the best feeling in the world hearing the ref's whistle and seeing the rest of the team and staff running on to the pitch. Everyone was so happy and almost crying. That night was crazy. I didn't even sleep that night actually. I had to leave for the Danish U21 national team the day after the final, so I went straight to the airport at 8am without getting any sleep.
Sichlau: What an amazing story. You have to tell us about going from the Championship to the Premier League.
Roerslev: Well, the Premier League itself is something I have dreamed of ever since I was a little boy. So, the fact that that dream would come true just around the corner was magical. I also kept thinking that if I manage to do well in training now, I will be so close to achieving what I've always dreamed about. With that said, it's not an entirely new planet all of a sudden. It's still football, it's more or less the same people around you, there's just more media coverage and attention around you and the team. At the end of the day, it's not that much different. You still work hard in training week in and week out to earn your spot as a starter.
Sichlau: Haha yeah. So you were on everybody's lips after your 2-0 win against Arsenal. Brentford was not just the talk of town, you were the talk of England, if not the world. There's still a lot of attention around Brentford, not just here in Denmark, but also in the UK where people just love this underdog tale. Could you tell us a bit about how all this attention is affecting you? You're still trying to be the same Mads Roerslev, working hard and talking to your friends, but I'm guessing the attention and coverage can be hard to handle sometimes.
Roerslev: Well, I think it sounds crazier than it actually is. Honestly, I don't find it hard to stay focused on the football. I've had my debut, I've tried to win a Premier League game, but I still have so much more to achieve, so I try to stay grounded and keep working hard.
James: Could you tell us a little about Thomas Frank? He managed to get you promoted despite a relatively small budget and he seems to be thriving in the Premier League. He has already been linked to some of the big clubs. Do you think he has the abilities to manage one of the biggest clubs in the league?
Roerslev: Absolutely! I can't see why he shouldn't be able to do so. His ability to manage people, and the respect he has, not just at Brentford, but everywhere, and his tactical abilities. It's all just on-point. However, it's always difficult for managers and head coaches, even the biggest ones. Just take Mourinho as an example. You never know for sure, but I think Frank is among the best right now. I think he's the best manager or head coach I have ever had.
Sichlau: If you had to highlight one thing about Thomas Frank that you like the most about him, what would that be?
Roerslev: His humility. It doesn't matter who you are and what you're called. The best one plays. You might be the star and the best paid on the team, but if you don't perform, you won't play. He doesn't sugar coat things. I think that's the best thing about him. 
Sichlau: Perfect! Thank you so much for taking your time to do this episode with us. Good luck with the rest of the season!
Roerslev: It was my pleasure!  
Interviewers;  Daniel Sichlau & Clark James
17 November  2021
Transcript and translation by Tobias Neigaard
For a summary of Mads's roller-coaster career before he joined Brentford HERE.