Unfortunate with injury, short on game time, an exceptional talent. Three of the most common ways VfL Bochum fans described their former player Vitaly Janelt's time at the club. Rarely are players who have not come through the club's esteemed academy so well regarded amongst the fan base, but a feeling of what could have been remains. With the likes of Leon Goretzka, Ilkay Gungadon and Joel Matip, high standards are set for Bochum's young talents.
Janelt arrived at the club on an 18-month loan in 2017 from RB Leipzig before making his move permanent the season after. Despite impressing early on for the club's reserve side, his first few seasons at Bochum were hampered with injury. He became a more prominent fixture in the first team during the 2019-20 season, but despite consistent performances and a few goals along the way, club stalwart and captain Anthony Losilla and experienced midfielder Robert Tesche kept Janelt on the bench.
"I always liked Vita. He was a strong player, a leader on the pitch and scored some very crucial goals for us", said Jakob, a season ticket holder at Bochum's 27,599 capacity VONOVIA Ruhrstadion. "The problem was that he played in a very unstable time in Bochum. There were a lot of different managers playing styles and for him in particular some unusual positions. He was used as a left back and a winger at some times", he added.
To say that it was a turbulent time in the managerial department would be an understatement. Gertjan Verbeek brought him to the club but was dismissed seven months into Janelt's time in North Rhine Westphalia. Verbeek was replaced with Ismail Atalan, which saw Janelt's opportunities become even more scarce. Atalan was sacked after 10 games in charge, and the lack of game time continued under Jens Rasiejewski, who made him an unused substitute in 10 of his 11 games. Rasiejewski was dismissed in February 2019, and after overcoming injury problems, new manager Robin Dutt gave Janelt more opportunities.
Club photographer Tim Kramer got to know Janelt well during Vitaly's three years at the club. "I was quite sad when he left because Vita is an incredible person. From his time here in Bochum we all knew he is a very special player who will always have a connection with the club", he said.
The 2019-20 season provided some of the more memorable moments of Janelt in a Bochum shirt. Having played at left back and left wing, alongside his usual central defensive midfield role, he showed the full extent of his versatility when he went in goal after Manuel Reimann was sent off against Arminia Bielefeld. He was unable to keep a clean sheet as Fabian Klos scored in the third minute of stoppage time to secure a 2-0 win.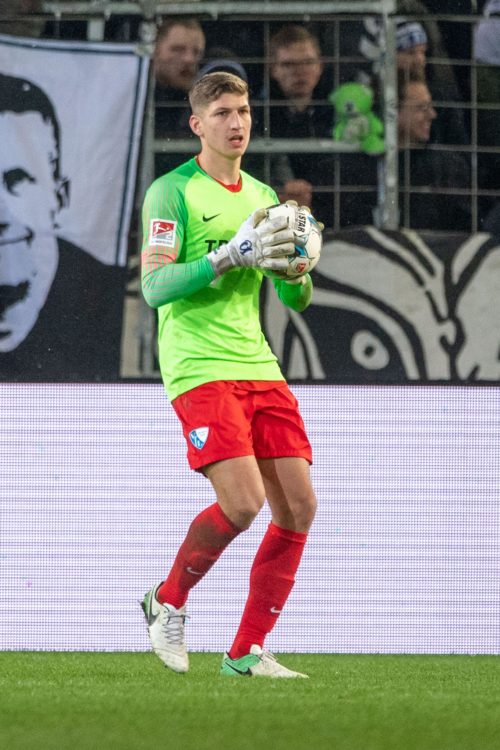 The following month, however, Janelt was the hero and kick-started VfL's rise. Described as "one of the finest moments" of his career, an injury time header gave Bochum all three points on the road and helped turn around a troubled outfit. "In Dresden he scored an incredibly important goal. This is part of why he is very popular with many Bochum fans, but he also didn't really get enough game time", added Kramer.
With Losilla and Tesche permanent fixtures in the side, Janelt struggled to make it off the bench. "When Vita left Bochum, I was really sad. His talent was never disputed, but he often didn't get it on the pitch or played in the wrong positions (often left back). Besides, the other two players in his position are over 30 and we definitely could have used him more and developed him ourselves", said Philipp Schüssler.
When leaving the club in 2020 for a reported £540,000, few fans would have expected him to now be worth just over £10m. "Brentford got an outstanding deal for him. I believe the transfer fee paid has since increased by a factor of 10. If he becomes a player for the German national team, his value will go even higher. If Vita stays at Brentford, you have a super defensive midfielder. If he leaves, you have turned the transfer fee into an insane financial gain", Schüssler added.
Despite the huge increase in value, at the time, few Bochum fans questioned the deal at the time. "A lot of VfL fans thought it was a good deal for the club because Vita wasn't always a starter, and his contract was about to expire. I still thought that he had some room to grow as a player and that we would miss him. But the transfer made sense for him and as a VfL fan you could understand why he wanted to try something new. You have to give a lot of credit to the Brentford scouting department because Vita wasn't a standout player in the 2. Bundesliga. He had weaknesses in his game and under a lot of Bochum coaches he never became an important starter", said ​​Fabrice Czaja, a 28-year-old Bochum fan.
Czaja has even been surprised with his performances in the Premier League. "I knew that his style of play would suit English football better than German, but from being a substitute at Bochum in the 2. Bundesliga to be watched by Hansi Flick as a starter in the Premier League is completely crazy. I really like Vita and I am happy for him, but it has come as a slight shock. An important question for us to ask is if Bochum made a mistake. I really hope that there is a sell-on clause written into his contract for Bochum if Brentford were to sell him", he said.
His expiring contract, and financial worries posed by the COVID-19 pandemic, perhaps helped Brentford secure the deal. "I was disappointed because I knew he was a good player, and he was very well integrated into the team. But on the other hand, he wasn't starting, and we got some money for him, which for a club of our size is always important. All in all, I think both sides profited, but it was still bittersweet", said Jakob.
His popularity was often mentioned when researching for this article. Known for his impressive skills at FIFA on the PlayStation, Janelt was deeply missed when he departed for England.
Having gone their separate ways, the 2020-21 season coincidentally worked out well for VfL Bochum 1848 and Brentford. Both teams were promoted within a week of each other, with VfL on May 23rd and Brentford 29th. Despite not being there in person, Janelt managed to join in the celebrations from afar. "Vitali was an incredibly popular member of the dressing room when he was here. I remember when we went up shortly afterwards in the dressing room the lads called Vitali on FaceTime and celebrated together. It coincided well with his promotion too, as they went up the week later. There were some really nice photos of the lads all celebrating together on the phone. He is firmly a part of us here and is fondly thought of", club photographer Tim Kramer remembers.
Fans note their pride when talking about Janelt's success in the Premier League, most notably scoring a brace at Stamford Bridge. In addition to Bochum fans, his performances have caught the attention of Hansi Flick, the German national team manager. Janelt and Flick met when Brentford played Arsenal in February. With Bernd Leno on the bench, it was Janelt who the former Bayern Munich manager had come to watch.
Bochum fans would be immensely proud if Janelt were to be called up to Die Mannschaft, but there are some notable former Bochum academy players in front of him. "Janelt has come through the youth age groups with the German national team", Kramer explains. "But in truth it's a very tough position to establish yourself in. With Goretzka and Gündogan in front of you it's a hard one for him. That's not forgetting Kimmich. But I'm keeping my fingers crossed and wish him all the best", Kramer added.
Bochum look set to remain in the Bundesliga having returned after an 11-year absence. They tweet and have a website in English. Search for @VfLBochum1848_EN on twitter for more.