There was a time when if a footballer went down injured during a game a 'trainer' would run onto the pitch clutching a wet sponge. Now things are very different. As an example Brentford's Head of Medical, Neil Greig, explains what happened when Bryan Mbeumo was injured against Wolves in September: 'As I was running onto the pitch my colleague Nick Stubbings was in the dugout, replaying the video of the specific incident that had occurred seconds before. He was checking a feed from multiple cameras to see if there was any contact to Bryan's head, was he moving when he hit the floor. As I was approaching Brian lying on the ground I was already getting feedback on the radio in my earpiece from Nick reassuring me  'he was never unconscious' following the collision.
The increased focus on possible head injuries and concussion management is just one of the many changes Neil has seen in his eleven years at Brentford. He is one of the club's longest-serving staff, having joined in June 2010 at the end of our first year in League One after promotion from League Two. He'd spent five years as a Sports Therapist at Watford.  "I came in predominantly to set up the medical side of the academy system that the club wanted to start instead of a centre of excellence. It was really a blank canvas, there was nothing in place from a medical and sports science for the younger guys and the vision of the club was so impressive. 
"When I first arrived at the training ground in Jersey Road there was just the Pavilion building, later portacabins grew and multiplied around it. The Pavilion was the gym and the canteen. There was an old stove in the corner which the kit man/chef Dave Carter would heat up for a pan of beans at lunchtime.You could be having your beans on toast and somebody would be sweating on a bike next to you doing their workout."
Neil says that with better players and bigger expectations changes had to be made. "When I came there was one usable pitch and everything else was a grassed area that wasn't really tended to. Now we have got two semi-synthetic pitches similar to the one at the stadium, we've got pop-up sprinklers  in every area and more goals than you can shake a stick at."
Football's attitude to medical matters has changed too. "This is my 17th season in football and everything has become much more player centred,. We always take the view of what's in the best long-term interests of an individual player and that might not always be what's in the club's best short-term interests. We're fortunate to work for a club and an owner who care and who have strong moral values, which isn't always the case in all clubs."
" 
The medical staff includes several physiotherapists and doctors, Neil says: "I've got a fantastic team which we've tried to develop people from within. There's a group of physios led by Nick Stubbings, with Liam Horgan and Richard Potts supporting on the First-team side and recently we've recruited Stella Zhang, who brings great experience including Australian rules football to work with the B team. My role within the daily running of the training ground is to ensure that these outstanding people can maximise their contact time with the players under their care. If I can field the majority of the other medical matters, then these guys have a platform upon which they can perform their roles to the best of their ability allowing them to thrive and develop,
"I should also mention Chris Domoney, whose title is 'soft-tissue therapist' but who has also become so much more than that including a mentor to some of the younger players and even the staff." There are also two doctors Dr Stephen Thompson and Dr John Korgaonkar who share the work across training and matches. All of these guys dovetail with the other departments at Jersey Road, in particular the Performance team, led by Chris Haslam, who are always developing innovative ways to push the players to new levels.
"The work doesn't stop when the players go home, especially when they have long-term injuries. "We've had players from abroad recuperating from surgery, maybe on crutches, living alone in an apartment with no lift. We have to think 'how is he going to get food, how can we help with the chefs, with transport, with a supportive shoulder when they need it? Trust is such an important thing especially when players are injured. They want to, and should, know everything about their injury. They want to understand, they are bright and intelligent people. If there's a problem, what are the different solutions that we can try? Players have to be at the centre of that discussion."
Then along came COVID which Neil says 'has taken over my professional and- my wife will tell you -my personal life. The hardest part at the start was that we were being asked questions when we really didn't have any answers. We had to be honest and say we didn't know, although we would try to find the answers. Nobody really knew. Honesty has been one of the most important parts of managing the group through Covid. We felt that it was OK to say "we don't know" to players and staff. It was important for them to know that the answers weren't necessarily out there and we needed to work together.
"In general, the players and staff have all stood up and supported the Covid processes that have been in place. We've tried to use it as a competitive edge, knowing that if we could be X percent better than our rivals, that might translate into an added performance benefit. Over the 18 months the bubbles have changed in line with government regulations. When we initially returned to Jersey Road  we were really restricted, you couldn't have more than five players on a training pitch, they had to come in at staggered times, you couldn't go within two metres of anybody, you weren't even allowed indoors to shower.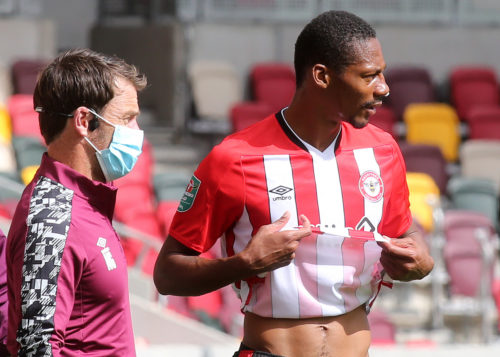 "Now we are 70% back to normal we've been allowed to relax some of our protocols but we still have a COVID officer from the Premier League on site every day. The guys can now eat together again but it is in a ventilated marquee with strictly limited numbers. Players and staff have to complete a short app before they arrive at the training round each day showing that they haven't had symptoms or been in contact with anybody. We call for honesty in that and players have called us up and asked for advice before they travel.
"The club is built on good people with good values. I would be lying if I said we hadn't had frustrations with the restrictions but we are slowly moving back towards normality. I think we are going to be living with this COVID issue probably forever to some degree  but hopefully not with the restrictions that we still have."
Brentford's Co-Director of Football Phil Giles says; ""Neil has done a fantastic job through the COVID pandemic, he is a really organised person who has helped navigate us through a whole series of challenges and requirements from the EFL and PL. I think we have generally avoided the worst impact of the pandemic so far and that directly contributed to us getting where we are today. Neil is like a lot of our staff because a lot of his work goes unseen outside of the training ground, but is vital in getting fit, healthy and happy players performing for us on the pitch."
COVID was at its height as Brentford seemed poised for promotion to the Premier League at the end of the 2019-2020 season.  "Looking back the Barnsley game was probably the lowest point in my career. I don''t think I've seen a group of people in a dressing room quite so low after a football match. It was devastating at the time. Then to get to Wembley against Fulham and not really perform how we'd hoped, we wondered where do we go from here? But you realise with experience that life goes on, you can't dwell on it and there is always something else around the corner.`'
His prophesy and optimism was proven right a year later, initially in the second leg against Bournemouth when Brentford went two -nil down on aggregate. "The four thousand fans in the stadium got behind the team, it  was such a fantastic day. We went into the final against Swansea with so much belief, I was a little more scared than most having lost at Wembley three times in my career. But it was everything we had worked for over 10 or 11 years all coming to fruition. I find it hard to talk about it without getting emotional. It's not like a normal 'job'. Your family, your friends, everyone becomes emotionally invested in it. It meant so much to so many to win on that day at Wembley and it was just reward to everyone who been involved in this incredible journey."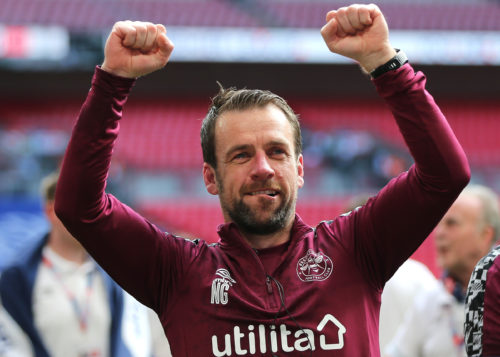 Neil says it has been a 'bit of a whirlwind' ever since with Premier League regulations to comply with and he realises "there's a lot more scrutiny from the Premier League on us from the medical side of things. I think you are mindful that you are under the spotlight when you go out there.  The cameras are on you and potentially the video is going to be played back and reviewed."
Overall he is pleased with life in the Premier League so far."I think we have acquitted ourselves fantastically well, players and coaches have performed, every time we've been presented with a challenge, the players and the coaching staff have really come up trumps.We are now where we want to be and deserve to be. We are still learning but the club is about learning, feeling comfortable trying new things that may not always work, that's one of the strongest things that I think Matthew, Phil and Ras and the board in general have brought into the club. In 15 to 20 years time there will be a book or a film about what's been created here and you wouldn't be able to script it." 
Just when you might have thought Neil might needed some time off he's i training for his 7th marathon, being run in Manchester on Sunday 10th October. The club have christened it 'Running for Rob' because one cause he will be fund-raising for is CRY (Cardiac Risk in the Young) the favourite charity of Suzanne Rowan, wife of Brentford's late Technical Director Rob Rowan.
"The players are very generous and supportive of fund-raising events particularly when they can see something tangible at the end of it, to see where their money is going.Part of the money raised will be for screening young people to help identify heart conditions that they don't know they've got. We hope to do that at the stadium. But I also wanted there to be another end product. We had three players in the stadium when Christian Eriksen went down in the Euros and his life was saved because there was a defibrillator, an AED (automated external defibrillator) in the stadium. I wanted some of the funds to go towards providing AEDs for clubs and educational facilities around the Brentford area.The Brentford Community Sports Trust will organise that. The club itself has been very generous and the players have been key contributors.  Josh Dasilva was the first person to put his name down. He said to me 'how much is a defib'? I said about a thousand pounds, he said 'right, here you go, a thousand pounds to start you off'.
"Josh is a player that Rob was instrumental in bringing to the club, he was devastated as was everybody was when we lost Rob. He kicked off the fund-raising and everybody else jumped on board.Players in general receive a lot of bad press and it's largely unwarranted, they are genuinely good people .And particularly we are blessed with a really, really good group."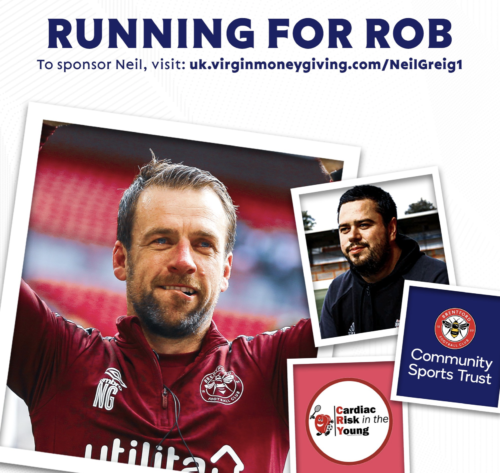 You can donate to 'Running for Rob' here