99 days after it was meant to start Fulham v Brentford finally kicked off at Craven Cottage. The Putney End stand which would normally be packed with Brentford fans was empty.There was one small pocket of Brentford support, the 10 seats allocated by the EFL to visiting 'Directors/Execs' . Leading them was owner Matthew Benham, Chairman Cliff Crown, CEO Jon Varney and Co-Directors of Football Phil Giles and Rasmus Ankersen. The remaining seats at this game and all other games for the rest of the season were shared on a rota basis between the other directors and associate directors. Bees United Chairman Stewart Purvis, who holds the BU seat on the club board, was allocated a seat for the Fulham game.The BU Board, sensitive to the fact that other supporters could not be at the game, debated how best to use the ticket. We decided that Stewart, who has covered 16 away games this season for BU, would write a different kind of match report.  Since most supporters will have watched the game on Sky or Ifollow he would focus on what the TV cameras couldn't show, what it was like to be a Bees fan sitting in the Johnny Haynes stand at Craven Cottage in these most unusual circumstances. Here is his report:
There were only two words for it: 'weird' then 'wonderful'.
First the weird bit. If these weren't such unusual times you'd find it very odd to turn up half an hour before a very important football match and find nobody outside. But this is becoming the new normal for the resumed Premiership and Championship season. I did spot one man wearing a Fulham supporters cap but he only seemed to be there because he was taking his young daughter for a cycle ride past Craven Cottage. I suspect that by the time the game started he and and all the other Fulham and Brentford supporters had taken their places -socially distant of course- in front of TV sets or computers.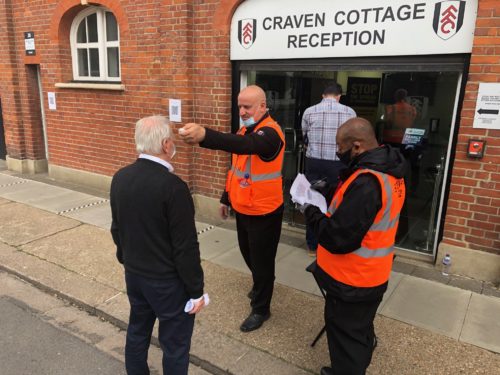 For those on the official list to be allowed into the ground the first step was a temperature check by a device pointed at our foreheads. Being told I was 35.8 didn't mean a lot to me, when I was at school we did science in fahrenheit. But I was cleared to go forward into the reception area where I was given a bottle of water, there being no food or drink available further on. I was offered a mask and given a pass with the number 10 on it. Slightly baffled as to which row this particular number 10 would be in, I realised these numbers corresponded with white stickers on the elderly wooden seats in the Johnny Haynes Stand. This way the handful of people in the stand could be kept at least five metres apart by some very conscientious stewards. They helpfully explained that a trip to the toilets would involve a one way traffic system around the stand. Our thanks to them for looking after us, especially the one who whispered that they were really a Brentford supporter.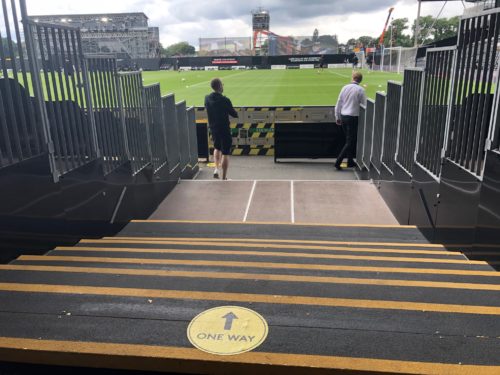 When it came to atmosphere the home of the 'clappers' had not made any special arrangements. It was very much business as usual: no fake crowd noise (any you did hear was put on by Sky) no cut out pictures of fans and when the announcer on the PA read out the teams before the game he paused after each name as usual but of course nobody cheered to fill the gaps. Perhaps the oddest moment was when the teams came out for the game itself the polite applause in the main stand reminded me of a village cricket green when a new batsman comes out. 
On the other side of the pitch there was nothing much to see because the Riverside Stand has been demolished to make way for a new one.The gap meant I could see the chaps from the South Bank Sailing Club going about their Saturday sail. The Putney End stand where thousands of Bees fans would normally be making one hell of a noise was row after row of empty black seats totally silent.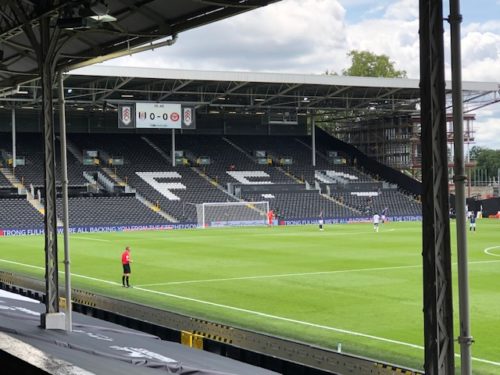 The major news from the team sheet was that Bryan Mbeumo was identified as the person who'd tested for COVID earlier in the week and was therefore not available. In a subsequent round of testing there were fortunately no further positives so Tariqe Fosu took his place wide on the right.
As all Bees fans know by now Brentford shaded the first half but Fulham hit the post and went just wide moments later. At the start of the second half Fulham took command and Mitrovic had the ball in the net but was ruled offside. Five minutes later David Reya made the first of a series of good saves from Fulham headers. Brentford were living in a dangerous silence.
The turning point was the second water break, taken at 67 minutes. That's when the wonderful stuff started. Thomas Frank took off Mathias Jensen and Tariqe Fosu and brought on Emiliano Marcondes and Shandon Baptiste. Both made an immediate impact, particularly Emiliano who picked up where he left off with that great goal against Sheffield Wednesday back in March. His cross from the right was destined for Said Benrahma's left foot. In truth the Algerian had been having a quiet game until then because of an efficient Fulham defence.That was all forgotten as he ran off to celebrate with an elbow bump with Christian Norgaard who had started the move.
Until then there had been no noise in the ground apart from players calling for a pass and the glorious sound of boot on ball. But now In the Brentford 'away end' all ten of us, not entirely sure what the 'protocols' decreed about such moments, were on our feet applauding. Just three minutes later we pushed the celebration envelope a bit further when Benrahma and Marcondes switched roles, the Algerian setting up the Dane who cut inside and crashed it into the Fulham net. In 25 minutes Brentford had gone from holding on for a draw- which would have been a fair result in itself- to a glorious victory, one to compare with the best of times at Craven Cottage even if so few were there to witness it in person.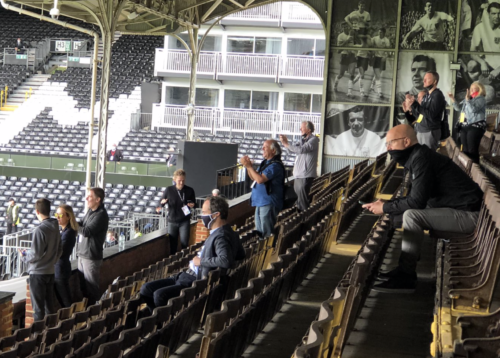 At the end Henrik Dalsgaard, who'd again been in top form, signalled his teammates to come over to acknowledge our acclaim. After a little hesitation about whether the COVID rules allowed it they formed up, soclally distant, and waved back.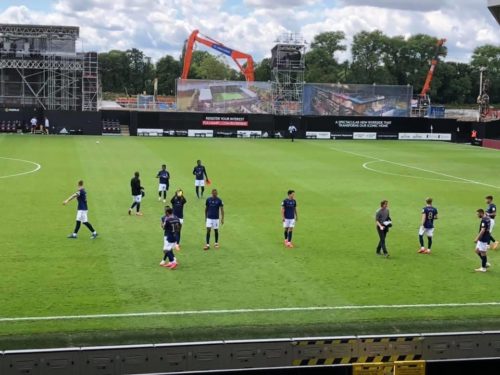 Captain Pontus Jansson, who'd kept Mitrovic under tight control at key moments, did a live Sky interview and then joined the line.Finally Thomas Frank came over and with a fist held high signalled to owner Matthew Benham that this was only just the start of what his team can achieve in the next few weeks.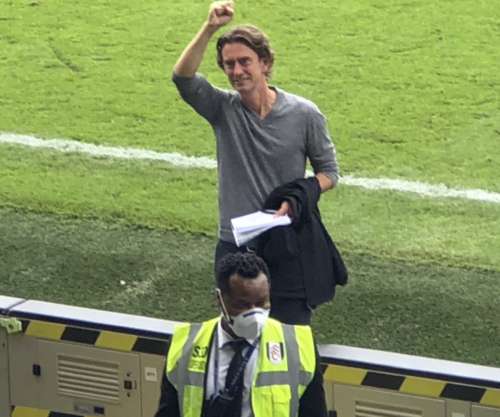 Fulham: Rodák; Odoi, Hector, Ream, Bryan; Reed (sub Arter), Cairney; Knockaert (Jasper), Decordova-Reid (Johansen), Kebano (Cavaleiro); Mitrović
Brentford: Raya; Dalsgaard, Jansson, Pinnock, Henry; Dasilva (Valencia, Nørgaard, Jensen (Marcondes ); Fosu (Baptiste), Watkins, Benrahma