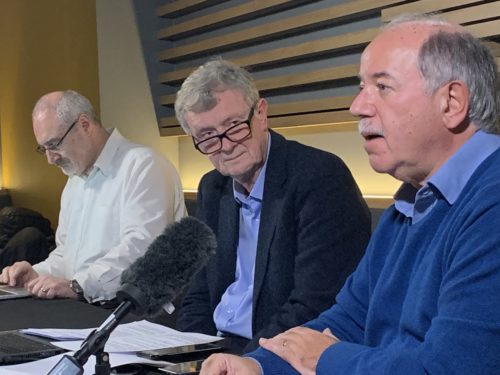 'Stuart was looking so lovingly at Cliff I thought at one point he was going to propose'. Post by 'Rebus' on the GPG.
The Bees United Annual General Meeting, which used to involve about 20 people gathering in the Musical Museum for an hour before a home game , has changed enormously over the past three years. In 2020 the opening of the club's smart new offices on the Great West Road provided not just a new and pleasant meeting space but also the chance to gawp over the balcony as the new stadium approached completion. Afterwards we went to the game against Sheffield Wednesday at Griffin Park not knowing that this new thing called COVID meant we wouldn't return to any stadium, old or new, for months.
So the 2021 AGM became what we'd all begun to call a 'virtual event' entirely online, a bit clunky at times but giving members an equal chance to attend wherever in the world they lived.
Now in 2022 the AGM was a 'hybrid', it existed both as an in-person event, 35 members gathered in Brentford's poshest lounge 'the Oxford and Cambridge', and 125 people sitting in front of computers in a host of different countries.  
Just to make it really stressful for the organisers Don Tanswell and John Scott we agreed to be the guinea pigs for the technology of 'Blue Jeans by Verizon', Brentford's new 'virtual meetings and events partner'.
When it was all over we decided to take a chance  and ask members what they made of it. Don Tanswell who created the online survey explains; "We were concerned to learn about any issues people faced and why some didn't attend and if people had thoughts they wanted to share. In unprecedented fashion, we conducted an online survey of all the members who registered.We received over 100 replies with a response rate exceeding 50% – stunning. Some questions were simple – "did you attend" and some required some thought and writing".
Overall respondents were positive about the AGM : 'very professional and good event organisation" but 'the sound for the main speakers was not great' and it was a 'bit dark at the front'.
The biggest reaction was to the question and answer session with the Club Chairman,Cliff Crown. 30 questions had been submitted in advance and there were more questions on the night from those in the room. The most common positive reaction was that it was 'good that Cliff Crown answered so many questions. It would be even better to get Thomas Frank to do the same thing…' (3 or 4 like this!). The negative was that in my enthusiasm to get through as many questions as possible, one member thought I should have challenged Cliff more 'it leaned too closely towards the feel of a club-run event rather than a fan-led forum. Though it is to the club's credit that they are so willing to support such events, this is an important distinction that was lost'.
In the feedback survey we wanted to know if members agreed with the objectives I had set for the year: 
To keep building an even bigger and more diverse membership
To build a stronger connection with our international members
To monitor what the implications might be for Brentford from the next stage of the fan-led review process
To help build a stronger connection between the fanbase and the Club's Community Sports Trust.
Overall members were supportive of these; 'As above, to increase the number of members making donations. And to do so by emphasising the critical nature and contribution of Bees United's efforts in representing fans views and maintaining and building an exceptional bonds and relationship between the FC and Bees United'. But there were also mentions of working more with BIAS , ticketing and 'the various new and different challenges that the fan base is experiencing'.
Finally one comment that Don Tanswell liked so much it might have been him speaking; 'Do more surveys like this'.
We will.