Hi there, I've given myself a pseudonym (Dave Vernacular 😉) because it's a bit cut throat out there in the world of memorabilia although saying that, I'm sure some will know and work out who Mr Dave Vernacular really is ….
This month I've got some special favourites.
Some of our long in tooth Bees fans may recall an end of season event that was held on the hallowed turf of our beloved old ground Griffin Park. This was 'The Brentford Sixes' Tournament, that came into fruition from 1973. Six – a – side football teams entered the knockout type Cup competition, with the ultimate winners lifting a shield that was presented by our former chairman at the club, Walter Wheatley. I never personally took part with any team or club, but do recall going to the ground and watching some of these games over the following years.
That was then and if I can now take you back some 20+ years (the months and years seem to go so fast these days !) to around about 1992. It was a Saturday morning and Brentford had a first team home game scheduled later that day and afternoon. My brother and I drove up through South London and for some reason the traffic was not so chaotic and congested on our trip this time, so much so, we were very early for the game. As we were travelling through Wimbledon, we happened to see a car boot sale ongoing and thought we could kill some time and have a look at what, if anything was on offer from the many sellers present.
Ambling amongst the many stalls, I eventually found something that piqued my curiosity. It was 'The Brentford Sixes' tournament shield !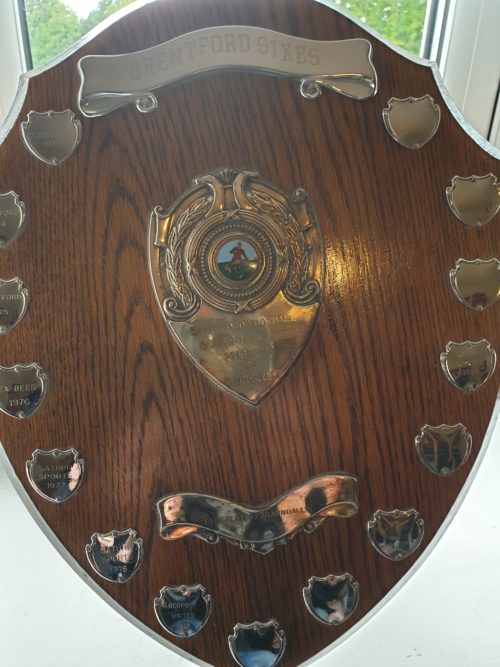 How did it get here ?! Why was it here ?! I talked with the seller and asked how much he wanted for it .. '£10' …. A tenner, for such an artifact of great importance … I had to have it … rummaged through my pockets and I had £7.65 in cash. Asked my brother and he was penniless. He was and still is, always lacking on the cash front. Anyway, I asked the seller to keep it and do not, under any circumstances, sell it to anyone else. We would go seek a cash point machine and get the required money needed to purchase this magical piece of Brentford memorabilia. There were no cash point machines anywhere, none that we could find anyway. With time timing ticking away and mindful of needing to get to Griffin Park for the game, we went back to the seller. He still had it and hadn't sold it to anyone else. We explained we couldn't raise the £10 and would he take £7.65 for it … he said 'yes' .. I was ecstatic. What a find, what a day, what a story.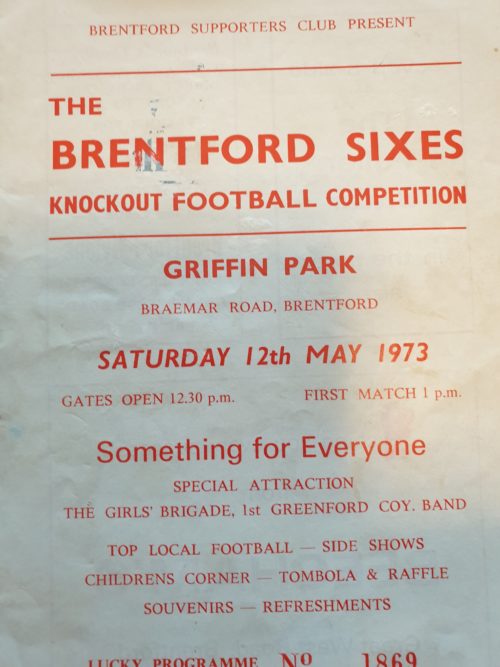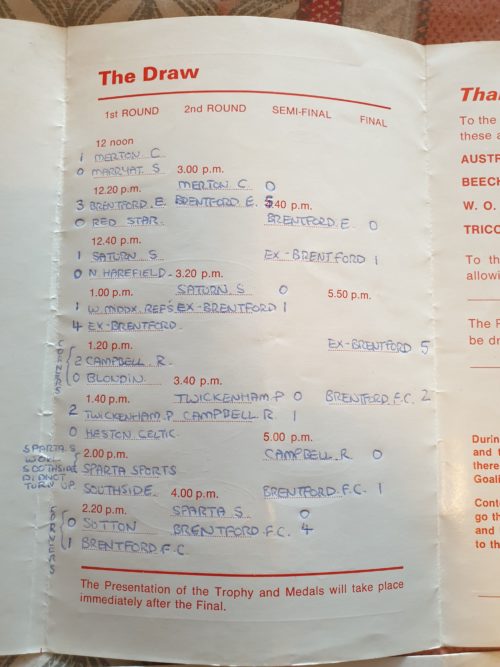 I was totally made up with our find and acquisition, so much so, that I can't really recall what happened for the remainder of the day and the ultimate first team game and result, but I think we probably won by a hat full of goals.
My second pick this month take us back to October 2 1971, when Brentford, then managed by Frank Blunstone, played a home game at Griffin Park, against Northampton Town. After just 38 seconds of the game, we were one goal down scored by the prolific, Dixie McNeil. Thereafter, the game turned on its head, with the mighty Bees coming out victorious and by six goals to one, with John O'Mara scoring a hat trick. As a result of this victory, Frank Blunstone was awarded the Fourth Division Manager of the month, with a gallon bottle of Bell's Scotch Whiskey being the prize. He was presented this on the pitch before our next home game, against Bury. This was one day before Frank's birthday and couldn't have come at a better time.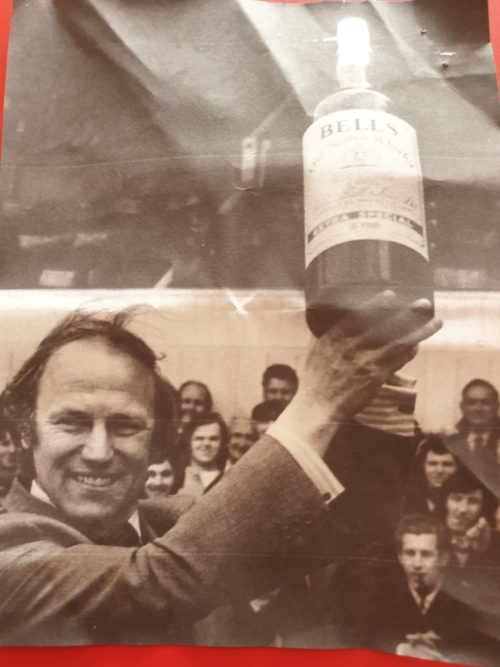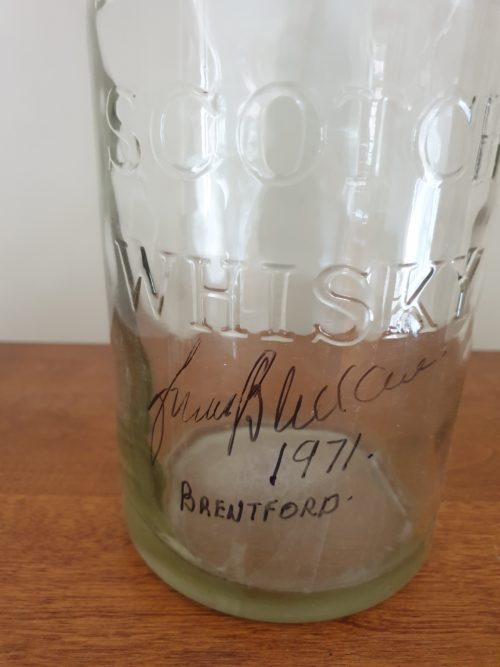 Frank still lives up in Crewe (he was born within a goal kick of Gresty Road). He asked a friend if he wanted and could sell, some of his own personal memorabilia, one item of which was the bottle, This friend of Frank's asked if he could sign the bottle and then contacted me, knowing I'm a Bees fan and I bought it off him. That was about 6 years back now. Frank drank all the whiskey, over time.
It's really quite amazing what you can find out there, if you have the time, luck and inclination 😉
Regards,
Dave Vernacular.