Alan Walsh is very proud of Brentford's new stadium and he hopes Bees fans are going to be too. His wish is that whenever they are finally allowed in for a game they will go 'wow' just as every other visitor has so far. Alan's official title is Operations Director of Brentford FC. He's 'Walshy' to his colleagues and his journey from Griffin Park to Lionel Road symbolises the transition of the club over the past few years. It is also part of Walshy's own personal story.
Alan Walsh grew up in a small Irish village, Belcarra in County Mayo, which has a population of about 250. Walsh is a famous name there. In 1937 Alan's grandfather formed the Brose Walsh Dance Band, their fame spread across Ireland and there were tours to England and America. His sons joined the band and then his grandson. In a photograph from 1991 Brose Walsh is centre stage with his saxophone and to the right is his grandson 'Alan Walsh (sax)'. His grandfather's advice to Alan was 'if you learn a musical instrument you'll never go hungry'.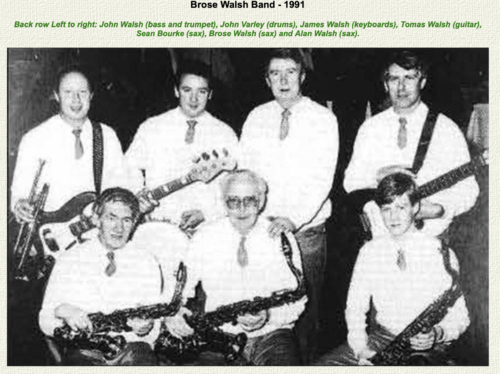 When he left school Alan decided to move on from life in an Irish 'showband' and applied to colleges in England. After his interview at the London College of Music he was told his piano playing was not quite good enough to get him a place but his saxophone playing was. "When I left college I needed to get a job between playing in bands. I talked to a friend who was working in the exhibition business and he got me work the very next day at Olympia. I got properly trained up, worked at the other big exhibition centres like Earls Court and the NEC in Birmingham, then I became an event manager at Excel in London."
That's how Alan came to be hired by LOCOG, the organising Committee for London 2012, to be Arena Manager at Excel, planning and then managing the Boxing and Weightlifting events for the Olympics and Paralympics. "My claim to fame is that the only gold medal that Ireland won at 2012 was in my arena: Katie Taylor's. It was a pretty special moment for me. The final gold medal that Team GB won in 2012 was also in my arena and that was Anthony Joshua's."
After 19 months working for LOCOG, Alan took some time out, recharged his batteries, and played some golf while he pondered what to do next. "I could have gone to the Commonwealth Games in Glasgow or the Olympics in Rio but my wife is a school head teacher, we have two kids and we live in Ealing. My wife saw a local position advertised and said 'Brentford Football Club are recruiting for an Operations Manager'. I got the job."
Alan's first office at Griffin Park in April 2013 was very different from where he'd worked in the great exhibition and conference centres of the world. Later it became the club's tiny reception area in Braemar Road. "You could be on a call to the police, planning for the next match, when somebody would look in and say 'where's the shop?'
 Alan says he never stopped and asked himself 'what have I done?'. "It was a club that was going places, League One at the time, a new stadium coming and that attracted me." But there were very clear contrasts with the Olympics. "I can recall it from Day One. I'd just come from the high security of London 2012 and I was sitting there at Griffin Park and somebody came in off the street and said 'I'm just using your toilet'. Anybody could walk into the stadium, walk onto the pitch, there was no security so we needed to tighten that up."
Alan joined Brentford on the Thursday before the game which has become legendary in Brentford history, when an injury time penalty by Marcello Trotta against Doncaster could have promoted the Bees to the Championship. Instead the rebound off the crossbar led to Doncaster scoring and getting promoted. "On the TV highlights there was a shot of a Doncaster fan holding up two flares. It was the first time I'd seen that moment and I said to my team: 'Guys, we haven't got CCTV cameras covering the crowd'. So we reviewed the whole area to make it more secure and put in extra CCTV." 
There was more to be done at Griffin Park. "We had floodlights that had birds nesting in the housing of the fuse boards, they had eaten away at the insulation all round. We had to re-do all the lights completely. Overall there was a lot of work we had to do to keep the old girl ticking over. It was probably the perfect template for me to learn my craft running a football stadium."
In 2018 Alan was promoted to Operations Director and in 2019 the new Chief Executive Jon Varney asked him to take on extra responsibilities for box-office ticketing and catering. The new stadium was also taking up more of his time."I wasn't involved very much in the original planning, Brian Burgess and Chris Gammon were leading on that, but I was being asked operational questions on specific issues. When Conor Hayes came on board to reassess the project he said 'this is what we need to do, this is the focus, how are we going to do this'. We now needed a stadium that was not just Championship ready but also Premier League ready and importantly broadcast ready too. So now we have the biggest TV gantry in the UK."
Ensuring that broadcasters were not just happy with our facilities but preferred them to other grounds would bring extra money into the club through match fees. "Conor got us totally focused that it was going to be a stadium that was both Premier League ready for football and Premiership ready for Rugby, the only dual sport venue in London."  
At the turn of the year it was hard work but all seemed to be going so well. "I had been involved in the stadium project for about four years, it was like doing two jobs in the time of one, it was never a nine to five role. We got the stadium construction to pretty much where we were ready to get it handed over. Then COVID comes in."
Alan Walsh and his Operations team didn't only manage the final days of Griffin Park while preparing a new stadium, they now had to cope with the COVID consequences at both locations and at the Jersey Road training ground too, all at a time when nobody knew if and when one season would finish and the next would begin."I said we have to keep going, until we know more we have to be prepared for any eventuality. Full credit to the ground staff, they didn't stop, they were maintaining pitches at all three locations.
"From the West Brom game, the first home match back after the break, we had to have all the necessary infrastructure in place; the temporary showers, the astroturf, hand sanitisers, all the one-ways, the red and amber zones, wiping down goal posts, washing down balls.Then there was the de-commissioning of Griffin Park and the tours. I'm very fortunate that I have a great team."
Brentford's Chief Executive Jon Varney says: "Alan and his team have played a pivotal role in our move to our new home. Over the past challenging six months Alan and his Operations Team have not only ensured a successful and seamless move from Griffin Park they have also navigated us through the COVID protocols at Jersey Road and at our offices on Great West Road. Walshy has an exceptional can do attitude and is an influential and respected member of our Leadership Team, sadly his only negative is his avid support of Manchester United!"
Those visitors who have been shown around the stadium by Alan remark on his obvious pride and passion in what he has helped to create. 'Looking out over the new stadium, it feels pretty good. We have been fortunate in having an owner like Matthew who has invested in us as people and invested in the club and this project.  We have a great venue, a great location. Am I passionate about the stadium? Absolutely, it's not the biggest one in the world but this isn't about size it's about atmosphere. We haven't held back in the design, we've spent where we needed to spend. I think it will be a great day when we can get all our 10,000 plus season-ticket holders in here. I think a lot of people say they miss Griffin Park, totally agree, we should never forget Griffin Park so we've brought the Trotta crossbar to install in the West Stand concourse, it is part of the club and its history. We've also brought some of the red and white posts from Ealing Road to put in the West Stand.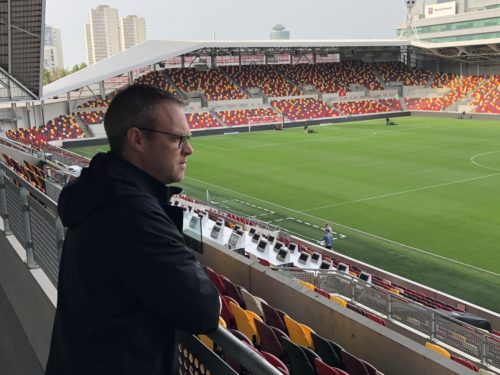 Alan is optimistic that the fans will like the new stadium because "the majority of people who come here so far go 'wow'. It is a nice achievement for me and my team. Wembley got handed over a year late, Tottenham's stadium got handed over ten months late, we said we'd be ready for this season and we were. I think everybody associated with Brentford should be proud, we have done it the Brentford way and I'm sure the club will make history and continue to do that."
Now he has one job rather than three, Alan just might have a little more spare time for his saxophone. "I played with Geno Washington just before 2012, I also did some work with The Foundations. Before COVID I still played in corporate bands, function bands, one is called The Chance Band. They'd ask if I was available on a certain date, it might be anywhere in the UK. I'd look at the fixture list and if there was a home game I'd have to pass up that chance and somebody would stand in for me. If Brentford were away that day I'd tell them 'I'm available'."
So when the day returns that  music venues can get back to normal keep an eye out for that saxophone player on the right.