The tale of Trish Taylor is one of personal courage but above all it is a very Brentford story of family and togetherness. It is best summed up in one picture. The scene is Griffin Park in April last year.The Brentford B team have just won the Middlesex FA Senior Cup beating Harrow Borough 4-0. After the presentation of the Cup the usual celebratory photographs are being taken on the pitch. The B team players refuse to leave the pitch until one more photograph is taken. They want their kit manager, who is off work having treatment for cancer, to join them. The kit manager is reluctantly lifted over the railings to lift the Cup.Which is how Trish Taylor came to be at the centre of everybody's attention and affection among the players she calls 'my boys' because she is much more than a kit manager to them.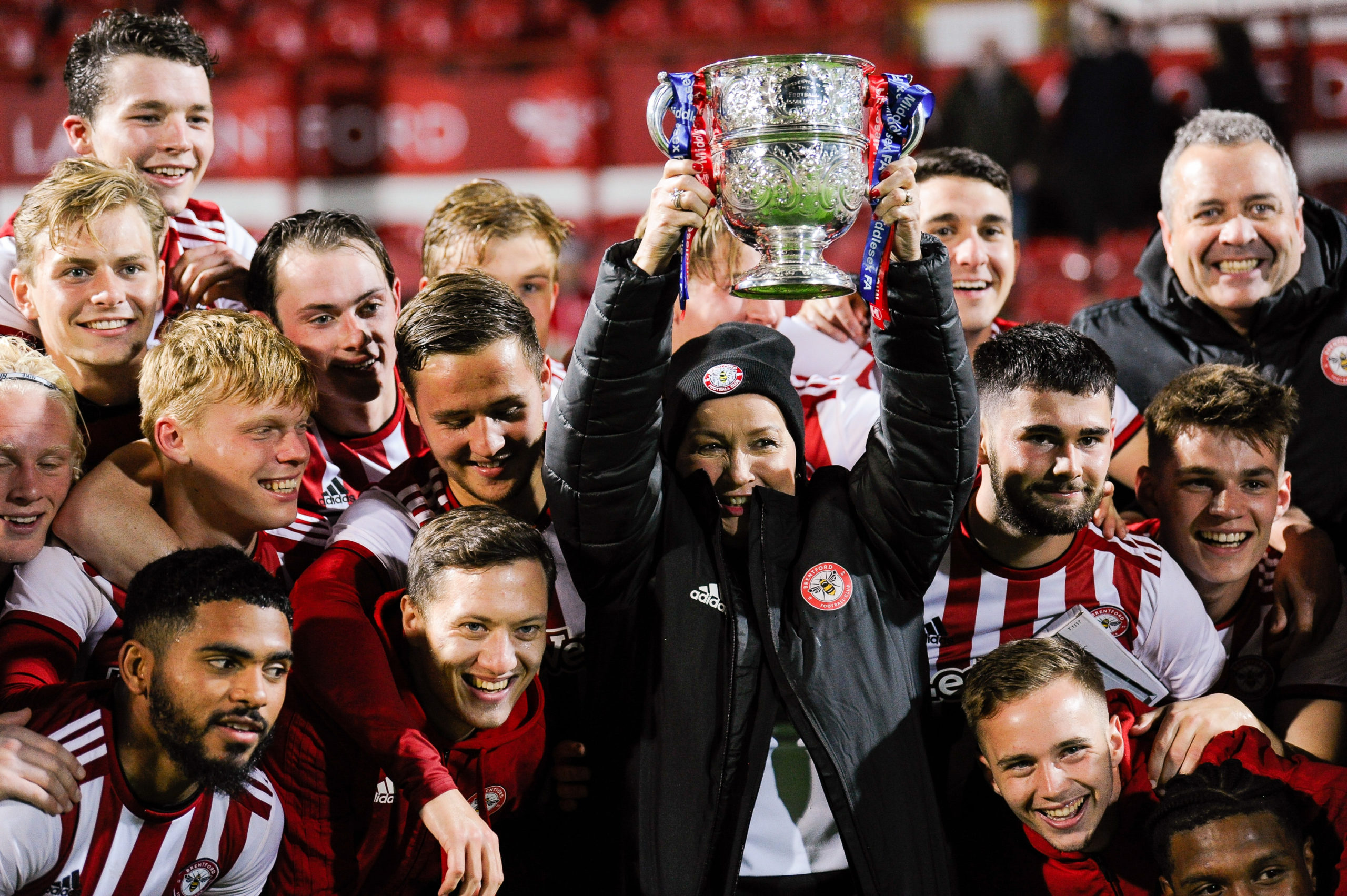 In the top right hand corner of the picture there's a man who is clearly a bit too old to be a B team player and he is part of this story too. At Bees United we set out to tell the story of this unsung heroine and her unsung hero husband. Trish starts us off:
"I worked for British Airways for 30 years. I wanted a complete career change after reaching that milestone at BA. So one day I was an aircraft dispatcher in charge of making sure a 747 took off safety on time and the next I was ensuring that 30 plus kits were ready for training and matches.
"The change happened because my husband Simon, who's been a Brentford supporter since he was 12, saw on Twitter that the club were looking for a part time kit assistant at the Jersey Road training ground. I thought 'that would be different, I'm going to apply'. I had washed my eldest son's kit when he played on Sunday mornings for Staines Town but never more than that. 
"Then having got the job and spent five weeks as a laundry operator the club were looking for somebody to go to Spain with the B team which had recently been created by Rob Rowan. The trip was a baptism of fire and when I came back they wanted the B team to have its own kit manager to mirror the first team  structure. But it would mean going full time. I thought I'd give it a season and I'm still here now.
"Rob Rowan's passion and desire to make the B team work was just astounding. When I think of Rob I remember how brave he was for such a young man. He had this vision, he just went with it. You could go to Rob for anything, ask him anything. There isn't a day that goes by that I don't  think of him. It's been amazing watching the board fill up listing the first team debutantes from the B team. Every day I pass the board numerous times at Jersey Road and I think 'hats off to you Rob'.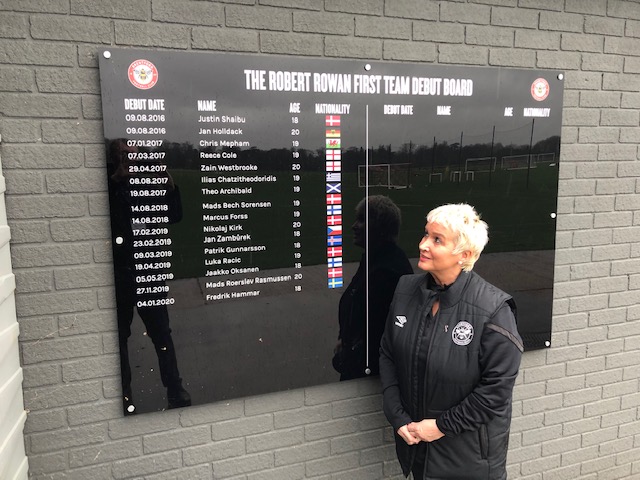 Trish continues her story with the day that changed her life:
"On the day of my 25th wedding anniversary I had a routine mammogram. I was called back and told I had been diagnosed with breast cancer and cancer of the lymph nodes. The first person I told was my husband, the second was Rob. A close member of Rob's own family had been diagnosed with exactly the same as me a year before me. He said to me 'Trish, you're a warrior'. He said 'you're going to do this'. He gave me a sense of hope. He made me laugh even in the darkest of times because he had an amazing sense of humour.
"Spear-headed by Rob the overwhelmingly collective support from all the staff and both the first and B team players was relentless and unconditional. I felt like I had an army behind me. I had presents and flowers sent to my home.
 "I knew that the club would need cover for me for a year during my treatment. At the same time my husband was leaving British Airways where he had been a manager and I told him that I would really like him to take up that year and it would help me. If he had any questions we could manage it between us.
"Simon was coerced by me, but he had to be interviewed by the club first . He was tremendous at the job and everybody took to him. He's Brentford through and through. At Christmas he was presented with a signed shirt, he was very emotional at being in a packed canteen being presented with something to say thank you. Thomas was wonderful with him, he put his arm round him and said 'thank you for helping us out'."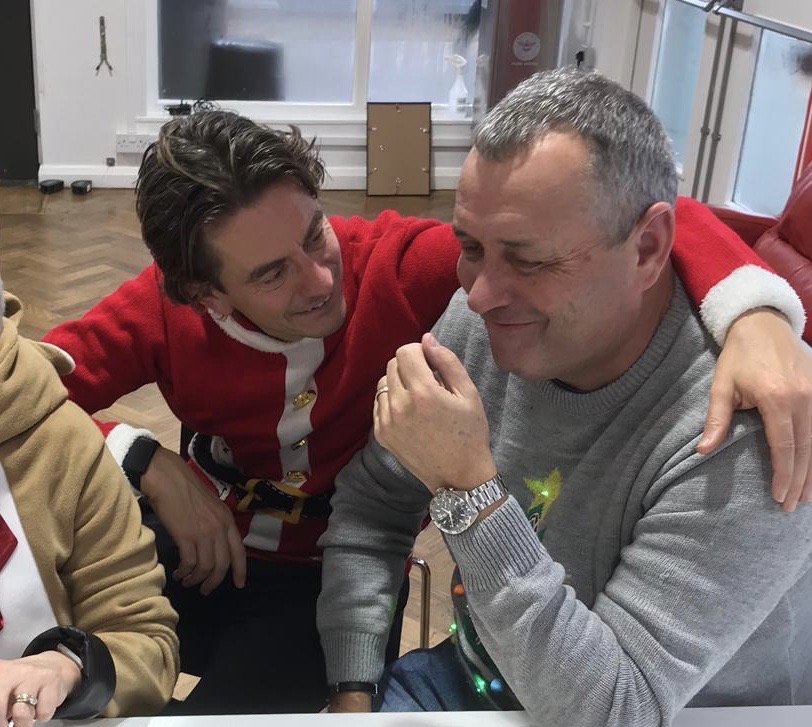 Trish had six rounds of chemotherapy and 15 rounds of radiotherapy. "It was a slog, I can't deny it, and I still have the effects of that treatment. But there was no way I wasn't coming back". Phil Giles, Brentford's Co-Director of Football was "very kind, he allowed me to be part-time", working reduced hours at Jersey Road to safeguard her health.
Spend a morning with Trish at Jersey Road and you begin to understand her special relationship with the B team. First and foremost her job is to make sure that all their kit is washed, cleaned and prepared for training and matches. Trish keeps a special list of every player's kit sizes and even what shirt numbers they want to avoid because of their own superstitions. There are two jobs which the B teamers must do themselves, put each item of dirty kit in the correct bucket for laundry and look after their own boots. Only if they get promoted to the first team squad do their boots get taken care of. 'There is still a difference between first team and B team and so there should be' says Trish.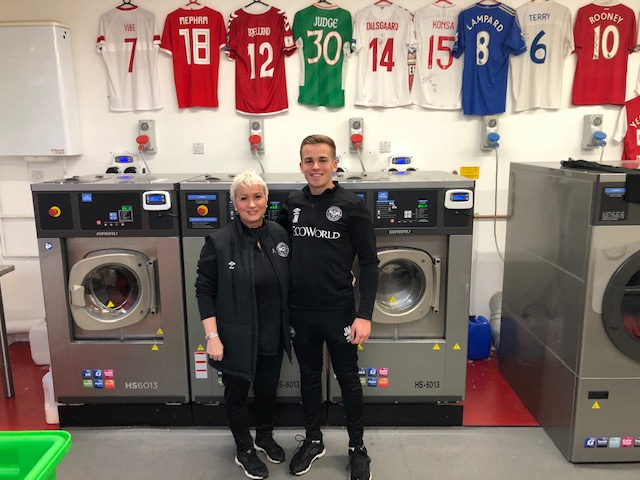 Helping Trish as she continues her recovery from treatment is Jordan Marley who has become her full time assistant taking on more responsibilities to share the workload. "He keeps his beady eyes on me so if he sees me going to lift anything he's there."
Her line manager Lorna Falconer, Brentford's Head of Football Operations, "also keeps an eye on me to make sure I'm not getting too tired. It's very hard to leave here at the end of a day so sometimes I have to be told to go home in a very nice way.
The B Team Head Coach is now Neil MacFarlane who says;""Since I came to the club I've had the privilege of working with Trish.  She's an unbelievably hard worker, and she's also a really good person. She is someone who adheres to the standards that have been set at the football club, she's so professional in everything she does and she's been a really good role model for young Jordan who has come in and done a fantastic job. All in all, she's a pleasure to work with and long may that continue."
Trish says the thing she loves about working for Brentford is the relationships that you build up. "It feels like a family. When I travel with the team or they've been out training all day, in the evening when everything calms down and I've got some bits to prepare for the next day, 'my boys', as I call them, come in and we chat about anything. Because I've got children, I've got boys of that age, they see me as their Mum and a lot of them are very young and away from home so there's a bit of pastoral care which I take very seriously."
Trish is well aware that 'her boys' are very focused on success. "They all aspire to the first team and it must be stressful for them when they realise they are not going to make it at Brentford. But thanks to the training they get here this doesn't mean that they are not going to be successful somewhere else. I don't get involved in those conversations, but sometimes when their heads are down I will give them a little pat on the shoulder or a hug if they need it."
On the day of our visit there was a very immediate priority, getting everything ready for a trip the next day to Cyprus to play, and beat 6-0, a top local team Pafos FC, where Neil MacFarlane used to work. Trish's experience as an aircraft dispatcher comes in very handy. "I turn up at the airport because I know the procedures, I make sure all the bags are within the weight allowances, we have a seamless system for checking in." She will already have checked what colours the opposition will wear, and whether everything is packed from shirts and shorts to captain's armbands and commemorative pennants. "I do have to pinch myself a bit that at my age I travel all over Europe for games with under 23 teams from the best clubs in the world; Bayern Munich, AC Milan, Liverpool, Man City, Man United, Rangers and Celtic to name but a few.
"I feel absolutely privileged to have been here and to have reported direct to Rob Rowan as B team kit manager. There are no obvious egos here, it's a very special place to work with a very special atmosphere and there's a great sense of togetherness. There's no hierarchy, day to day we're all workmates and that's players and staff alike. 
"I think when fans and pundits look in from the outside and you hear them say that the likes of Thomas, Brian, Kevin, and before that Richard and Dean, seem to be great people, nice people. I want to say they don't just seem to be, they are. What you see is what you get and it's all authentic. When Simon worked here the old adage 'never meet your heroes' went out of the window. As a life-long supporter from the terrace, nobody disappointed him."
Preparing for our conversation, Trish had worked out a wonderfully simple way of summing up what the past months have been like. When the moment comes to say the words she first needs to pause and compose herself: "When I was diagnosed with cancer Jersey Road put its arms around me."