Before every league match at Griffin Park for nearly a decade Commercial Manager Mike Sullivan has been on the pitch shepherding hospitality guests and mascots into line for their souvenir photos alongside the referee, the captains, Buzz Bee and Buzzette. It can be an emotional moment for those who are Bees fans. Mike says "there are many times when there are tears in their eyes because they have been a supporter for all these years and never been on the pitch before."
Match-day hospitality is all part of raising the commercial revenue that keeps the club alive alongside the financial support of Matthew Benham. Brentford Chief Executive Jon Varney says "Mike is one of Brentford's longest serving members of staff, part of the fabric of the club. He is one of the off-pitch team that make coming to work at Brentford FC such a fun experience on most days. He has a longevity of working in football that is probably unmatched across the club."
In a career lasting nearly 40 years Mike has done everything to make money for the eight clubs he's worked for across all four divisions: Watford, Spurs,Crystal Palace, Millwall, Swindon, Gillingham, Wycombe and now for the past 9 years Brentford. He's negotiated sponsorship deals, sold advertising boards at grounds, organised fund-raising from lottery tickets and scratch cards to sporting dinners, even dressed up as a mascot himself. All done with good humour and the odd bad joke.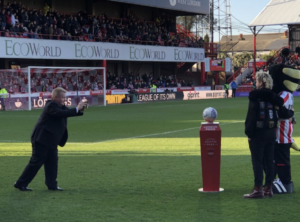 Occasionally things don't go smoothly. While at Spurs he was chased across the pitch by a giant football which had got untethered in a high wind in front of 45,000 fans before a 1985 UEFA Cup match against Real Madrid. At Brentford: "only once have the sprinklers caught me out before the game, and ironically enough, it was in December this season against Fulham. I got well and truly caught and soaked big time much to the joy of the supporters in the Braemar Road Stand."
Mike is very good on remembering dates. He can recall them all from European cup nights to FA Cup giant-killings to matches called off after crowd invasions. But there is one date in his career so significant  that he can even remember the exact time: "Eight minutes past seven on the 5th August 2006.That's when the plane crashed."
Mike was one of five Swindon Town executives and directors who flew back from a game at Hartlepool on a chartered light aircraft. With him was Mark Devlin, who would later also be his boss at Brentford, and Mark's son. "As we were coming into land at Denham airfield we were about 500 feet up, doing 140 mph, and we ran out of fuel. I can remember one Swindon director on the plane saying 'we are going down'. We nosedived into oak trees, there was the biggest bang I have ever heard, basically we should have all died. When you look at the newspaper pictures you can see why".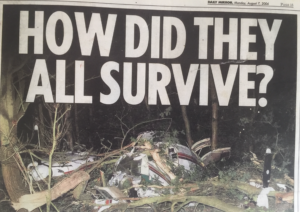 "We all survived but with injuries. I broke my ribs, my left arm in three places, -there's a steel plate in it- and I had a head injury." Mike has never been in a light aircraft or helicopter since.
He first got into the commercial side of football back in 1981. One day, a Tuesday, he was the circulation manager of the Hendon Times, the next day he started as the Promotions Manager at Watford, and by the Sunday he was at lunch at Elton John's home meeting the club's owner and the board.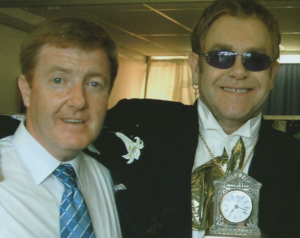 Jon Varney says :"With longevity comes experience and there is very little that Mike hasn't seen and he loves telling a story." When he was Commercial Manager at Millwall it was "the only club where sponsors didn't want an invoice and always paid in cash. If you did a deal for 10 people to come to a match 14 would turn up." What would have been his biggest commercial deal there was called off when a potential shirt sponsor, the head of a security company, witnessed one of those infamous Millwall moments, the 1994 playoff second leg against Derby when fans invaded the pitch and attacked opposition players. 
When it comes to the FA Cup he was with Wycombe of Division Two when they beat Leicester City of the Premiership in the 2001 quarter final."We had a problem with injuries so a player called Roy Essandoh responded to an appeal on Ceefax. We signed him and he played at Filbert Street and scored the winning goal five minutes from the end'.
Among his other career highlights were working for his two boyhood clubs; Gillingham and Spurs at very opposite ends of the football spectrum. Wherever he has worked Mike has always lived in Langley near Slough so when he got a call from Mark Devlin who had joined Brentford, he was delighted to be working just 12 miles from home. Mike came as Brentford's Commercial Manager and since then "the job and the club have changed and all for the good. I have many fond memories of Watford but the nearest club by a long way is Brentford. I have to pay respect to the commercial people before me because they most probably had it tough. I came in 2011 at the start when Matthew was just getting involved, we were in League One. I brought my ideas from other clubs: the sporting dinners, the golf days, match-day hospitality but most importantly for Brentford the quality of the football on the pitch was beginning to improve. One of the best marketing tools you can have is a winning team."
Now Jon Varney says "Mike is one of the first people that all new staff get to meet, normally as he is bringing them a cake or two, and he is a constant in the off-pitch team at a time of great change. There can't be a member of staff that doesn't know of his marathon-running exploits or his time as a referee. He is a great companion at away games and has a detailed knowledge of the catering offering across the country. I have never known a man take so many pictures in a Board Room while focussing his camera at his plate. Let's all raise a cake to Mike."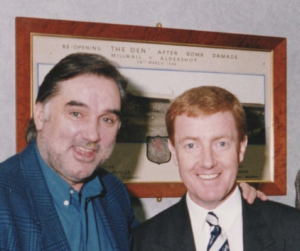 .
Those who have attended Mike's sporting dinners have regularly raised a glass or two.  There's a fund of good stories: how he was told by George Best's agent to make sure George was occupied for an hour before his talk to keep him away from a drink. Mike's own favourite speaker was 1966 World Cup winner Alan Ball and the most successful with fans was former England manager Bobby Robson who "signed about 500 autographs a night for two nights and autograph 1 and autograph 500 were almost identical." No surprise that the most expensive was Harry Redknapp but Brentford still made a good profit.
For the final games at Griffin Park Mike will be in Legends Lounge as usual where 60 hospitality guests and match sponsors eat before each game. Mike is the host and entertainer, he admits he's 'a Donald Trump look alike whose jokes are so bad it makes people happier." Jon Varney says "He makes the hospitality experience a great one for many guests and has experience at putting on events. He has a bulging contacts book and will know someone who knows someone. That is very useful for us, even if his reputation for very bad jokes sometimes precedes him."
Mike is excited about how the new stadium will offer so many new commercial opportunities to make money for the club. "This club now, what a great future. Instead of 60 people there will be up to 2,000. As Jon Varney would say we've now got to raise our commercial game and look at all the opportunities of increasing the commercial revenue so that Matthew doesn't have to put his hand in his pocket and the money can then go to Thomas on the playing front so that more players of quality can come in."
Mike is in a good position to reflect on what it will mean for fans to move from an old and much-loved ground to a brand new stadium because he's done it before. He was at Millwall for the transition from Cold Blow Lane to the New Den. He remembers that for three hours after the final game supporters were still on the pitch, "grown men were sitting there crying their eyes out, reliving all their boyhood memories." But he also remembers taking fans and sponsors to the new stadium, opening the tunnel door on to the pitch and watching them go 'wow'. 
So the Barnsley game at Griffin Park "will be very emotional and we will all be sorry to leave Griffin Park but I think 100% there will be the same positive effect when we go to our new stadium because it too has the wow factor."