Thomas Frank, as many suspected, went with what has become his trusted  formation. And with its many upsides, who can blame him?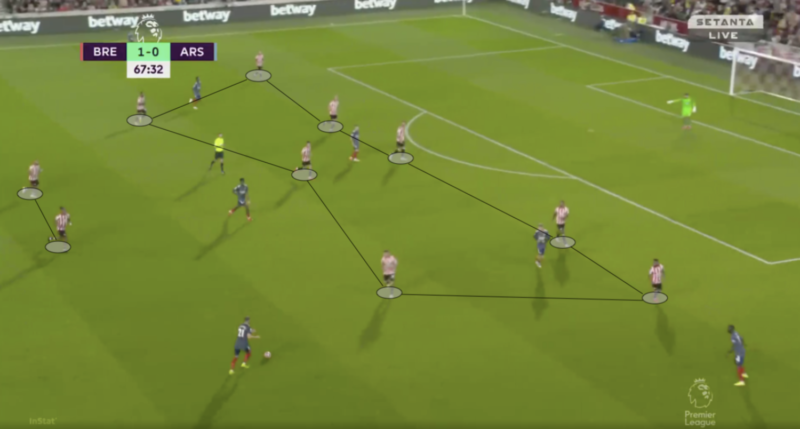 From the front, Toney draws the initial attention and gets a lively and tenacious partner running in, around and beyond him in Bryan Mbeumo. 
In central midfield, Janelt, Nørgaard and Frank Onyeka  positionally flatten, squeeze, stagger and decompress when the moment is right to provide central solidity and the off the ball work to hopefully see Brentford compete for a top of the bottom 6 table spot. 
The wide flanks are manned by energetic livewires Henry and Canos, both physically able to contribute in attack and defence mere seconds between each other. Their recovery runs and awareness to drop back into a flat back 5 help give the formation its impenetrable feel. 
In the centre of defence, Ajer, Jansson and Pinnock are positionally superb and even better in possession, working in tandem with David Raya to give Brentford a firm base to build from with passing routes out to the wingbacks waiting high and wide. Being some of tallest and aerially dominant players in the division helps a bit too, making defensive or attacking set-pieces, both dead ball or long throws, something to be relished and not feared. 
Brentford didn't have everything their own way during the season opener as former Celtic team mate of Ajer, Tierney, marauded down the left wing and saw a huge chunk of Arsenal's attacking ball. As a predominant left footer, he was a powerful runner in possession out wide and when freed from his marker either resorted to long loopy crosses into a box or lower crosses crowded out by the anticipation and positioning of Jansson and Pinnock. Arsenal's attack played into the hands of Brentford.
As many Premier League teams possess skilled ball-playing midfield technicians with forwards who like to drop deep and get on the ball in the central pockets, defenders who enjoy sitting deep and controlling space zonally can prosper if the players ahead of them press with coordination and joined up intensity to force teams wide. There's rarely huge spaces left between the back 3 and Raya in goal and this allows Brentford to sit out of possession in a compact block of players across the field ready to expand and offer simple passing options when the ball is won back. 3-5-2 quickly moves into 3-1-2-4 as Brentford push their own goal scoring plans upon opponents. 
Better teams stacked with better forwards will likely make more of the attacking situations Arsenal conjured up under the Friday night lights of New Griffin Park. What we saw defensively in the opening fixture may not have the same impact against Leicester City's Vardy or Tottenham's Son who both like to stretch in behind. Brentford conceded 22 shots fired off by the Gunners but much like an experienced boxer with greater reach and a tighter counter punch on the defence, it never felt like Arsenal had enough to make knockout glove to jaw contact. Of the 22 attempts that did connect effectively, Raya was agile and well positioned to deal with what came his way, particularly a low first-time Pepe effort in the box late on. 
Wholesale change between a successful Championship campaign and a Premier League season doesn't tend to breed a great deal more success. In recent years, promoted teams such as Leeds and Sheffield United took a core group of players across the divide and reaped the benefits of team chemistry and system familiarity to earn consecutive top flight seasons. 
These examples bode well for Brentford with 9 core starters from the Play-off winning campaign stepping onto Premier League pitches performing like they've been there all of their lives. A system Thomas Frank switched to, to breathe life into the team at the back end of last season has been supercharged by swapping in Ajer and Onyeka for Dalsgaard and potentially Jensen. A familiarity in shape as well as a system added to with off ball and progressive attacking power houses to drive Thomas Franks' team up field has so far given us further belief that we're here to compete against the best and hopefully call the top flight home for longer than the odds suggested. 
Find their tweets at  @BeesTactical