While the media focused on Thomas and Woody, summed up well in this compilation by the club's media team, Woody's mother went out of her way to remember how it all began. Natalie O'Rourke paid tribute to Ryan Murrant who first made the connection with the family from Feltham while he was working for Brentford on fan engagement.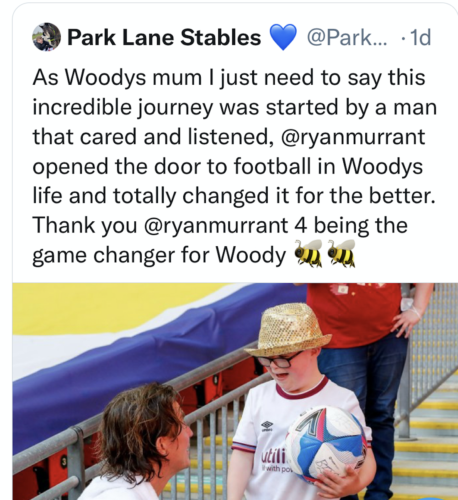 What Natalie called the start of 'this incredible journey' began with a post from her in 2018 about the problems her son, who has Down's Syndrome, was experiencing:
'To the man that wouldn't let Woody in the local football club, you are a complete fool'. She explained;"The fool that wouldn't accept Woody at his club will never experience Woodys whole hearted enthusiasm with the ball and utter respect and adoration he has for his coaches' .
Bees United talked to Ryan Murrant, now living and working in Glasgow as a photographer, about what happened next:
"It was late one Friday evening in September 2018 and my social media started pinging as Mums all over Britain saw Natalie's post about Woody not being allowed to play for a junior club. I looked into it and what I wanted to do was to try and help him. I thought we should invite him to Brentford the very next day. I tried to contact Natalie that Friday night and she called me back the next mooning. I said ;'look if you can get to the ground for one o'clock can make Woody a mascot'. There was no real red tape involved just a couple of calls to the then CEO Mark Devlin, and Amy Crook at the Community Sports Trust saying let's get Woody involved and let him enjoy his day.
"Looking back this has turned out to be something special because it has changed Woody's life.That's what was my job was then, away from all the marketing and statistics, to help change the perception of a football club. It was also part of my job to encourage new fans, to engage with people who weren't regulars. Woody's family had no previous connection with Brentford.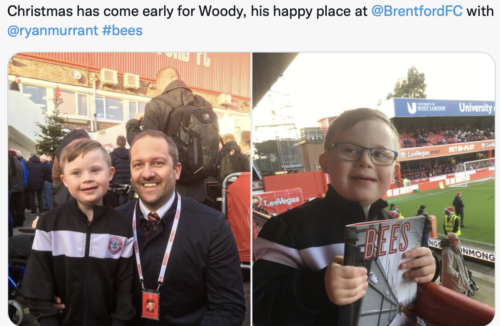 "From then on I've always stayed in touch with Natalie and Woody, while I was at Brentford  I would always meet them before and after a game.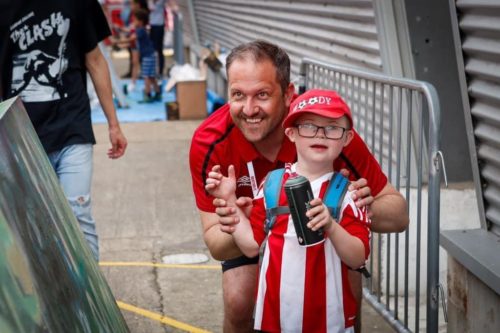 I also visited Park Lane Stables where Woody's mum provides riding for the disabled. I even photographed Woody's step-brother's wedding,We still talk most weeks because they are genuinely lovely people. You can't help it spilling into your personal life because you have literally helped change someone's life.It is lovely to see how he has grown and how football has helpe".