On 6th March this very special event, celebrating the original formation of our club, took place at The London Museum of Steam and Water in Brentford. Just a goal kick away from the very spot in The Oxford & Cambridge Hotel,  where the Special Meeting of the Brentford Rowing Club took place back in 1889.  And within close proximity to our super new stadium!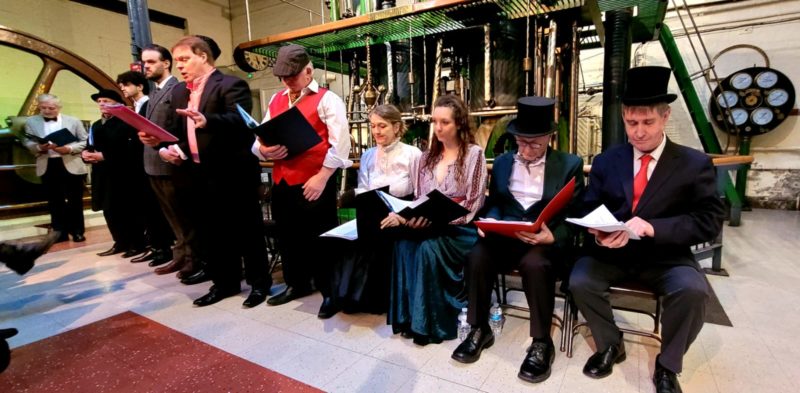 I had always been fascinated about the origins of our club, and the time seemed right to celebrate it, following our promotion to The Premier League, and the opening of The Brentford Community Stadium.  I had carried out some research, jointly with the late Graham Haynes, back in 1977/8, and I know other Brentford supporters have since done a super job of unearthing even more detail. The more I looked into it, the more I realised that here was a story well worth dramatising.  Back in 1889 the living conditions in the town of Brentford were among the worst in the country for a town of its size. There was little entertainment for the working class. Apart from the large number of public houses!   It did not even have a football team!
Two young men, Archer Green and John Henry Strachan, the Honorary Secretary and Chairman of Brentford Rowing Club ,decided to do something about it.  A series of meetings took place and, after much spirited  debate during which some members stated they preferred rugby, a vote was taken and football won by a narrow margin!  Amazingly, one of those proponents of rugby was Bill Dodge, who not only played in the first ever  Brentford FC football match, but was still involved in the club when I joined its Supporters Club in 1960!
I also discovered that other notable local citizens, Edwin Underwood, Tom Dorey, and Thomas Layton helped in a big way.
The remarkable thing was that , apart  from Bill Dodge, the others I have just mentioned never actually played for the team. I realised that there were a number of  public spirited folk who truly put community before self. I then discovered that, tragically young Archer Green and John Henry Strachan both very sadly died in the early years and did not live to see much of the tremendous progress that the club subsequently made.
There is a lot more to the play than this, but I hope I have whetted a few appetites, because if you did not see the live performance you can still order a dvd. I was very  fortunate to assemble a terrific cast, including a young lady who had recently been seen in 'Eastenders' and 'Call The Midwife'. And I was very lucky indeed  to have two very supportive capacity  audiences who entered into the event in true Brentford spirit!
There was inevitably some dramatic licence, to add lighter touches,  and because, following the early death of Archer Green, there were limited  early club records.  Nevertheless, there were lots of true, and surprising, facts about the club and the town, which I hope you will enjoy.
It was so good to see lots of Bees fans from over the years come along to join us on 6th March,  including the family of the late Peter Pond-Jones, who did so much to stave off the QPR takeover bid in 1967, Jim Walsh from Bees United,  Sally Stephens from Brentford Football Club, and even Tim Everson, the great grandson of John Hinton Bailey , who was the first ever BFC Vice Captain !
The production, performed in costume, but 'radio style'  was penned by myself as a fund-raiser for the lovely London  Museum of Water & Steam, and my cast were from Riverside Players of Sunbury. In addition to the play, there was a display of early BFC photos and reports, together with a collection of photos of the town of Brentford in that era. I thank lots of folk who encouraged and helped in various ways, including Karen Reader of Brentford Thru My Lens, Emma Canterbury from the museum itself, Olwen Holme from Riverside Players of Sunbury, Paul Briers, Dave Lane, Dave Twydell, Rob Jex , Bob Simpson, Stewart Purvis, Bees United, BIAS and  Brentford Football Club . Also Keith Macinnes, who took an early look at the scriptand  encouraged me to  get the play produced.  Plus of course my cast who gave their services completely free of charge.
Bob Simpson travelled in twice from Maidenhead to prepare and then  record the play on dvd. Copies can be ordered directly from  him for £10 including postage and packaging.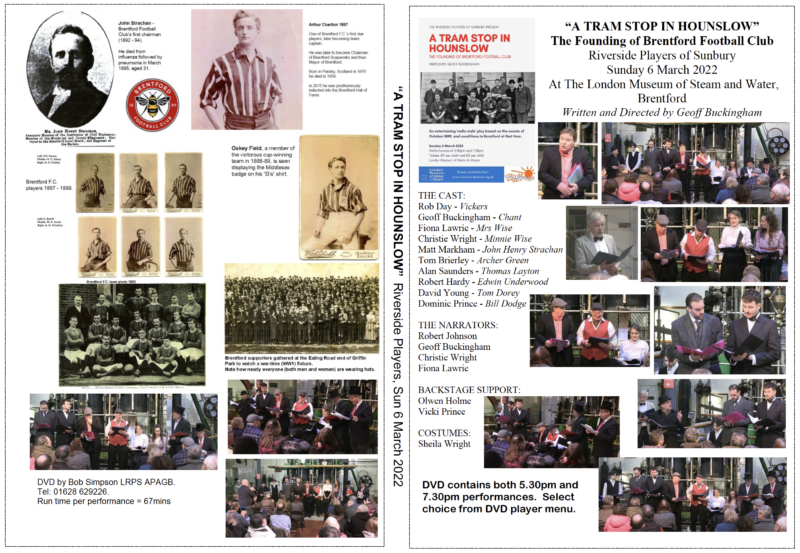 I hope you enjoy it, and I would like to finish this piece with the words I closed the production with on 6th March ;
To all those who helped and supported Brentford Football Club, in various ways over the years, you are our heroes and we salute you.
Up The Bees!
Geoff Buckingham
EVENT PICTURES BY KAREN READER OF BRENTFORD THRU MY LENS