Greetings to all fellow Bees from Norway!
What a time to be a Bee! Going into the season with the ambition of having fun while it lasts (and a slight hope of staying up of course) I think it's now safe to say that this season has been massively successful. Despite injury issues to key players (such as David Raya and Kristoffer Ajer) in a relatively small squad, we have achieved some fantastic results and collected an impressive amount of wins in our first Premier League season. This team, this group of players have shown great courage and togetherness throughout the season, and despite a period of poor form (pointwise) they never gave up but kept going and believed in themselves. Heads, motivation and belief can easily drop when you seem to be out of luck for several games running, letting in sloppy goals and lacking the decisive final touch yourself, but that never happened to us. This is due to both the players, and to Thomas Frank and the coaching staff of course. It has been a pleasure to watch Thomas Frank's pre- and post-match comments. Always opmitistic, always protective of the players, always respectful of the opponents and always with one eye on the next game. Being a Bees fan since mid 90's I still cannot believe that we are in the Premier League! It's not that long ago since we had Terry Butcher in the dugout..
As an overseas fan I have taken great pleasure in watching all our matches on Norwegian telly this season. Unfortunately I haven't been able to travel since pre-pandemic and have yet to see the new stadium. I know I speak for all Norwegian Bees when I say we can't wait to visit in May for the final match of the season!
For those of you that do not know, our Norwegian branch was founded in 2002 and we have arranged trips to Brentford for our members every year since 2003 (with 2020 and 2021 as the only exceptions). On these trips we have been fortunate to be granted access to the training ground to meet up with the players and staff, and present our Player of the season award as well. We cross our fingers and hope to carry on with this tradition for years to come.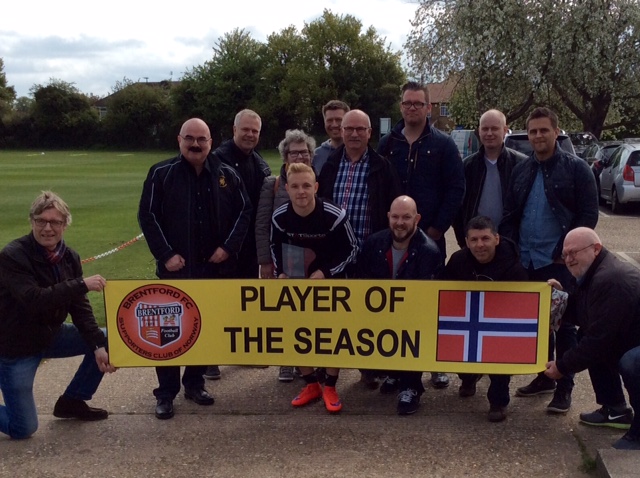 We are currently about 100 paying members of the Norwegian supporter club and 15 of us will attend the Leeds match thanks to the club and Bees United helping us with match tickets. A 15 % turnout isn't bad! We look forward to finally visiting again, both to see our beloved Bees play in the fantastic new stadium (even though we miss Griffin Park enormously..) and not at least to team up with you fellow Bees fans! So if you see us (most likely in a pub) I hope you will stop by for a chat and a laugh.
Take care, stay safe, see you all in May and COYBs!
Best regards,
Robin Hesmyr,
founder and leader of Brentford FC Supporters Club of Norway