It is two years since Bees United first had the idea of an exhibit which would be the centre-piece in a display about the history of Brentford Football Club. When Bees fan John Pitt died in 2017 his family contacted Brentford FC Deputy Chairman Donald Kerr who sat near them in the Braemar Road Stand. They told him of the special collection of Brentford memorabilia which John had kept in a shed in his garden as well as in his garage and attic. Would the club like to take possession of it?
Donald worked with BU Board member Ron Cooper and Ron's son Neil to find a safe home for what became known as the John Pitt collection and it was accommodated in a club storage area. But the real challenge always was, where could the collection be displayed? The solution arose out of talks between new neighbours, the club's new stadium which was approaching completion and the next door London Museum of Water and Steam. The Museum Director,Liz Power, suggested that a Brentford exhibition could be held in part of their space. Bees United was invited by the club to work with the Brentford Historians Group to curate the exhibition and decide what went into it.
When Ron and the Historians Group showed the Pitt Collection to Stewart Purvis of Bees United he had the idea of recreating what he christened the 'fancave' by building a new shed and putting the collection into it.The whole project was delayed by COVID but finally this spring it was decided to go ahead and the ambitious target was set of opening by the start of the Premier League season.The club agreed to underwrite the cost of the exhibition.The next breakthrough came when a charity, the Weybridge Mens Shed, agreed to recondition an old shed they had.They brought it in pieces to the Museum.
Within days Ron and his son Neil recreated the original display. Neil used photos that he took of the inside of the original shed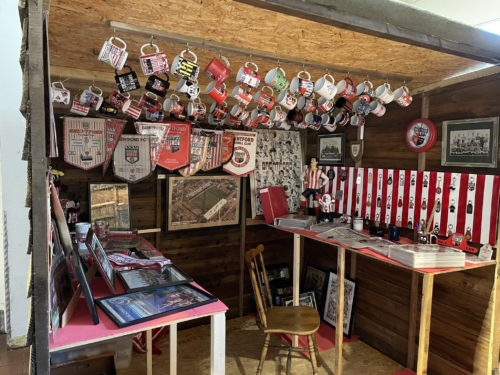 On Friday August 13th, just before the Arsenal game, the exhibition titled 'Farewell to Griffin Park -the Fans Story' was opened and was covered on BBC London News. Ron and Neil Cooper pulled back the shed door to applause from the guests at the opening.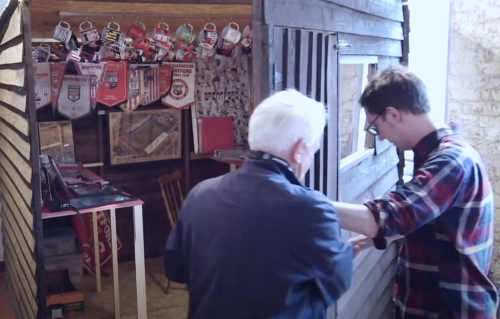 Bees fan and BBC producer Stuart Hughes has made a great video about the process. You can see that here.
The Pitt family was at the opening  and John's daughter Dr Sarah Pitt wrote this article which is displayed on the shed explaining the background.
JOHN PITT THE BRENTFORD FAN
John was born in 1941 and lived in Whitton. After the Second World War had ended and it was safe to go to football matches again, John was taken by his Dad to watch Brentford play at Griffin Park.  From the moment he first saw them playing, he become a Brentford fan.
When John started going to Brentford matches, the team where in the highest division of English football. This was always called the First Division, until the Premier League was formed in 1992. 
During his life, John followed his beloved Brentford team as they dropped down through the divisions and then came back up again. More than once, they found themselves at the bottom of the lowest professional league. This used to be called Division 4 and it is now League 2. But John followed the team anyway. He went to as many home games as he could and a lot of away games as well.  He went to friendlies and youth team games. He just lived watch Brentford play – and of course he was happiest when they won! He travelled across the country to follow Brentford, sometimes in his own car or on the train, but often on the supporters' coach. During these journeys, John made many friends with fellow Brentford fans. 
John became a Metropolitan Police officer and he played football in the team representing his group of police stations. He did go to football games on duty and this was sometimes for matches that Brentford were playing in, but unfortunately police officers have to face the crowd rather than watch the game, so he did miss some goals!  He married and moved with his family to Heston, so he stayed close to Griffin Park. When he became a senior police officer, one of John's jobs was to work with the Brentford FC chairman and chief executive to advise about safety on match days. He was delighted to get to know everyone at the club a bit better. 
John collected match day programmes for all Brentford's games. If he could not go to a game, he would ask someone to buy a programme for him. This was to make sure that his collection was complete. He also cut out every news report about Brentford that he could find and pasted them into his scrapbooks. This meant buying lots of different newspapers and sometimes he had to visit several shops to get the full set. 
John spent his Sundays compiling his match reports from Newspaper cuttings. He also collected replica shirts, mugs, posters, pennants, key rings and any other things which had the name of Brentford or the club badge on them. He even painted his garden shed in red and white stripes! 
Two of John's children, Sarah and Matthew and his grandson, Luke also became life- long Brentford fans. His wife Margaret his other daughter, Rebecca and his granddaughter Katherine did not like football at all. But the whole family understood what an important part Brentford FC played in his life. 
John sadly died in October 2017, so he did not see the new Lionel Road stadium finished or see Brentford FC promoted to the Premier League. But from this exhibition everyone can see how much he loved Brentford. At every game in the new stadium , John will be with us in spirit. 
Sarah Pitt        
The London Museum of Water and Steam is open from Thursdays to Sundays 1000-1600 . There is a 'Fans for Fiver' offer on the admission price. Full details at https://waterandsteam.org.uk/event/farewell-griffin-park-exhibition/2021-08-27/