I have known Brian Burgess for many years and he is very much a 'football friend'  – someone who I would regularly bump into before a game on the Braemar Road forecourt or in the Press Room at Griffin Park. We would exchange brief pleasantries about our respective families or discuss the match we were about to see and then go our separate ways. More years ago than I can remember, Brian asked me to become involved with Bees United and having at his invitation joined the BU Board I soon came to recognise and admire his skills and gifts.
He is a born leader – cool, calm, quietly spoken, modest, knowledgeable, analytical, organised and very, very determined. He is a wonderful listener and someone who is able to put forward his own point of view succinctly and convincingly, take people with him and persuade others to work with him to meet a common goal.
Bees United's forthcoming book chronicling and commemorating the move from Griffin Park to the new Brentford Community Stadium at Lionel Road, the tortuous progress that was made over the course of nearly two decades and the obstacles that had to be overcome on the way, highlights Brian's massive role in this process. It is fair to say that without his leadership and contribution our current situation would not be anywhere near as rosy and positive as we now find it to be.
Like every other Bees fan I was proud and delighted to learn about his well-deserved award of the British Empire Medal in the Queen's Birthday Honours list for his service to football. This achievement has led to fulsome tributes to be paid to Brian notably on the Brentford FC website and on the pages of Beesotted. Rather than regurgitate some of the facts already outlined I thought it might be helpful and interesting to hear things straight from the horse's mouth and ask Brian a number of key questions that would hopefully reveal his own thoughts on the award and his career in general, and here is what he had to say:
When did you hear about your award of the BEM?
I received a confidential letter by email in May saying that I had been nominated, subject to formal approval, and due to coronavirus the announcement would be delayed until the autumn.
Were you able to keep the news quiet before the announcement?
The letter was very clear that it should not be discussed with family, friends or colleagues. As the summer wore on and my wife, Sylvia's, health was deteriorating I called the Cabinet Office and got approval to tell her and our son, Simon, and daughter, Katie.
What is the BEM?
I had to look it up on the Government website, which says: "Awarded for a 'hands-on' service to the local community. This could be a long-term charitable or voluntary activity, or innovative work of a relatively short duration (3 to 4 years) that has made a significant difference".
Why do you think you were awarded it?
Unbeknown to me, some very kind people thought that it would be good to recognise the work I have put in over a number of years to try to make a difference where I could. And after the award was announced a few weeks ago, I learnt that Sylvia had been egging them on! I think the excellent reputation of the Brentford FC Community Sports Trust of which I am one of the founding trustees was significant, as was the success of Bees United's stewardship of the Club in keeping it afloat and steering its ownership out of the hands of Ron Noades and eventually on to Matthew Benham. The fact that I have done voluntary work in other settings, starting as a volunteer at an inner-city youth work project in my 20's and continuing with other charities and Supporters' Direct probably helped. 
Can you tell us about your volunteer work with the Brentford Community Sports Trust and its importance to the local community?
As chair of Bees United when we were preparing to take over the Club, I recognised the fundamental importance of the work of what was then the Football in the Community team led by Lee Doyle. When Lee told me he was hoping to set this up as an independent charitable trust in 2005, I accepted a role as a trustee and tried to ensure it had the full weight of both Bees United and the Club supporting it so that all three worked together to maximise the social value generated in local communities and to enhance the chances of developing a new community stadium at Lionel Road. Apart from the stadium, the other key project for the Community Sports Trust was to come up with a vision for a new community sports hub in Gunnersbury Park. On a voluntary basis I worked with Lee to prepare the first feasibility study, looking at the extensive but rundown, in some cases derelict, sports facilities and ideas for realising the huge potential in such a large and well-located park. In the early years we worked hard to get both Hounslow and Ealing Councils' on board and to identify where the substantial funding might come from. Ultimately the Councils have now completed a £14 million project which is due to open shortly. The new facilities are impressive and I am proud of my role in getting that started.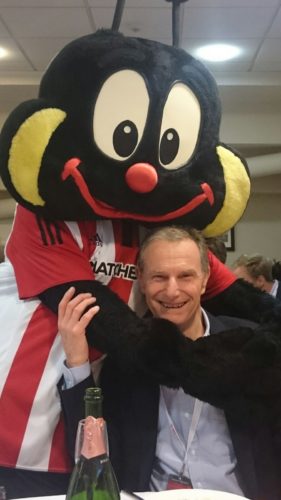 Can you set out your beliefs about how football clubs and the local community they serve are inextricably linked and that they should become community hubs?
Traditionally, football clubs have always been rooted in their local communities in terms of supporters. As the game became more commercialised some clubs neglected any wider social engagement. Over the last 30 years, as society and its social problems have become more complex, the power of sport to attract and motivate hard to reach groups has been increasingly recognised. Since the beginning of this century the more enlightened clubs have embraced initiatives to open up their stadia, for example with learning zones like that at Griffin Park, and health facilities and with outreach activities to support the work of public services in education, health, social inclusion and preventing crime. As an example, when Hounslow Council outsourced their youth services, the Brentford FC Community Sports Trust took on the contract.This wider community engagement has benefits for everyone, including the clubs themselves in attracting new supporters. 
How did you first become a supporter of Brentford FC?
As a schoolboy growing up in Hounslow, my father used to take me to Griffin Park.
When did you first become involved with the club and why?
You can read about that in the Bees United book.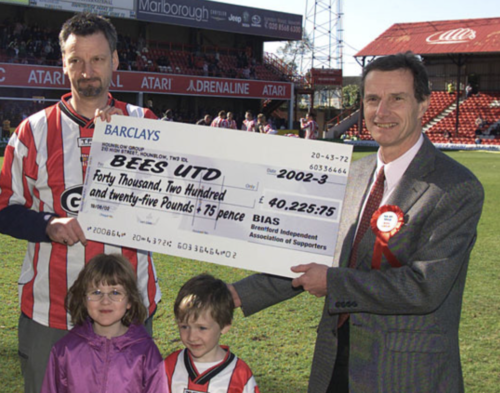 Can you describe how Bees United came into being and why it was necessary?
Around 2001, Bees fans were increasingly frustrated by the direction the Club was taking. They campaigned against a move to Woking, marched against the indifference of Hounslow Council to the Club's plight, set up a political party (ABeeC), and won a seat on the Council in the May 2002 local authority election .Fans at other clubs were also disillusioned about the state of the game. Following recommendations from a Government Football Task Force, Supporters Direct was set up in 2000 as a national umbrella body for a supporters' trust movement. BIAS, led by Chairman, John McGlashan, decided to set up a supporters' trust in 2001 and Bees United was launched and became an early member of Supporters Direct (now the Football Supporters Association).
We are awaiting publication of the BU book about how the club's move to Lionel Road came to fruition but can you briefly summarise your role in this achievement?
I was one of many people involved over many years.Of course, I recommend everyone to read the book to understand the hurdles and challenges that had to be overcome and some of the people involved.
How happy and proud are you of the final stadium?
I'm delighted that it is now complete and looking so good. I'm proud that I was able to play a part in shaping a vision and getting the train out of the station on what turned out to be a long and complex journey that required so many other talented and committed people to deliver the end result.
Given the state of the economy and the need to watch every penny. Do you think the new stadium could have been improved in any way?
Given the limitations that the Club has had to work within I believe that the new stadium is a great asset. There are always things that could be done differently but not necessarily better. The test will be in how supporters feel about it in a few years' time when we have experienced the highs and lows of watching the Bees there over a number of seasons. Like Griffin Park it will be the memories that shape our emotions. Lets just enjoy it and give it time to mature.
How much are you looking forward to watching a match there?
How far is infinity?
Can you describe just how hand to mouth the club's existence was in the early 2000's?
It got to the point where the Club could not increase its overdraft at the bank and cashflow was dependent on the directors and the fans putting their hands in their pockets from month to month to pay the bills. Our older fans will remember the years of volunteers rattling buckets outside the ground on matchdays. The commitment and determination of the BIAS and Bees United volunteer army was the thing that kept the Club afloat. So many fans were involved in so many memorable fundraising initiatives. Apart from the bucket collections there were sponsored walks to Wycombe and Hartlepool and overnight from Brighton to Brentford; music gigs and the Griffin Park Jazz Club in what was then called Stripes bar, and loads of others. 
The board at the time was totally inexperienced in running a football club. How difficult did you find this task to be?
One of the benefits of a well run supporters' trust is that the fan base includes people who have not only genuine commitment and enthusiasm but also professional skills and experience that lower league clubs could not afford to pay for. We were lucky to have some highly skilled people available to Bees United.We were fortunate that Greg Dyke agreed to be chairman. He had been on the board at Manchester United, which is one of the reasons I was keen to bring him in. The previous chairman, Eddie Rogers, and fellow director John Herting had both been on the Club Board for a number of years. So we did have some relevant experience on the Club Board.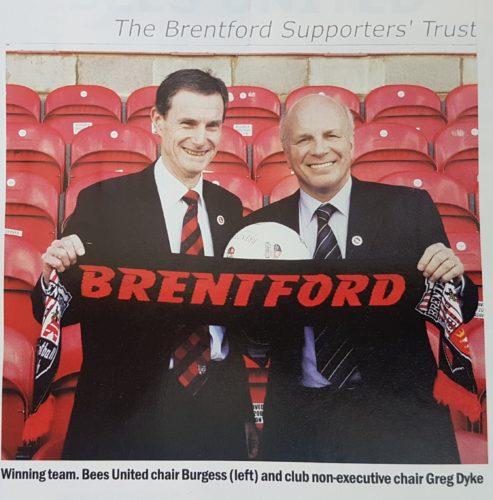 However, as I alluded to in my Push Up Brentford audio interview, one key area that we lacked on the Bees United Board was any real inside knowledge of football. One of the exciting aspects of building the relationship between the Club and Matthew Benham after meeting him in 2005 was the dawning realisation that he had the innovative analytical skills and vision to transform the playing side of the club. It took years before the opportunity arose for him to devote the time and finance to take that on but my successor as Bees United Chairman, Dave Merritt, and his colleagues on the Bees United board from 2008 to 2012 must take credit for managing a smooth and highly successful transition to Matthew's ownership of the Club.
Do you have any stories you can tell about manager appointments and transfers at the time?
Stories of what went on in the boardroom are best left for another time!
We were all distressed to hear about the recent passing of your wife, Sylvia. Can you pay tribute to her and the role she played in supporting you over the years in all your endeavours?
I have been so lucky to share my life with Sylvia for over forty years. It would be impossible for me to exaggerate the impact that she had. She was the rock of our family. When I met her, she was a social worker working with young people and families in inner-city London. After we were married Sylvia retired from running the tough children's home on the Heygate estate at Elephant and Castle in order to devote time to nurturing our daughter, Katie and son, Simon, who in themselves are wonderful tributes to her. During my "Brentford years" since 2002, she had to put up with the relentless pursuit of what seemed at times like an impossible goal. I simply couldn't have achieved anything without her unwavering support. I've no doubt that at times I tested her patience to the limit and I so wish that we'd had more time to enjoy retirement together.
Do you think the Club and the Trust should be even more linked up along the line of continental sports clubs such as German 'sportverein'. 
The culture and history of sports clubs in other countries differs and we can only start from where we are now. Most fans are familiar with the stresses and strains of the way in which football in this country is structured, financed and governed and the pressing need for changes to make clubs more stable and sustainable. It's interesting that at Chesterfield the charitable trust has recently taken over ownership of the club.
Do you think that Brentford FC should be more than just a professional football club.
I think it is much more than just a professional football club. I think there are two aspects to this: 
The players participation in community activities, for example in the Griffin Park Learning Zone, local schools, sports hubs, housing estates and sports events.
The Club acting as a focal point for generations of supporters and their families and friends, building valuable bonds and shared experiences. It creates lasting memories, sometimes painful, sometimes inspiring that help people to live and work and love and laugh together. To understand the passion, you can do no better than watch the Push Up Brentford film (www.pushupbrentford.org.uk)
Overall the success and impact of all the associated activities in the community depends on the Club continuing to have a strong and healthy brand which attracts attention and draws people in. Performances on the pitch are a key factor. No matter how good the community activities are, success on the pitch creates the excitement and momentum from which everyone benefits.
What next for Brian Burgess? Are there any more windmills for you to tilt at?
At the moment I am slowly coming to terms with the loss of my wife Sylvia at the end of August after three years of living with motor neurone disease (MND). I'm not rushing into things. I would like to continue contributing to the things that I believe in, particularly the Brentford FC Community Sports Trust and the potential it will generate at the new stadium and the sports hub at Gunnersbury Park. If I had the skills, which sadly I don't, my mission would be to help find a cure for MND. To understand why, I would recommend everyone to watch the recent BBC documentary about the rugby league player, Rob Burrow.
Greville Waterman adds: Having read these wise and modest words I am sure that everyone will now realise and come to understand just how special Brian Burgess is, and Bees United would like to pay our own tribute to him.