When we bought our house a few doors from an entrance to Griffin Park, and with the New Road Stand firmly embedded in our back wall, some friends though we were crazy.  We weren't even Brentford fans.  That didn't last long.  One of the first things I did was buy tickets to a match so I could see our new neighbours up close, and – rather unexpectedly – I fell in love.  
I had been to lots of football matches before but never felt any real connection to the ground, the fans or the team.  This was very different.  From the chirpy programme seller to the friendly stewards at the gate, the turnstile crew who wished us a good match (and meant it) and the lovely staff behind the bar who served us a pint in a plastic BFC glass, I was charmed.  There was something about Griffin Park that felt like home, and not just because it was literally at the bottom of my garden.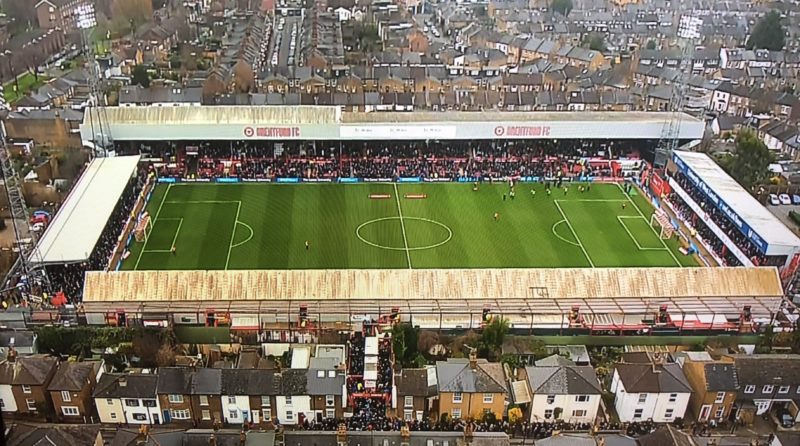 Of course, I knew when we moved in that the club was building a new stadium and Griffin Park would be demolished and redeveloped.  I also knew that there were years of memories embedded in the ground. Generations who had grown up watching Brentford together.  Fans who had gone above and beyond to save the club in the difficult times, enjoyed the highs and endured the lows of lower league football.  I understood that leaving Griffin Park would be a huge wrench for them.  What I didn't quite grasp was that in a relatively short time I would make my own memories there and when it came time to say 'Farewell Griffin Park' it would be emotional for me too.
There was nothing quite like spending all Saturday hearing the buzz of match day building in New Road, right outside your front door.  Somehow it heightened the anticipation.  If the weather was nice we would head to our garden before and after the match and friends would drop by with their kids to have a drink and a catch up.  We celebrated my husband's 50th and mother in laws 75th birthdays at a cold crisp January match against Stoke City.  I  took my nephew to our first football match together not realising that particular game would be the last ever at the ground.  We danced in the garden as Brentford headed for the play offs, unable to get into the ground because of the pandemic but able to sing along with Hey Jude and hear the celebrations from the players and staff inside.  We stood at our back door and listened to Hard Fi play 'Hard to Beat' as the drone filmed from above for the online tribute to Griffin Park.  
And at one particularly memorable match against Hull, we sat watching a wayward ball sail over the New Road stand and joked about whether it would land in our garden.  It did.  I emailed the club asking if they wanted their ball back and, if so, could they please send Ollie Watkins round to ask nicely for it.  They declined to demean their star striker but said we could keep the ball as a souvenir, which was a nice touch.So, while I love the new stadium, I'm still living with the past – or at least the part of it I can see from my window.  The New Road Stand has been demolished along with the Ealing Road Terrace and Brook Road South Stand.  The pitch has been dug up and the floodlights pulled down. 
The Braemar Road Stand is still with us, and the club shop is there but empty. The work has stopped for now and there has been little development over the last year.  I guess circumstances have changed, with the pandemic and economic squeeze, and all we know is that there is unlikely to be further progress this year and that a new planning application is pending.  It's like the worst of both worlds – a sad reminder of happy days but a deep frustration about when and how things will move forward.  It feels that the spirit of Griffin Park is still there and just waiting to be honoured in the way the new development promised it would be.  
A lot of my work is with communities that are getting new schools.  I talk to pupils, staff, parents and residents about the fact a school isn't a building – it's a community of people with shared histories, stories and experiences.  The building simply wraps around them and allows them to be their best.  I guess you could say the same for football grounds. The joy of moving in next to Griffin Park is that it allowed me to become part of the Brentford FC family, welcomed me in and gave me a sense of belonging that continues to grow at the Community Stadium.  The sadness of living next to Griffin Park is that I'm reminded constantly how much I miss the buzz and excitement of match days in my street, and that it will take a very wayward ball to land in my back garden ever again.