Hi George,
We're glad to reconnect with you.
Ten questions:
Where do you live? I'm originally from Berkshire, but living in Hammersmith now.
How do you travel to the ground?  Normally on the tube,

 

I usually meet my family at the Globe before the game.
How long have you been a Season Ticket holder? – I started around 6 seasons ago after I moved to London.
How long have you been a Bees United member? Imagine since I got my season ticket, so 6 years.
Where did you sit / stand at GP and where at Lionel Road? – Ealing Road behind the goal to the right side (facing the pitch). My new seat at Lionel Road is in the West Stand.
When and what was your first game? – I am told I was first brought to a match at Griffin Park when I was 4 years old (over 25 years ago). Unfortunately I can't remember the game.
How did you become a supporter? – Didn't have a choice. I was told I had to support Brentford which wasn't always the best thing as a child growing up during the 90s/2000s when everyone else at school supported Man Utd and Chelsea. Over the years I have managed to come to terms with this.
Any other supporters in the family? – Dad, Grandad, brothers (2) and several cousins.
Any memories – good or bad – favourite game / player etc? – One that sticks in the mind is the game at Craven Cottage in 2015. We were playing great football at the time,  chasing the play-offs. I remember everyone was on their feet for the duration of match and the Fulham away stand was literally bouncing as everyone jumped up and down. 2 goals from Stuart Dallas cementing a 4-1 away win.
Send us a picture?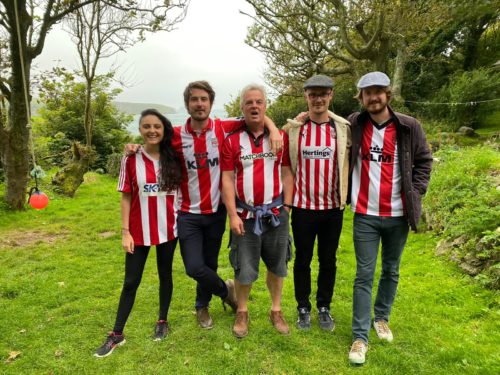 This photo is from before the play off-final this summer with my Dad, brothers & my brother's girlfriend and myself (to the right). We were on our annual family holiday in rural Pembrokeshire so it was a battle to find somewhere to watch the game (pubs weren't allowed to show the game in Wales and finding good internet around there is a bit of a challenge). Obviously we were disappointed with the result, but we all took it on the chin and ended up on the beach at 4am singing Hey Jude in the rain. Probably worked out for the best anyway – I know the squad and staff will be disappointed, but from a selfish point of view, it would be terrible if this was our one season in the Premier League and we couldn't watch any games in person. Sure we'll get in our groove this year and be challenging for promotion again come the season's end! As someone from Berks, I'll be disappointed if we let Reading have all the fun…