Rune D.Franck (RDF) from Norway and Fran Carroll (FC) from Ireland pooled their ideas to create a list of ten ideas for the Club to consider.
International Supporters Clubs visits
"I think it can be said that the two (Irish and Norwegian Bees) International Supporters Club (ISC) trips to the home game against Leeds were hugely successful. The access provided by the Club to tickets and for Kix Café near the Club offices was fantastic, and hugely appreciated by all. It was a superb opportunity for members from both ISCs to attend a game, some to the stadium for the first time, which they would not have been able to do otherwise. It also presented the opportunity, especially in the Irish Bees case, to meet members of the group for the first time".(FC) "Could two group-travels a year be put together with the kind cooperation of BFC and Bees United? One for the final home game of the season, and one in the first half of the season? We just want to attend games with friends". (RDF).
Season tickets for International Supporters Clubs ?
"Norwegian Bees would very much like to be trusted with some season tickets to distribute among paying members. Should there be no takers we can inform BFC well ahead of games for the seats to be sold to someone else by the club". (RDF).
Club to make it easier for Supporters living abroad to earn TAPs
"I've checked around to find out what would make a membership more valuable to Norwegian, or foreign bees, and it mostly comes down to the TAP-system. Tickets, tickets, tickets. I know this will never be 100 % fair, but should the club try to make it easier for supporters living abroad to earn TAPs, it would be highly appreciated". (RDF)."This would be great if there was a system in place to add additional TAPs for International Members for Home/Away games. This has come up many times before and would be of great benefit to International Supporters that incur great cost to attend games".(FC).
TAPs for buying official merchandise from the superstore and having it sent abroad (or even collected from Club Shop on matchday)?
"For me, and other 'foreign bees', it's actually impossible to buy two tickets to go with a friend, a spouse, or a child. I don't know how this could be done, but extra TAPs for being a "foreign Bee" flying in could be one way, or getting TAPs for buying official merch from the superstore and having it sent abroad?. Goes without saying, one would have to be a paying member of the BFC and the supporters club for this to be effective' (RDF). "Again, we incur additional heavy charges for delivery, and since Brexit we get hammered in additional VAT charges which need to be paid before goods are delivered. Whatever happened to the points system in the Club shop?  Is there something similar to the old system coming back?". (FC)
Access to tickets – buy two tickets to go with a friend, a spouse, or a child.
"I know this is the same for all supporters looking for tickets, but International Supporters travelling to London for a game may well be travelling with a non-member (especially a spouse), so in many cases it cancels out the option of going to a game as you cannot get two tickets. Spouses may not ever be future supporters, but an additional friend can always be converted, especially when they get to see how special the club/ground/atmosphere is. Children need to be considered as the future of the Club (if already a Club Member it should be easier to have access to ticket with Parent, even if TAPs not sufficient)" .(FC)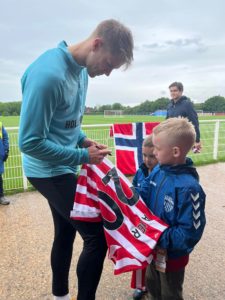 Visit to the training ground to meet (some) players for Supporter Clubs. Peter Gilham organised the visit for Norwegian Bees (see above and headline pictures)
"A visit to the training ground to meet (some) players is the icing on the cake for supporters, and we hope this is a tradition that can be carried on once a year, even when Peter Gilham at one point finally steps down from his position". (RDF). "I believe this is something the Norwegian Bees have done for a number of years, and they wish to continue. As they come for a full weekend to games they can fit this into their schedule. Irish Bees tend to travel over for one night, or a day trip, but if this option was available to ISCs then I'm sure it would be something groups would avail of. It's a great opportunity, and perfect setting, for presenting ISCs Player of the Year Awards. I would love to do this for the Irish Bees (as we did not get to present our PotY award after the Leeds game, and we plan to present it at one of the games early into the new season, this would be fantastic)". (FC).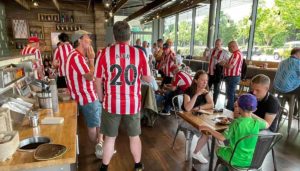 The get-together prior to kick-off – Yearly event? Ex/current/B players and Bees United presentation.
"The get-together prior to kickoff was highly appreciated. A wonderful sign of the club's appreciation, and we will forever be grateful.  We noticed Sam Saunders was there, and should this become a yearly event it would be fantastic if a person (x-player/staff member) could find time to join in, give a short presentation of what's going on at the club, taking pictures with fans etc.  The group spoke fondly of the meeting they had with the Bees United Chairman ".(RDF) "As mentioned, the get-together prior to kick-off was hugely appreciated by all that attended, and a great location to meet/chat amongst ourselves, and for the two ISCs members to meet too. Would this be something that could be done again in future for ISCs going to games? As Rune mentioned, Sammy Saunders turned up while there, but many were not sure if he was there in an official/social capacity. Some got pics, but others did not as were unsure if we were encroaching. Could a current/injured/ex player attend and be available for pics and chat? (FC)
Do B/Academy team play home the day before the Senior Team.
"I think having the opportunity to meet players/staff from the B-team (or an academy in the future) would be of interest to us. Meeting and watching Brentford's "future" could be fun" (RDF).
"This is a good point, and not only for international members, to avail an opportunity to see the B/Academy Team play, but UK supporters that may be travelling into London too".(FC)
International membership –
"As foreign Bees we are happy to pay the membership fee, even though we don't get the chance to attend games very often, but any little gift is appreciated. A pin, or maybe a badge to be ironed on to the kits we buy. Maybe make one for supporters from all over the world. They could look the same, have the same design, but with different flags. Norwegian Bee (and the flag) , Irish Bee (and the flag) etc etc. I don't know if that would be popular, but I would like to wear "my colours" and anyone with a small flag on the front of their players shirt would immediately stand out from the crowd, and it could work as an "icebreaker" at games, in Brentford, or anywhere really" (RDF).
"We've been told that the club are looking into International Memberships, so interested to see what they are like. Club previously had one just before we left GP, which I signed up to, but quickly changed back to regular membership as the 'benefits' for international membership were naff (and membership card was not included). As you can see from Rune's comment and my actions when a card was not included, a physical/tangible item should be included in membership package, NOT just a number!!" (FC)
"I am sure a lot of Brentford-supporters would love to go to Fullers brewery for a tour, and/or tasting. I know I would also love to learn more about the Community Sports Trust, and be taken on a tour at the stadium, if that's possible to arrange the day before a game?' (RDF)
'"Would the club have an International Supporters Club Day, to raise the profile of ISCs and/or get more International Supporters/ISCs involved? Flags/flag bearers for each official ISC as players come out the tunnel/giant flag in the stands/etc?" (FC)
Norwegian Bees can be contacted either via Facebook https://www.facebook.com/groups/262245127132057 or their website.
Irish Bees can be emailed at  
francos@live.ie
 .Their Facebook page is https://www.facebook.com/groups/36064 and they are on twitter at @irishbees
If you run an International Supporters Group and would like your group to considered for an organised visit please email admin@beesuntied.org.uk