When airline pilot Brendan Nevin gets home after a day flying across Europe he has an unusual way of relaxing, he finds old black and white photographs of Brentford Football Club and turns them into colour pictures. Now the results of his hobby are to be published in a book called 'Brentford Reimagined, Bringing Brentford's past back to life' which tells the story of the club from the 1880s to the 1980s through colourised photos.
Brendan has been a Bees fan for nearly 30 years, he started going to games at Griffin Park in 1991 while still a pupil at St Mark's Catholic School in Hounslow. Then through a contact of his father he got a special Saturday job, as assistant to the club's press officer Eric White for 3 years.
"Eric took me under his wing, I used to turn up at one o'clock, help set up the press room, get the phone lines ready for the reporters, fill the kettle for the tea and biscuits, hang around until the last report was called through and lock up afterwards. Great experience to have and I developed a love for the history of the club.
"Before every home game I also went down to the changing rooms to collect the team sheets and got to meet a lot of my heroes. I also met a few of the old players who at the time didn't mean anything to me really". Among those who would call in to say hello to Eric and his young assistant was a man who Brendan would learn had been a central figure in the history of the club. "I remember him as Kenny who as regular as clockwork came into the press room, an old man in his olive coat". Kenny turned out to be Ken Coote who'd played a record 559 appearances for Brentford over 14 years in the 1950s and 60s.
Now using the latest digital technology Brendan ensures that "Ken and the other old men I met come to life as young men in their prime". Brendan has been doing colourising for about 3 years: "I started doing family pictures and then wedding shots etc. Last February I was going through my books and my programmes and Eric White's '100 years of Brentford' book and I thought some of them would be good to look at in colour. It is striking how you can get very clear images of those people I'd read about in programmes, the colour in their eyes, the colour of their skin, the muck on their knees and on their kit, it becomes very real".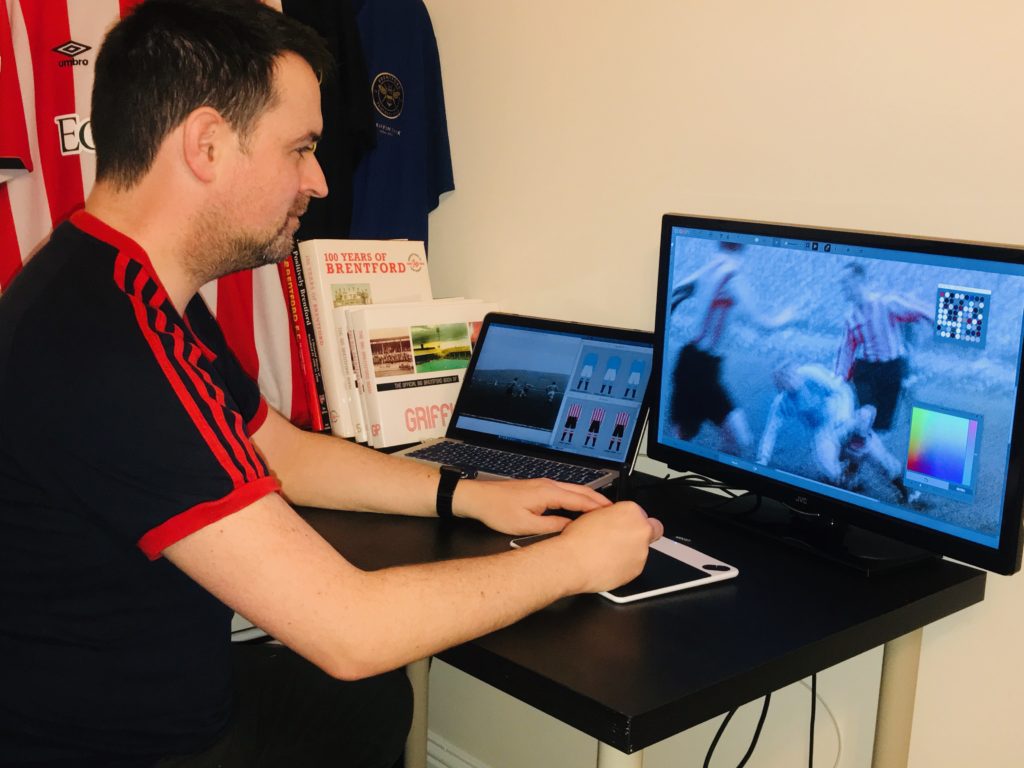 Brendan says it takes an average of 4 to 6 hours on his computer to convert a black and white photo to colour and get all the details right. "Firstly it is likely that there's cleaning up to be done, a lot of dust and scratches, wear and tear over the years that needs to be cleaned using various pieces of software. Once that's good I play around with the exposure and the contrast, then its a case of using my own intuition, experience, looking at fashions of the day". The actual 'painting' is done using a mouse on a graphics tablet and then finished in photoshop. Brendan will often leave the photo for a week and then come back and rework it a little to finalise it.
His book is the result of a partnership with Brentford historian and publisher Dave Lane. "Getting in contact with Dave Lane, and getting access to his huge archive, has been a godsend really. It means that we've got so many photos going back to the 1880s, which when brought to life have been amazingly detailed, especially some lovely pictures of the claret and blue kit from the 1898 season".
Brendan has his own Brentford in Colour twitter feed (@beesincolour) which shows examples of his work and Dave suggested compiling a series of the images for a book. "We've tried to select a good range of photos that tell the history of the club, bringing life to these names and faces that played in the first division, second, third and fourth. We are trying to go all the way up to the 1980s, hopefully a few pictures of Terry Hurlock, Stan Bowles and the like who were rarely pictured in colour at the time. Although there were a lot of colour pictures of the top league, lower league teams like Brentford were mainly only photographed in black and white until the 1980s because that's all the newspapers printed".
Brendan has been what he calls "a fan from afar for the last 17 years" since he moved to Ireland.
"I had various careers before taking a gamble and doing my pilot's training. Now I fly for a major airline, after a stint on transatlantic flights I now mostly fly around Europe.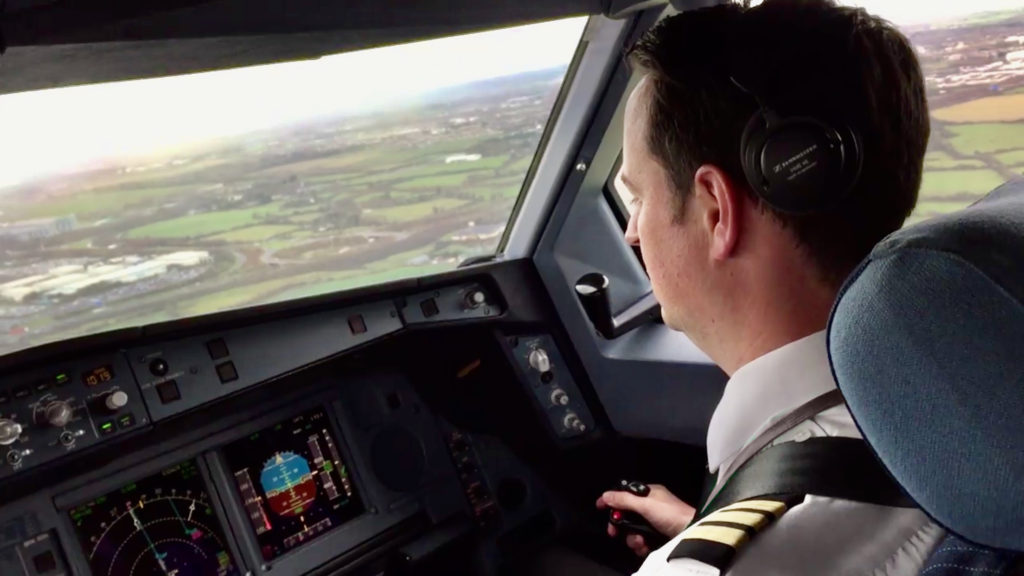 As I work from Dublin Airport I see lot of people flying over for matches for various clubs in England and there's been a lot of red and white stripes in the last few years. It used to be 'Brentford Who' but the word has got around now'. The current COVID-19 situation has caused a big reduction in flights so Brendan has a lot of time off "which will help me get the book out on time". He's averaging a picture a day.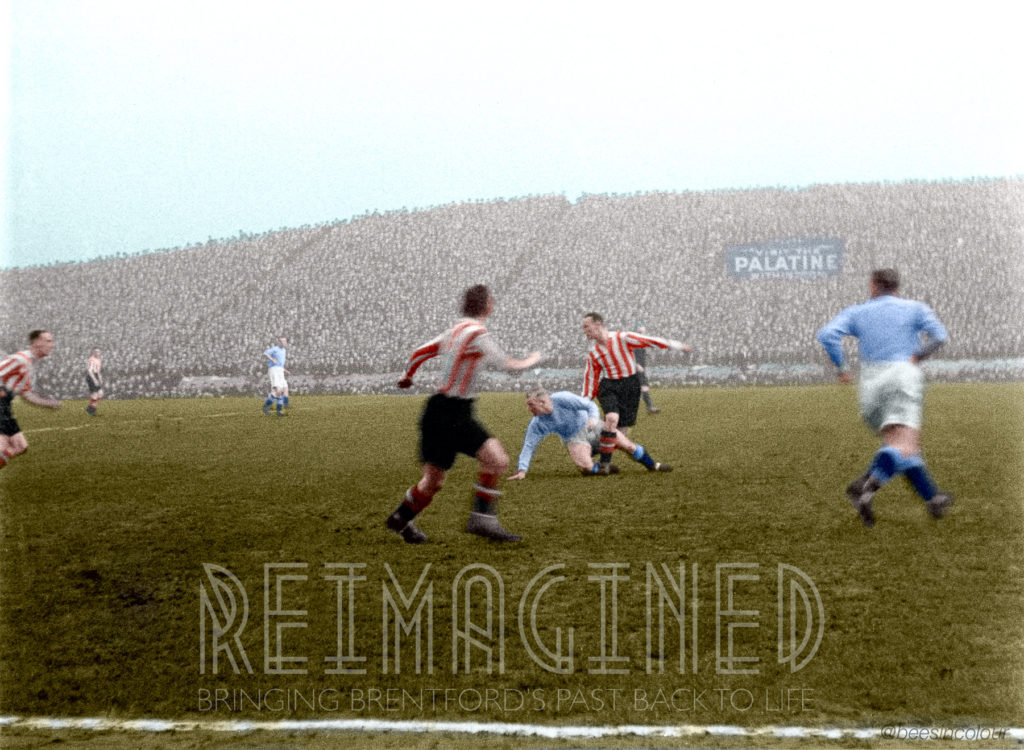 Brendan's favourite  pictures include "a lovely one of Brentford away to Manchester City in 1935 where there's this vast unending terrace. I added the light blue kit for Man City and the red and white stripes for Brentford, the mucky pitch, some nice skin shading, and it really brought it to life. The picture demonstrates the scale and popularity of football in the 1930s and the height of  Brentford's fame. Then there's a picture of a young fan being passed over the crowd in 1949. It shows what a great community the Brentford fans have always been. I still go over to Brentford matches whenever I can and I always feel at home as soon as I turn the corner and see one of the four pubs".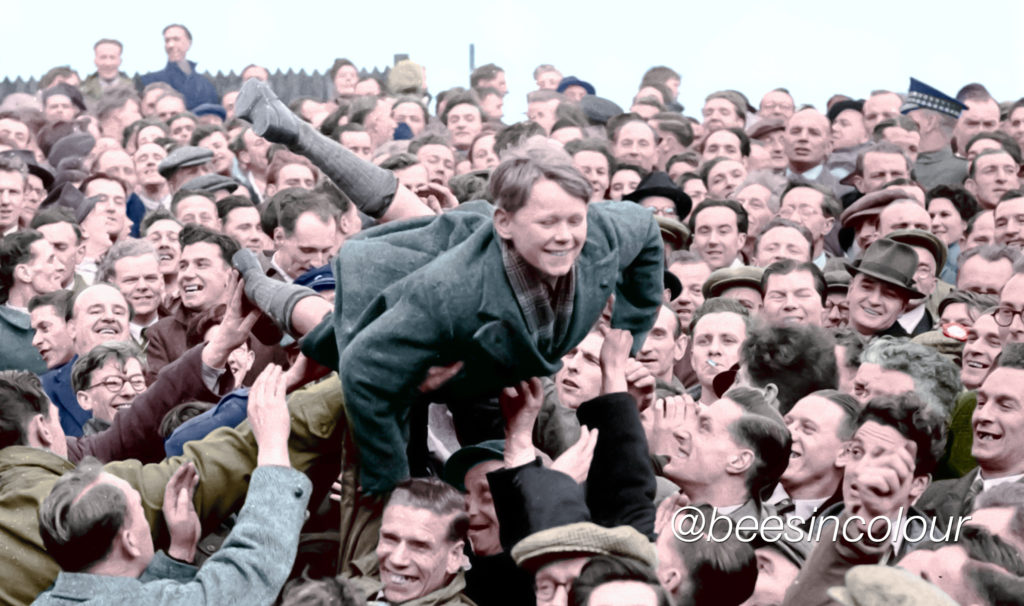 PRE-ORDER YOUR COPY HERE  
AND GET A FREE NAME DEDICATION IN THE ROLL OF HONOUR,
You can also  see a video about the book  here and you can find out more about Brendan's recolouring business here
To hear Dave Lane interview Brendan Nevin, there's a special Beesotted podcast here