It was literally just minutes after promotion was assured at Wembley when the messages from Bees fans around the world started dropping  into the Bees United inbox (admin@beesunited.org.uk) ."Congratulations to advancement to the PL from a supporter in over 60 years and having lived in Sweden in 40 years !"  was the first.  When we asked John James to tell us more about himself he replied  "I started supporting the Bees when I was 19 years old because my girlfriend's father was an ardent supporter! It is specially interesting now that Pontus Jansson plays for Brentford as there is more interest here in Sweden. "Once a Bee Always a Bee😘
Later from Italy Fabio messaged: "A dream comes true! WE ARE IN PREMIER! Deservedly! I remember the first time I came to GP and I met Peter Gilham and the shop was into the stadium……I look forward to come to support Brentford at Brentford Community Stadium in Lionel Road and live again that terrific atmosphere of our family club! Covid permitting….".
BU's Membership and Technology Secretary, John Scott, who does a great job connecting with new members and staying in touch with members around the world, was getting emails too,
Jesper (Denmark) – "Congratulations and thanks for the warm welcome. Yes Its going to be a thriller ".
Mitchel (Netherlands) – "I am a Brentford fan from the Netherlands. In 2017 I visit  a Brentford game. in beautiful griffin park, against Millwall. it was a great game. a real derby, and also won 1-0. I am still a super fan of your club".
Bob (Australia) – "I felt that Brentford were well in control for most of the game and never looked like losing having scored there two goals early on. Anyway I am looking forward to the coming season as I am sure you are".
David (Australia) -CONGRATULATIONS! We did it!! Finally 😁 Thank you for including us overseas supporters! Appreciate everything you all do".
Yehuda (Israel) – "We did it!!!!!!!!!!!!!!!!!!!!!! Flippin' heck! See you at Lionel Road next season, in the bloody prem!!!!".
Michael (Germany) -"just some warm and heartfelt CONGRATULATIONS from Germany. I was fortunate enough to be able to watch both playoff matches and the final today and… This team was not lucky, or Swansea weak or or or…No.This team deserved to win promotion and I am so happy for you guys, I can not even be close to understand what you achieved today, so again, have a drink tonight, and another, and another and then start again. This is one of those days that we live for ☺️☺️☺️".
Within hours Bees supporters were joining BU from Germany, Australia, Denmark, Norway, the USA, Ireland, Switzerland, South Africa, New Zealand,Spain, Malaysia, Singapore, Netherlands and even Chiswick! The new members took us over the 2,700 mark.
Existing member Brendon from Ireland Ireland wrote to John: "It was a great result, I am still on a high. I got great support from all my football mates, family and friends".
Also in Ireland, Fran Carroll of the Irish Bees had found his options for viewing the game with friends were limited because the pubs and restaurants in Ireland were still closed by COVID restrictions, so the only option to watch the game was at home. BU Board member Fran says:  "Myself and my 11 year old son, Alfie, watched the game together (what could be better than that, other than if the two of us got to go Wembley together), and we were joined half way through the first half by one of my mates/neighbours. A few beers were had, but certainly mild in comparison to if the pubs would have been open.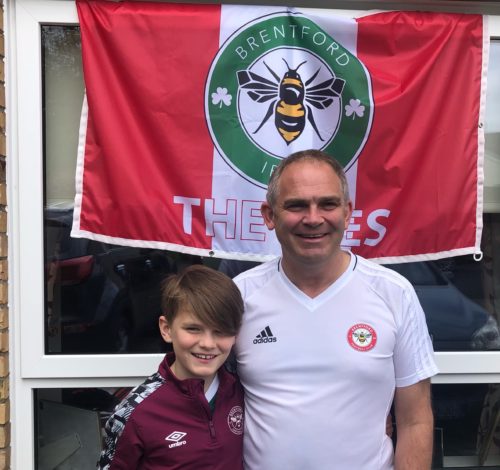 It was great to receive texts/messages from friends/family from all around the world on the day of the match wishing us luck in the big game.
"Having supported Brentford for over 20 years, I have always got a great, somewhat surprised, reactions from people when asked who I support. Over the years, I would get messages out of the blue when we got a promotion or a scalp in a cup game. I have countlessly told my story over the years of how/why I support my beloved Brentford. More so now in the last few weeks since our promotion to the Premier League. It's also been wonderful to take other members of my family along on the journey, as my UK based brother and my two nephews have become huge Bee's supporters also. Especially more so when the two lads moved to Manchester and had to educate the Red and Blue sides of their friends in the city on who Brentford were and the consistent rise of the club over the years.
"It's been fantastic the number of neighbours, friends, coaches and parents from my local Gaelic Athletic Association club and Soccer (apologies, but I have to distinguish between GAA football and football somehow.. lol) Club that have taken an interest, not just this year but over the last number of years. I wear my Brentford gear with pride and they have stood out among the many Top Six club tops that would normally be seen in Ireland, as obviously there Brentford tops few and far between….. but I'm sure not for long !!!
For Fran the news of Brentford's promotion was sadly overshadowed later in June by the death of his big brother Anthony( 'Anto') after a long illness. Anthony had brought his own son on trips to Griffin Park.
Across the Atlantic, another newly-elected BU Board member, Jeffrey Roy, was watching in Halifax, Nova Scotia: "As it became clear that we were about to reach the Premiership for the first time in 74 years, my response began with tears (rare for me, an introvert by nature). I thought of the two long-time supporters shown during the match. I thought also of those supporters who grew up, lived, and passed away without witnessing such a moment.
"It was a moment I have not fully internalized. In one sense it is a strong example of a "Where were you when…" moment. However, it was and is much more. To have experienced it as a member of the Board of Bees United continues to be momentous to consider. I can say that I am humbled and honoured to be part of what has quickly become for me a special family. However, the impact on me goes much deeper.
"It was exciting to see the release of fixtures for the coming season. I should be able to watch all matches on a sports streaming service on my computer. I have my own challenges for the coming season. First, to be as involved as I can as a BU Board Member. Second, to develop the image of BU and the club in my part of the world.While my family are not football fans nor are they active in any sports, they continue to witness my passion and commitment to BU and to the club and have been very supportive. They recognize the positive impact it has made on my life and on how I interact with them.
"With your support, I will continue. May we embrace this moment in our history and grow together. May the impact on ourselves, on BU, on the club, and others be positive and long-lasting. Thank you for welcoming me into the family".