Saturday 25th January 2020 was a 'real special day' for Brentford's lead commentator Mark Burridge. It wasn't so much the FA Cup game against Leicester, although like most fans he was pleased with the way the young Bees had played, but the chance 'to spend time with the legendary John Motson' as Mark tweeted. Before the game Mark interviewed John, who was a guest of the club for the day, in front of the '10 Games to Go at Griffin Park' sign. But suggest to Mark that he is good enough himself to have worked on radio or TV alongside commentators like Motson and for once he is stumped for words. The silence is partly explained by a natural modesty but also because, as he finally replies,  "Having done it all these years I don't think I could do anything but Brentford, I don't think anything else would interest me".
Mark says that he and his fellow Bees commentators are 'absolute Brentford nuts'. He was born that way. His father Derek Burridge who grew up in Lionel Road was a Vice-President of the club who helped to start the Juniors team with Peter Gilham and Frank Blunstone. Derek still attends games. 'It was a natural father and son thing, passing on the baton'. Mark first went to Griffin Park in 1965 when he was five years old, and although he was too young to remember that day he does have later memories of getting on the train at Ealing Broadway in 1971 when manager Blunstone took Fourth Division Brentford to Second Division Cardiff and won 2-0. Mark went back with the players on the coach to the station.
He got into commentating in 1997 when he saw an advert in a fanzine looking for somebody to commentate on matches for Brentford's blind supporters, an innovative service which had started as far back as 1951. "I'd always been interested in sports journalism and saw this as a chance. I found it a very humbling experience and the blind fans like Andy Godfrey are still friends today" . In the 2001-2 season the club decided the commentary would also go out live on the internet, initially as part of 'Beesworld', then 'Bees Player' and finally 'ifollow Brentford'. Mark has been there through all these developments and thinks he has only missed about ten home games in thirty years. His first co-commentator was Mark Chapman, then Chris Wickham now Brentford's Director of Communications. The service developed into a full 'Match Day Live' show with Luis Melville presenting a half hour preview before Mark commentated on the game. Now Mark does both helped by regular co-commentators such as Marcus Gayle and Mick Cabble.  Mark speaks warmly of the role of former players like Marcus, Richard Lee, Kevin O'Connor and Ben Burgess. Chris Kamara got started that way. 'It is always fantastic getting a professional insight into the game. Sam Saunders was great because he tried to play the 'cheeky chappy' of commentary. We try to get the right blend by involving the fans and the ex-players while also reflecting the diversity of the club by having lady guests as well, such as ex Brentford Ladies Captain Charlotte Tanner, Kat Mills and Michelle Glassup. It is important that Match Day Live is totally a 'Brentford experience' and reflects our whole fan base".
Mark is very keen to stress that the team of commentators he works with are great people."I must mention Mick Cabble who gives up his time to help on so many away games. Mick is a natural wordsmith as well as being a sharp pundit. He doesn't miss much during a game and gives you great confidence to be alongside".
Those people are very fond of Mark. Brentford historian and regular pundit Greville Waterman says; "You might well think that Peter Gilham is the voice of Brentford and he is rightly considered a club legend but Mark Burridge also deserves serious consideration.  His dulcet tones have become familiar to all Brentford fans who rely on audio or video coverage to get their regular fix. I have been privileged to know Mark for many years and consider him a real friend. He is kind, compassionate, thoughtful with a dry sense of humour".
During every game Bees fans on every continent, from America to Africa and Australia, are messaging Mark. "When there's a break between play I try to fit in mentions of, say, the birthday of a fan's daughter who's sitting around the computer listening". The equipment Mark and his commentary team use "is now light years ahead of how it started. I remember being at Cambridge United with Mark Chapman and they said 'you will be sitting among the home fans' and we were literally commentating on my mobile phone passing it to each other. I also remember that at Bristol City we used to be behind a glass box with about eight other people commentating and it became a war of attrition because we were all trying to talk above each other". Mark enjoys the freedom of not having to be neutral like radio commentators. 'If we score a vital goal at a vital time we will be punching the air as fans. We will always respect the opposition but obviously 90% of people listening to us will be Brentford fans and they will be more than happy if we get excited when we score".
Greville Waterman says Mark is "the consummate professional who prepares meticulously for every broadcast". He is as well briefed on the opposition as he is on the Bees. He normally stays in on a Friday night doing his research and checking the pronunciation of players like Bristol City striker Famara Diedhiou (Mark thinks it is like jayjou ). If he knows two players look similar he will check the colour of their boots during the warm up  to distinguish them. He doesn't have to do much research on Brentford because he has an extraordinary memory for games and dates."As fans we might forget things in our real lives but we never forget our football and the games from 35 years ago.We have been through so much pain in our time and now this is like utopia isn't it, the football we are having now". 
Ask about Mark's lowest point as a fan and he can immediately give you a date. 4th December 2007. "It is indelibly stamped on my brain. We lost one nil at home to Morecambe and they had 38 fans there. You could count them in the Wendy House". The previous month Brentford had lost at Macclesfield and Mark, who was paying his own expenses in those days, remembers "I asked myself 'why do I do this' but then you pull yourself together within five minutes". A week after the defeat by Morecambe the Brentford manager Terry Butcher was gone. Andy Scott replaced him and in the next month Matthew Benham increased his investment tin the club.
Now Mark enjoys all the high points which have come with the Benham era. "I think the whole experience of the Championship has been absolutely remarkable. I feel so privileged and grateful to be involved in what we do. We are commentating on a brand of football which 15 years ago you would not have believed.  This club is just very carefully moving in the right direction, it is just just great to be part of it."
Push Mark to choose just one goal and he opts for Stuart Dallas's second goal at Fulham in the 4-1 win."It almost made me cry with emotion. We were right behind it, seeing the ball fade back in towards the goal, the net ripple and the whole 8,000 Brentford fans behind the goal just go up as one. That was just amazing, a special goal". 
Mark Burridge says 'I've only got one club, one love' but he manages to combine Brentford with his other sporting love, greyhound racing. 'Mister Brentford' (named after Peter Gilham), 'Miss Brentford ' and 'ComeonyouBees' are trained for Mark by Matt Dartnall in Stanwell and a syndicate of 120 Bees fans and friends are involved. And that's where Saturday 25th January didn't quite have the perfect ending to the day. Mark entered 'Comeonyoubees' in an evening race at Crayford, she started at 5-1 and was four lengths clear when the stewards stopped the hare and thus the race because another dog had fallen. 
Mark's response ? "As they say in football 'Oh well, we go again!' "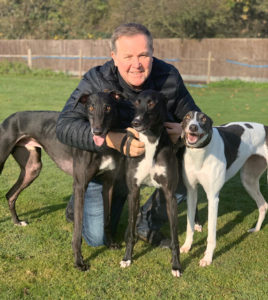 Left to right ; Mister Brentford, Comeonyoubees and Miss Brentford