For those who were there it is still a special memory: 'I was at Peterborough away 2 May 1992'. The Bees went into that game not sure of promotion to Division Two (what's now called the Championship) but a one-nil victory meant they came out as Champions of Division Three.They couldn't take the trophy home, it was sitting at the game where Birmingham were expected to win. There's a link to a great video report on this webpage
Everyone, players and fans alike, went back to Griffin Park for a celebration and 'We are the Champions' was played on the loudspeakers. There was even an open-top bus parade around Brentford and Hounslow.
Thirty years on the members of that squad are still in touch but they've never got together for a reunion. Amongst the farthest flung is Paul Buckle, one of no fewer than seven members of the squad who had joined the Club at Youth Team level. 
Today Paul lives in El Dorado Hills in California, is a leading soccer consultant and is married to Rebecca Lowe, a star of American sports TV. He says that when those players look back 'we all agree it was the best two years of our lives. It was a great success that eight of us made the first team."  
One of them was Marcus Gayle who is still in touch with Paul: 'Title winners at 21 was fantastic with him. I first met Paul as he joined our Brentford youth team back in 1987. We forged a strong bond on and off the pitch at 16 that is still present today. 
"Paul was the second one (Matthew Howard was the first) out from the youth team aged 17 to make his league debut versus York City. I was so proud, nervous and excited that there were two players from our youth team out there'.
Paul remembers the moment he was told about his debut: 'it was the Friday before the last game of the season, I was doing my duties, cleaning my boots or something, when the youth coach Colin Lee walked in and said 'get your stuff and get yourself home'.He said the same to Matt Howard.'You're in the first team squad tomorrow'. 
"We were on our way out and we could see all the other apprentices were gutted: 'where are you going?' they asked. 'Bye lads', we said, 'we're going home'. Competition for places was everything. It was a case of working together on a Saturday but during the week you were in massive competition". 
Marcus says: "Paul was a great guy to have around at training and matches, He would give me a look before games to say "You on it ? ", because he was on it and ready. Very reassuring to play alongside'. 
Paul says "My years at Brentford were all about winning, we had an incredible youth team, the reserves won and the first team won, it was just a winning culture. Steve Perryman approached me to join when I was let go by Watford, he got me digs with his parents in Greenford, he picked me up to take me to training, that's how committed those guys were".
Brentford historian Greville Waterman says; "Paul Buckle was one of many who came through the all-conquering Brentford youth team of 1988/89 and looked to be quite a prospect when he broke into the Brentford team. 
"A small, agile, quick, hard-working midfielder who was good on the ball and never stopped running, he never quite fulfilled his promise or established himself in the team, despite playing 35 times in 1990/91 and winning a Division Three Championship medal in 1992.
"The Bees preferred brawn to brain in midfield and, like so many others, Buckle fell out of contention under David Webb and was allowed to drift away.
"Brentford's loss was Torquay, Exeter and Colchester's gain as he became a key and dominant player at each club, winning promotion at Colchester and played nearly 350 Football League games in an excellent career before becoming a manager who gained varying levels of success at Torquay, Bristol Rovers, Luton Town and Cheltenham'. 
In 2013 Paul made a dramatic lifestyle decision, he left Luton Town to live in America. His wife Rebecca Lowe, a former BBC  sports presenter, had been hired as the lead studio host to anchor NBC's coverage of the Premier League in the USA working from a studio complex in Connecticut. Paul was initially working with a football academy in nearby New York.
"In 2015 I got a break to go and became the Head Coach of Sacramento Republic in Northern California. We won the title in my second season. But Rebecca's job was still on the other side of America. They planned on a family so came up with a strategy that has worked well for them.
"We moved here to California. Rebecca flies to the East Coast on the Friday to work for the weekend on the TV programmes, then comes back on the Sunday, then has the whole week at home in lovely weather now bringing up our little boy Teddy. We've been able to stay in one place because I've become a consultant working from home. I don't travel too much but I'm involved in a lot of different clubs. Before that I'd moved around so many times".In fact Paul made one more move back to the UK but it was a short-term one. For six months in 2019 he looked after the Under 23s at Southampton. "There I really got to understand how big clubs run and are successful."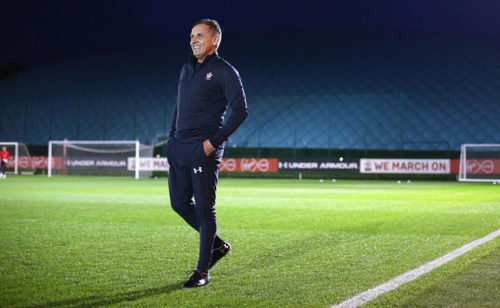 On his return to California Paul decided to switch from coaching to consultancy. He is now a Technical Advisor to owners of teams in the two biggest leagues: Major League Soccer (MLS) and United Soccer League `USL`."Its mostly guiding, supporting owners to make decisions and best practice within each club. Its not rocket science, you need people who are experts in their fields, and you need to work together with a common goal".
Rebecca's career is going well too. NBC recently struck a six-year US broadcast rights deal with the Premier League worth over two billion dollars. NBC have chosen her to be a presenter on their Olympics coverage for every games since 2014.
"Rebecca has done extremely well . She is the face of the Premier League in America and gets recognised by people.  She is the hardest working person that I know in terms of her commitment, drive and dedication.
"We love living here. If you had told me what my professional and personal journey would turn to be I would have said 'no chance'."