Who makes the rules?
The Government decide whether stadiums can open and what restrictions apply to the number of people attending games. The Premier League decide whether or not their matches go ahead within those restrictions. Their Board has lots of powers to interpret their own rules and 'wide discretion to amend the time and date of previously scheduled League matches'.
What are the rules on whether a match can be postponed because of a COVID outbreak?
You could be excused for thinking there aren't any rules but in fact last August the Premier League created new 'guidance' to clubs who want to apply for a match to be postponed. The full version is here, ,go to Section 17 page 586!  One key sentence says 'Permission will not be granted to postpone a League Match where the applicant Club has 14 or more Players listed on its Squad List available'. Put another way, if fewer than 14 of your squad list of 25 can't play you can apply for a postponement.
Has that rule been followed up until last weekend ?
We don't really know because the Premier League doesn't disclose how many players in each club have COVID. There are also exceptions to the rules, so many exceptions that the Premier League says 'it is not possible to provide an exhaustive list of the issues to be considered by the Board in every instance'. But they range from whether the club has complied with the League's COVID Protocols to what's needed to ensure the League's wish to try to finish the season 'where it is safe to do so'. The Football Supporters Association (FSA) say that from their experience: 'there are lots of other variables that come into play other than there being 14 players available when reviewing whether a match can be postponed.  If key staff such as doctors, physios, coaches etc are also hit with COVID then this must also be considered as part of the mix.  A match cannot take place without medical staff in place and it may not be as simple as bringing in someone else at very short notice as they would also need to be tested. If a training ground has to be shut down and there is no other provision available then this also has to be taken into account as a team would not be able to prepare properly for a fixture'.
Why does the decision-making take so long sometimes, one game was called off only two hours before kick-off?
The League take advice from their Chief Medical Officer on 'whether by proceeding with the League Match the health and safety of players and staff would be compromised'. This guidance seems to have been used when COVID is out of control at a training ground. Apart from all the factors the Premier League Board has to take into account the views of Public Health England and the relevant Health Protection Team and that can take time, sometimes delaying clubs being able to tell fans what's going on. 
So what if anything has changed with the Premier League statement on Monday?
On Monday morning the rumour was that the clubs would agree to postpone 'Gameweek 20', the fixtures between December 28 and 30 .That would have meant Brentford postponing the game with Manchester City on 29 December. But that could have caused a financial headache. Amazon pays £30 million to exclusively show two rounds of Premier League matches around Christmas and the New Year. The Athletic pointed out 'the slot is particularly important as a strategy to Amazon as a delivery service, as it runs around the festive-season shopping period which is so integral to the company's overall business'.
So that may have been a factor when the 20 clubs met. Some clubs, believed to include Liverpool, called for that break but they were in the minority and the fixtures will go ahead if each club have 13 fit players plus a goalkeeper.So suddenly that  rule from Section 17 has been dusted down and given a more public airing but presumably that 'exhaustive list of the issues to be considered by the Board in every instance's still applies. Hope that's clear. Thomas Frank said on Tuesday that he still didn't think the rules were clear enough,
The EFL, who organise the Carabao Cup, have a similar but slightly different rule; 'the EFL's general position is that if a Club has enough registered players eligible to participate in the fixture i.e. they have 14 Players (11 starting and 3 subs) then the Club will have a sufficient number of Players in order to fulfil the fixture. However the EFL will review each circumstance on its own merits'.
What is the position of B team players? 
To avoid having to postpone games the Premier League Board can consider whether clubs should be expected to use 'appropriately experienced Under 21 players' who have made first team appearances.Chelsea said on Tuesday they would  select some Under-23 and Academy players for their Carabao Cup squad against Brentford on Wednesday. It has been reliably reported that with David Raya injured and Alvaro Fernandez diagnosed with COVID, Thomas Frank told third-choice keeper Matthew Cox that he would play against Manchester United if the game went ahead. Of course, as it turned out the match was postponed as was try game against Southampton. Meanwhile Alvaro Fernandez may have recovered from COVID and another Brentford goalkeeper, Patrik Gunnarsson,has tweeted a reminder from his loan spell in Denmark.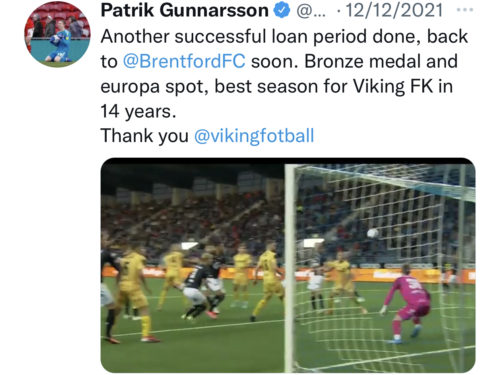 Why don't the Premier League announce how many players in each club have COVID?
The FSA say that with so many variables there has so far been a reluctance among Premier League clubs to share the exact number of players being hit with COVID as it isn't the only factor which needs to be considered when making a decision. We can't find any formal explanation from the Premier League (if you know of one please email us) but 'medical confidentiality' gets mentioned from time to time. If that is the reason how come head coaches likeThomas Frank aren't breaching confidentiality when they reveal the number of their players with COVID or when they explain that a certain player was not selected because he has COVID?