Watching Brentford this season – home and away – has been an absolute pleasure. The football has been sumptuous, and the club are in danger of being known for something other than a pub on each corner of the ground (or Brentford Nylons – for older Bees fans). 
There's something special about following the Bees on the road – as I'm sure all away regulars will tell you. I travel to away games, usually by train, with fellow Bees Keith and Terry and – win, lose or draw – we always have a great day out (and yes, a lot better when we do win). We always meet up with familiar faces at grounds all over the country and have made many great friends.
I've picked out 10 games from our travels following our beloved Bees over the last season.
July 13th Drew 0-0 with Dynamo Kiev (played in Austria)
It all started last Summer and Brentford's pre-season training camp in Austria in what has become a regular European break for Keith, Lance (another Bees Home and Away regular) and I – if you haven't yet done this I can highly recommend it. For this trip, we based ourselves in Munich for a few days and took the train from there into Austria for the game on the Saturday.
At the end of a week's training camp in Austria, Brentford took on Dynamo Kiev in a friendly match played at the home of SK Jenbach, in the beautiful Tyrolean foothills. Around 60 Bees fans watched the team, including the summer signings, play out a 0-0 draw in a picture postcard setting. The result didn't really matter and there was already enough to hint that this might just be a very good season. After the game the travelling Bees were able to chat and have photos with the team before the players and staff headed off to the airport for their flight home.
10th August. Won 1-0 at Middlesbrough. 
There are a few reasons for picking this game. Although one of our furthest trips, it's a pretty good train journey from Kings Cross and the Riverside is a fabulous stadium. However this is included because having gone over 80 years without a win at Middlesbrough, we now had two in less than 6 months. It was our first away game of the season and gave us our first win (having somehow lost 1-0 at home to Birmingham on the opening week) and it was Watkins first goal in a dominant display that merited far more than a 1-0 win.
24th August. Lost 1-0 at Charlton Athletic.
Two weeks later we were off to The Valley – a much shorter trip. This was one of our regular boat trips to watch the Bees (in recent seasons I've organised boats down the Thames for games at Charlton, Chelsea, Fulham and THAT game at Leyton Orient – when we celebrated like we'd won the Cup). On a beautiful summer's day, we set off from Kew – sailing down the Thames, seeing the sights of London and entertaining the tourists with our Brentford songs as we went – down to Greenwich, (where several of us enjoyed pie, mash and liquor at Goddard's) disembarking by the Cutty Sark.
Onto the game. How did we lose that one?!! Despite having all the possession and nearly all the chances, a mixture of good Charlton defending, good fortune for Charlton, some out and out gamesmanship and a goal from Chelsea loanee Conor Gallagher was enough to give Charlton the points. This was our third defeat – all 1-0 – in the opening 5 games! It was to become a familiar scoreline (by the end of the season we had lost 12 of our 46 league games, 11 by a single goal – 9 of those 1-0).
14th September.  Lost 2-0 at Preston North End.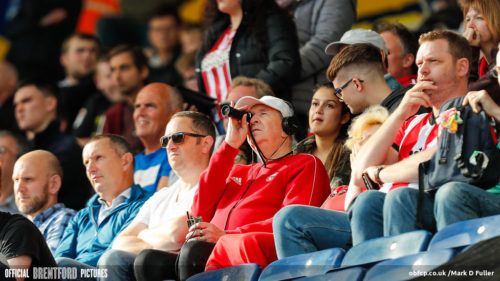 Okay, maybe not a highlight, but still worth including. Preston is always a good day out. It's a quick journey of just over 2 hours by train from Euston, followed by a nice 25 to 30-minute walk to the ground – which is a wonderful stadium, modern yet retaining enough heritage to do full credit to this historic club. In recent years we've had a pretty decent record there too.
Not many (in fact I can't recall any!) Brentford highlights in the game itself in what was possibly our worst performance of the season and it was obvious that our new signings were going to need a bit of time settling in. I've included this in my "highlights" – the 2-0 defeat was to prove our worst of the season and it is the only time this season that we have lost by more than one goal all season.
29th September. Won 3-1 at Barnsley.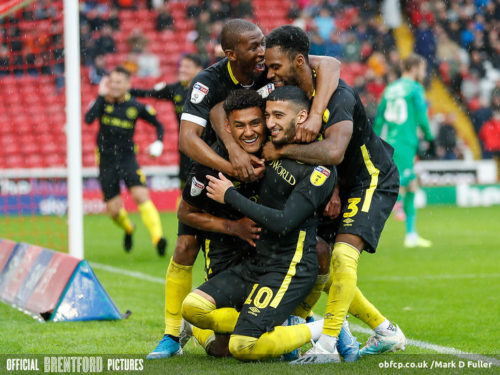 The game was moved to Sunday lunchtime for the Sky cameras. Train times meant we were cutting it fine but after a relatively short walk from the station we were at the ground 10 minutes before the kick-off.  Having gone 1-0 down the Bees stormed back to win comfortably with an Ollie hat-trick and a sublime performance from Said (with the famous Sam Saunders quote on Sky that he could "nutmeg a mermaid"). This was our first away win since Middlesbrough and the day I thought we can do something this season.
October. 
Another 1-0 defeat, this time on the banks of the Trent, away to Nottingham Forest at the start of October was followed with two great wins at Swansea City (3-0) and QPR (3-1) at the end of the month. I was on a family holiday in Orlando so missed these two – although I did I manage to keep a track of the score from the Bush via my iPhone whilst at Hollywood Studios.
9th November Won 3-0 at Wigan Athletic.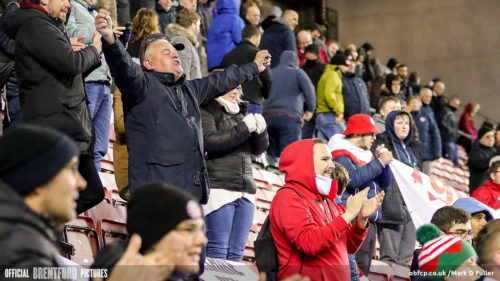 Another good day out on the train from Euston and another good performance from the Bees. We completely dominated the game with an early goal from Bryan and second half strikes from The General and Josh Dasilva (which was an absolute pearler). This was our third away win on the spin and the first half of what was to be a 3-0 double over Wigan. Quite incredible given Wigan's run of form in the last quarter of the season.
21st December. Drew 1-1 at West Bromwich Albion.
We started December with a disappointing 2-1 defeat at Sheffield Wednesday and ended 2019 with a disappointing 1-0 defeat (that score again!) at Millwall. In between those trips the Bees played very well and deserved more than the 1-1 draw we got at The Hawthorns. This was a big performance and we were denied a clear penalty which would have made it 2-0  and surely a win. On the journey back to Birmingham New Street we were highly praised as "the best team we've played" by West Brom supporters.
1st January. Won 4-0 at Bristol City.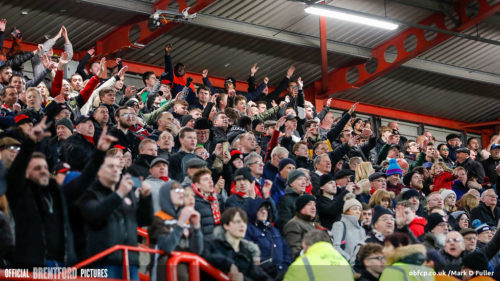 If 2019 had ended with a bit of a damp squib, 2020 started with a bang. Ollie showed how good a striker he was becoming – not just his goals (2 more in this game as the BMW all got on the scoresheet) – but his overall play, standing up to experienced pro Ashley Williams who ended up being red carded early in the game. The scoreline actually flattered Bristol City and I'm sure the Bees would have won comprehensively even if they'd managed to keep 11 players on the pitch. This was the game with Benrahma's now famous rainbow flick. Said and Brentford's performance prompted a petulant response – and some unnecessary words to a clearly shocked Thomas Frank – from Lee Johnson after the game. Thomas, ever the gent, refused to go into details and laughed the matter off.
1st February. Won 5-1 at Hull City.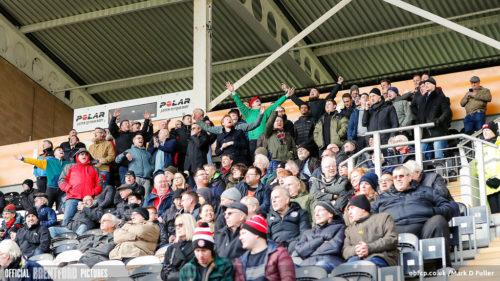 We always seem to play Hull away in the Winter! This was another match moved for the Sky cameras – clearly our entertaining performances were rightly attracting media attention – this time to Saturday lunchtime. Keith and I decided to stick with our original outward train booking, pulling into Hull about 10 minutes before kick-off. There were several Bees fans on our train and luckily for Keith and I, one of them had pre-booked a cab and offered to share it with us – if you're reading this, thank you sir!!
We entered the ground as the game started, in plenty of time to see Benrahma give us an early lead. Said was returning to the side after the recent sad loss of his father and turned in a terrific display, marking it with his first hat-trick of the season (and his second against Hull in his Brentford career). The goal celebrations between Said and Thomas were emotional and joyful – although Said was booked for showing his "JE TAIME PAPA" t-shirt tribute to his late father.
29th February. Drew 2-2 at Cardiff City.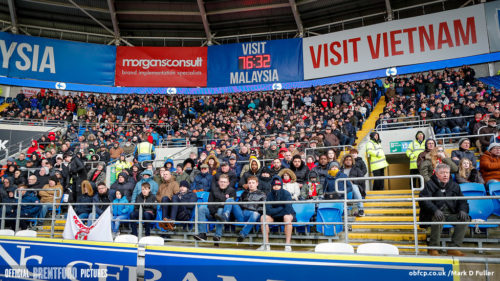 With disruption on the trains we decided to do the relatively easy drive down the M4. Brentford stormed into an early 2-0 lead, including Luca Racic's first goal for the club and with quarter of the game gone it looked like it was going to be another comfortable win. However, Cardiff fought back and made it 2-2 on the stroke of half-time – ironically from a long throw from Will Vaulks. Vaulks should have been sent off earlier in the half for kneeing a prone Christian Norgaard in the head.
Sadly, this was to prove to be the last time we were able to attend a Bees away game this season – before the Coronavirus lockdown.