Every second Monday in the month for sixteen and a half years lovers of traditional jazz and skiffle have met at Griffin Park to enjoy their music and jive. So when they gathered in The Hive for the last time in March two of the club's stalwarts, Bryan Clark and 'Fluff' White, said Farewell to Griffin Park in their own special way.
Back in 2003 Bryan was 'on the buckets', encouraging Brentford fans to put money into whatever receptacle was available to support Bees United. Somebody suggested he should start a Jazz Club at Griffin Park to help the cause. So on the last night at The Hive, it was appropriate that one special piece of memorabilia on display was a BU collecting tin which he and others had once used for fund-raising .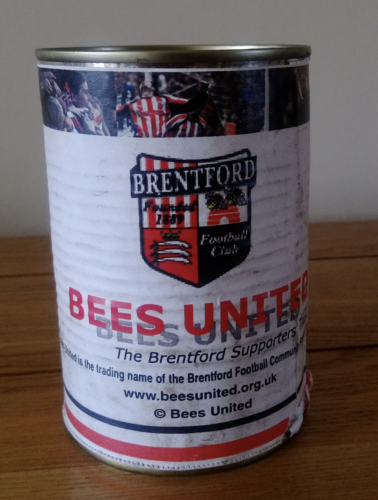 Bryan says the person who first suggested the club was Trevor Inns, creator of the GPG message board and an early member of BU. "Somebody must have told him that I was interested in jazz because Trevor came up to me one day and said 'how do you feel about starting a jazz club in The Hive'. Anyway that was it, I decided to do it, the club agreed, my wife Brenda helped me and the jazz club just took off."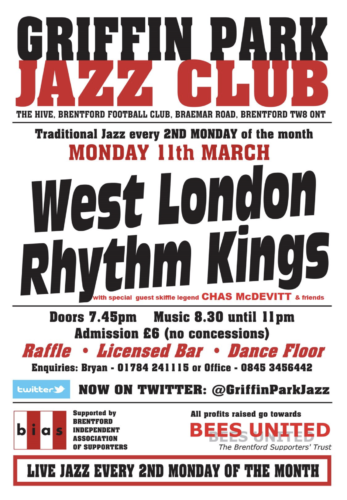 Along the way there was a certain amount of what Bryan calls 'aggravation' between landlord and tenant, football club and jazz club."We cut half the carpet up across the front of the stage to create a dance floor.Then I hired some polishing machines to clean it, sand it, wax it. There was a lot of hoo-ha, I had permission but people were saying 'you can't do this and you can't do that'.Then I wanted to put some coloured lights over the doorway but I was told 'no, no you can't do that its health and safety'. We put a new stage in but that was removed without me knowing.There were all sorts of things that went against us but I stuck it out. I aimed to see it through which is what I've done." When Matthew Benham bought Brentford FC and first met the fans, Bryan went up and asked 'Will I be able to continue to run the Jazz Club under your ownership?'  Bryan remembers him replying 'I'm sure you will'. So Bryan carried on as normal, until now.
Monday March 9th 2020 was also Bryan's last night as club organiser. At 83 he's decided to 'hang up his boots' and hand over to fellow member John Habes, a mere stripling at 70, to try to find a new venue. John grew up in South West London in the 1960s when the Rolling Stones and the Yardbirds played at the Crawdaddy Club in Richmond, the influential Alexis Korner's Blues Incorporated were regulars at the Ealing Jazz Club and everybody who was anybody in the blues and jazz scene crossed the bridge at Twickenham to the Eel Pie Island Hotel. As a result of these illustrious near-neighbours John thinks the significance of Griffin Park as a music venue may have been overlooked.
"The bar at Griffin Park was known as a great venue in the old bar right back to the 1950's and before, probably, as a regular venue for jazz and dance bands. Normally this was as a private hire for parties and functions, but often was open to the public as a fundraiser for church and community groups. Some of the really old trad jazzmen remember playing dances at the bar.  Rock and blues bands also remember playing there but the local residents always complained about the volume so by the seventies it had more or less dropped out of use. This is why when the Griffin Park Jazz Club was formed by Bryan in 2003 it needed to adopt a mainly acoustic and unamplified rule for the bands, something which may change when we find a new venue without noise problems. We want to keep our second Monday each month as a purely trad and New Orleans night with a bit of skiffle to cater for our existing members and to support the bands who have been so loyal to us over the years."
John singles out Heather White, known as 'Fluff', as a 'real character'  at the club: "If you went to Crawdaddy Club or Eel Pie Island you would certainly have seen a teenage Fluff skip-jiving to the bands every week. Dancing is her thing, she still jives away 60 years later with anyone she can find to join her at the GP club.She is little changed and still instantly recognisable to so many musicians who still remember those days."
John says; "My memories of the GP Jazz Club are really of the great bands who recreate the sounds of early jazz and the trad boom of my youth" and on that last night Bob Dwyer's Bix and Pieces provided that.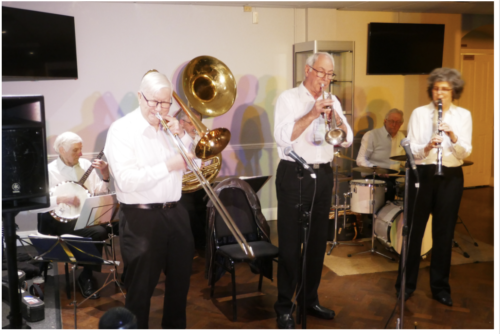 Between Bob Dwyer's sets John on harmonica and Bryan on washboard joined skiffle legend Chas 'Freight Train' McDevitt on guitar for some special half-time entertainment.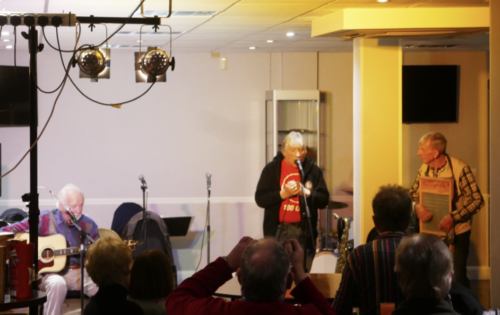 There was also what Bryan called 'a bumper raffle'. He explained; "We had started running raffles to raise money for Bees United and we decided to ask people to donate raffle prizes instead of us having to buy them.That way we could give even more money to Bees United. I started getting up to 10 prizes. I think we had 25 prizes on our last night, they were coming in right up to the moment we packed up."  
In a wonderful final farewell to Griffin Park Bryan Clark sent Bees United a cheque for £700 as a 'final contribution/donation'. Replying, BU Chairman Stewart Purvis said; "thank you personally for the amazing work which the Jazz Club has done for Brentford FC and Bees United over the years."
Next month the BU newsletter will look back on the days and nights when rock and pop bands played at Griffin Park and try to resolve the legend/myth 'did Adele ever play at GP?'. If you have memories to offer please email admin@beesunited.org.uk
Pictures by Nicola Erdpresser and John Habes
The Griffin Park Jazz Club webpage is here 
Their twitter feed is @GriffinParkJazz