For one group of relatives supporting Brentford is truly a family affair. 31 loyal supporters from 3 generations in 10 different locations around the UK -from Cumbria to Devon, Newcastle to Hampshire. I first bumped into one of the 31 at the London Museum of Water and Steam where the exhibition 'Farewell Griffin Park- the Fans Story' is on throughout this season.
Dave Renforth had travelled up from his home in Plymouth for the game against Brighton and like a growing number of supporters was calling in first at the exhibition. He told me he had just spotted the name of his grandmother Gwen Randall on a brick. Back in 2006 Bees United raised funds for the club by selling bricks which fans could have engraved with their own names or that of relatives.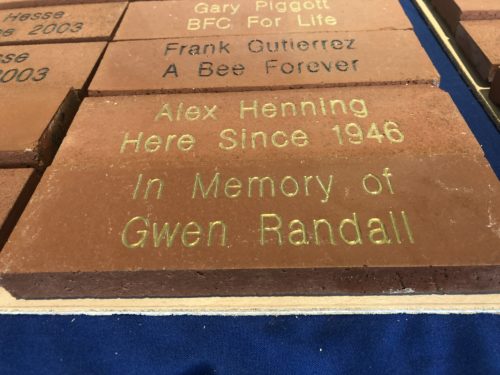 At the next Bees game, away at Wolverhampton, I bumped into Dave, with his mother Mary and father Alan who were just off the train from their home in Worcester. From them I discovered the story of the travelling Renforths and all their other kith and kin. They have a range of surnames but all family roots lead back to a certain Frederick Randall. 
Mary Renforth explained; "my grandfather Frederick was born in 1880 and started to going to see Brentford in 1889 when the football club was established. His wife Mary and his daughter Dorothy became fans which was most unusual in this days because football was so male dominated. Frederick passed on his love of the club to my father Ron who became so keen he used to clean the players boots and put dubbin wax on them. He felt it was such an honour, he was so proud of being allowed to do the boots of the players."
Mary herself first went to Griffin Park, along with her three elder brothers, when she was very young and living in Hounslow. She moved to Hemel Hempstead in the 1950s and other wings of the Randall family spread out across England taking their love of Brentford with them. The full list of counties reads: Cumbria,Devon,Hampshire, Lincolnshire,Northamptonshire ,Tyne and Wear, Worcestershire and Yorkshire. None of the family live in West London any more.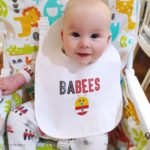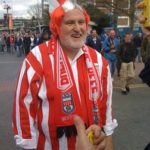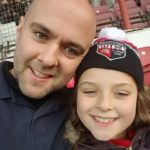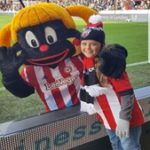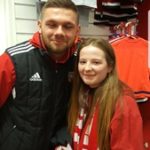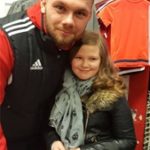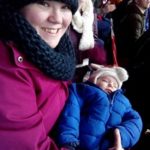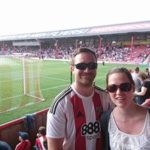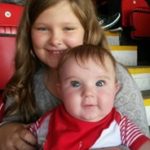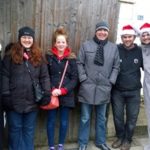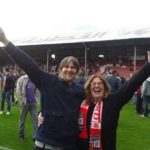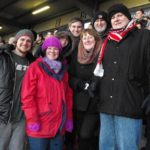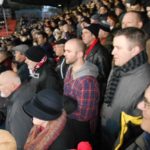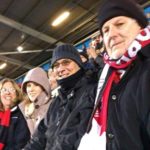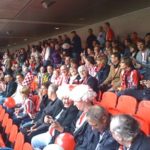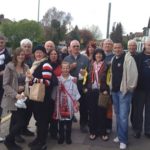 The diaspora of Bees fans now meet up at games whenever ticketing and budgets allow. Mary adds:"Then there is my daughter Caroline and her husband Chris who live near Perth in Australia. They are moulding the family's youngest supporter baby Benjamin who at 6 months wears the official baby wear on match days. Both Caz and Chris watch the matches despite the 8 hour time difference."
When I met Mary at Wolverhampton we talked about the brick which her son Dave had spotted at the Brentford exhibition. She told that back in 2006 she  had bought two bricks one in memory of her mother and one in memory of her father Ron Randall. She said the bricks were "a memorial to have at Griffin Park where my family heart lies. My mum Gwen was a founder member of Lifeline and other members have contributed financially via Bees supporters funds and bucket collections, 'Buy a brick', not to mention supporting Bees United, BIAS and the Club shop."
But where we wondered was the brick for her father? 
I consulted Bees United board member Ron Cooper who first had the idea of the bricks using the strap line: 'Back The Bees, Build a Future'.He explained: " It was not a new idea, clubs across the country, Europe and South America had all done something similar to raise money for their clubs.In 2006, when Bees United became owners of Brentford Football Club, we wanted to find a way to celebrate this significant moment in the club's history.However, our bricks would only have a temporary home at Griffin Park as we hoped they would be moved to Lionel Road in the fullness of time.  This has yet to happen while the club find a suitable space to put them within the stadium complex."
Ron then set off in search of the missing Ron Randall brick and we have now  been able to tell Mary Renforth and through her the far flung extended family that the Ron Randall brick has been found safety and is now being put on display alongside the other bricks in the exhibition at the London Museum of Water and Steam.

The Museum is open from 1000 to 1600 at weekends. More details here