Donald Kerr is a Bees fan who found himself at the heart of Brentford Football Club for over a decade of extraordinary developments. He was a director of Bees United as far back as 2007 when BU was the 60% majority owner of the Club. He joined the board of directors of the Club itself in 2009 when Bees United members approved a partnership deal with Matthew Benham. Following Benham's full acquisition of the Club in 2012, Donald was asked to remain as a club director representing Bees United, later becoming Vice-Chairman of the Club.
Donald's other great service to Brentford has been as a trustee of Brentford FC Community Sports Trust, a role he has held since 2010. It was in his dual role as Club director and CST Trustee that Donald was one of Brentford's speakers at the Hounslow Council  Planning Committee meeting in December 2013 when planning permission was given for the building of the Lionel Road stadium. It was undoubtedly one of the turning points in the Club's history.
Donald once said: "Community has always been at the heart of everything we do. When we applied for planning permission for the new stadium, the Trust were integral to the Club's plans – with the aim of building a purpose-built education hub and office facilities. We demonstrated to the planning committee the Trust's social value in the local community and since then that value has only accelerated".
Donald will remain a trustee of the Community Sports Trust and in the statement announcing his departure from the Club board he said "I look forward to supporting the Trust's work with thousands of people of all ages across our local community.". His commitment to the Club and the work of the Trust was clear in a video interview Donald gave in April 2021 to promote an EFL day of action.
The CEO of the Community Sports Trust, Lee Doyle, told Bees United: "Donald's passion for people, communities and Brentford FC shines through, whether in a meeting or on a matchday. Through volunteering roles on various Trust, Club and National boards Donald makes a positive difference, offering a considered view on a range of subjects from branding and communications to education. He brings a humour and pragmatism that makes it a pleasure to work with him. It is talented and enthusiastic individuals such as Donald that have helped to build the successful Club and Community model that we have now and long may it continue".
In his farewell to the Club board Donald said he was  "particularly proud having initially been nominated to represent the fans and their views". Former Bees United Chairman David Merritt who worked closely with Donald said: "Donald was an ever-present voice of sanity, stability, commercial experience, and passion for both the Club and its supporters!  I also love how that passion could be particularly evident on matchdays if a decision went wrongly against Brentford, and I am sure that will continue to be evident in his ongoing role as VIce-President.  Well done Donald!"
Current Chairman Stewart Purvis said; "Donald was a BU stalwart for many years and was 'in the room when it happened' at major moments in the Club's journey from Division Two to the Premier League and from Griffin Park to the Brentford Community Stadium. He was the BU Secretary for many years and when Brentford's away games in the EFL Championship received little coverage in the media Donald volunteered to be one of the BU team writing match reports for fans.  He was also a keen supporter of the B team, often travelling to away games.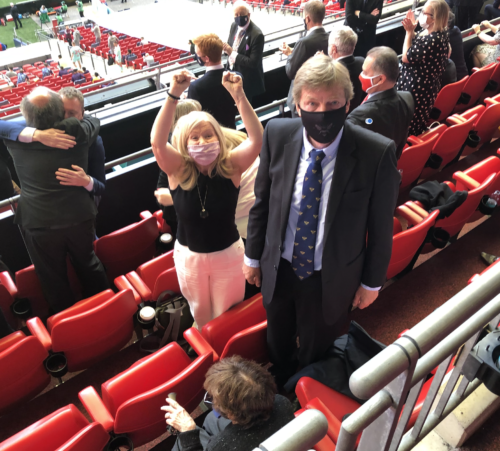 "My strongest memory is of Donald standing in something of a state of shock in the Directors Box at Wembley when Brentford beat Swansea in the play-off final to secure promotion to the Premier League. He could look back to the days when relegation to the Conference League seemed more likely than a place in the top tier. I'm sure Donald has enjoyed this season's visits to the biggest clubs in English football but he may miss those away days to Hartlepool and Rochdale".
Also standing down from the Club board is non-executive director Mike Power. A Bees fan since 1959 he was appointed to the Club's Board in 2014, having also been on the Board of Brentford FC (Lionel Road) Ltd, the company initially responsible for the development of Brentford Community Stadium.
Club Chairman Cliff Crown said; "I would like to thank Donald and Mike for the significant contributions that they have both made to Brentford FC. In their time associated with the Club, we have progressed through the leagues, built a new home and witnessed many memorable moments on the field. Their advice and influence has been instrumental over the years helping to steer the Club to where it is today. I know that they will continue to support The Bees, home and away. I am delighted to confirm they have both accepted roles as Vice Presidents going forward."
Bees United tweeted to mark the departure of two long-term Bees supporters from the Club board.