The album was titled 'Friday Night in Brentford' and that's exactly what it was. On Friday 25th July 2003 what we now call The Hive at Griffin Park and was then called Stripes was packed for a benefit for Bees United. Singer-songwriter and Brentford supporter Robb Johnson played 12 tracks, the best known one was a four track EP 'Saturday Afternoon, Red Army' about the joys of going to Griffin Park. The EP had been released back in 1995 and is still available on iTunes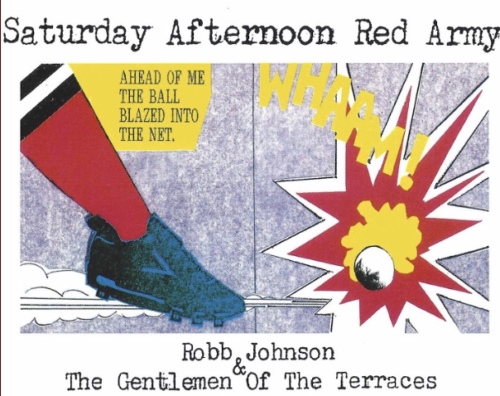 The chorus was: 
Saturday afternoon, Red Army,
Griffin Park, I want to be there
Then in 2003 Robb reprised the song for the live recording at Griffin Park and improvised an extra line;
Saturday afternoon, Red  Army,
Griffin Park, I want to be there
Lionel Road, I wouldn't mind there.
You can hear the audio clip here ,the full album of the live recording at Stripes is on Amazon here
At the time the idea of a new Brentford stadium inside the railway line triangle at Lionel Road was just a glint in the eye of Bees fans. So you can understand why in 2020 Robb, still a Bees fan, can't quite believe that the Lionel Road stadium he sang about is now a reality even though like the rest of us he doesn't know when he will be able to watch a game there. His music is getting a new audience now as part of the oral histories produced by 'Push Up Brentford!'. 
Robb remembers: "The 2003 benefit for Bees United came about because of my friendship with Pete Crook and Pete Johnson who were active in BU. They hatched a plan to have morale-boosting Friday nights at Stripes to raise funds and give people a sense of identity as well. At the time there was anxiety that because of financial problems we might have to sell Griffin Park and move to somewhere else like Woking. As an alternative people began looking at ways to try to keep the club in Brentford."
Another singer-songwriter Nick Lowe was once christened 'The Bard of Brentford' because he lived in the area but Robb Johnson deserves the title more because he wrote and performed songs about Brentford.  One of them 'Down the Town and Over The Moon' is a poignant ballad about being taken to Griffin Park in his pushchair by his father and grandfather.  "I had a lot of songs about Brentford so I said I could do an evening of football-related stuff and record it for a CD and BU could sell it to help generate funds. It was sold through the club shop."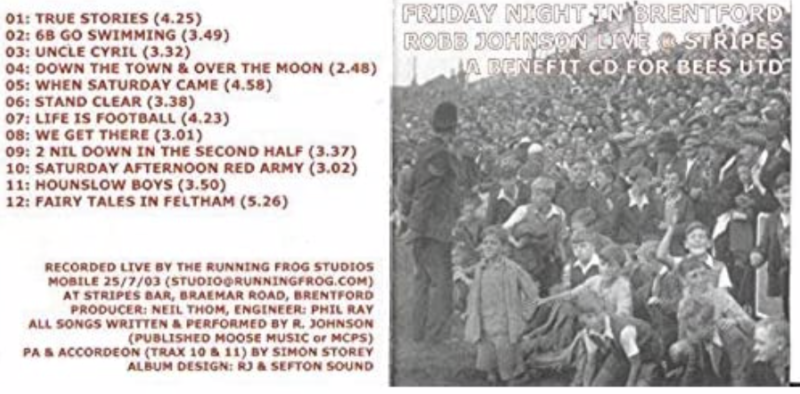 The 2003 event was the first of a number of benefits which Robb did for BU. In our archives we've found mentions of others in 2005, 2007 and 2009.  Robb's friend Neil Rossetter has found a video of the 2005 event, held after a home game, in which Robb sings 'Saturday Afternoon,Red Army' at Stripes. He's put it up on YouTube as a special way to mark the end of Griffin Park. It is a great sing-along here.
BU Board member Jon Gosling who was there that day says: " Robb was very generous with his time and really gave from the heart and sang and played a great set. His evocative football songs are 'soccer soul' music.
Robb remembers the spirit of the times: "'it was part of a post-punk DIY culture which believed people could take control of their own lives in all sorts of ways.The evenings were really inclusive, very welcoming, for instance you didn't make homophobic jokes, you just didn't do that at Stripes, it was ahead of its time."
Robb was born and bred in Hounslow and his father first took him to watch Hounslow Town before a friend persuaded him to switch to Brentford in the early 1990s. He soon began performing and recording initially as a solo artist and then with his own band later known as  'The Irregulars'. He has performed all over Britain and Northern Europe and is highly regarded in folk music circles. His songs often have a political edge and his own views can be summed up in the title of one album 'Margaret Thatcher: My Part in Her Downfall'. They also inform the way he thinks about Brentford's supporters: "It's that working class thing, you get screwed over by events but it doesn't stop you, you don't worry about it, you keep coming back week after week. We are people who have come from a working class background and are proud of that, we don't necessarily do working class jobs any more but we don't want to be middle-class. It's Brentford, not Kew."
Although he moved to Hove in 2006 and his weekend gigs mean he can only get to half a dozen Bees games each year he still thinks 'West London is Wonderful'; "we're inclusive, you see people with lots of different backgrounds, people from different ethnic heritages all bumping along quite happily, that's what's great about West London.
"To think that the club is moving to somewhere still within Brentford, still within that community, still urban with decent pubs nearby and networks of roads you can walk to get there, I think that's really good, that's lovely."
Many thanks to Robb Johnson, Deborah Hirshfield and Neil Rossetter.
The CD of the 2003 concert 'Friday Night in Brentford' is on Amazon here.
The 'Saturday Afternoon Red Army' EP is on Apple Music
Robb Johnson's Facebook page has many photos and videos.
His twitter feed is @RobbJJohnson
Watch Robb sing 'Saturday Afternoon Red Army' at Stripes here
Robb's music appears throughout the 'Push Up Brentford!' podcasts