When Ollie Watkins left Brentford he sent a farewell message of thanks to 'the owners, my team mates, the fans, and every staff member that works there'.  In private Ollie had particular thanks for one part of the Brentford family which had helped his own family. During Ollie's three seasons at Griffin Park, the Brentford Lifeline Society, which is funded by Bees fans, paid for pre and post match hospitality (which was organised by Lifeline Chairman Peter Gilham and his wife Linda) at a local hotel where players could meet up with their families after each home game. Peter explains; "At Griffin Park there was next to nothing room wise to look after players and their families. So we instigated the 'Family and Friends' events. Ollie Watkins actually said to me the season before last that he was indebted to the Lifeline Society's 'Family and Friends' because it brought his family together. He had quite a diverse family spread around the country and he would have 9 or 10 people there on a match-day. They would meet up before the game and he would join them afterwards. That for me was actually perfect, it was about the welfare of the club and the players".
This month the Brentford Lifeline Society celebrated its 35th birthday. At Christmas they donated £3,000 for turkeys and other provisions for the 150 hampers prepared by Hounslow Community FoodBox, just one of a long list of good deeds done for the Club and local community over the years,
The Lifeline story goes back to a day in 1986 when Keith Loring, then Chief Executive at  Brentford, called a meeting of supporters at Hounslow Civic Centre. There were fears of a take-over by Fulham. Peter Gilham was there: "There was no inkling what the meeting was about but there was a really good turnout. Keith invited a man called Alf Davies from Bolton who came with Bolton legend Nat Lofthouse, and they explained how they had launched a Bolton Lifeline Society to raise funds. That night the Brentford Lifeline Society was launched to be literally a lifeline to the football club. It was a way to supplement funds, obviously we were struggling for money, as we were until Matthew Benham came along. Keith had some really good money-raising ideas and this was certainly the best of them". 
Lifeline membership costs, as it did thirty-five years ago, just £2 a week. Over the years it has raised more than £2 million for the Club. "At one point we were paying £30,000 every two or three months to help the club survive. We were also asked to help pay for players. We paid Sam Wood's wages for the first season – to bring him to the club". Sam Wood, who is now playing for Dover Athletic, once tweeted 'Big thanks to LifeLine who invested into the club to start my professional football career with Brentford FC'. Peter says there might have been an even bigger debt that Bees United had to clear to take control of Brentford if Lifeline hadn't been there initially.
The list of projects which Lifeline partly or fully funded includes the restoration of the Ealing Road terrace into a home end, upgrading the match commentary facilities offered to the Club's blind and partially sighted supporters, and the refurbishment of the Club's Jersey Road Training Ground, even paying for the car park to be resurfaced. Lifeline helped pay for laptops for the Analytical Team to study and analyse player performance as well as contributing a Hyperbaric Oxygen Chamber and Anti-Gravity treadmill to the medical department to aid the recovery of players with long-term injuries.
Peter says;"Over the years Lifeline has been able to help the club and it continues. When fans contact me who want to drop out and they say 'well now that the club has got Matthew they don't need funds' I am at pains to say that's certainly not true because we shouldn't expect Mathew to do everything. Certainly funds are needed for so many different things in and around  the Club".
In 2018 when Lifeline sponsored a B team game at Griffin Park against  Anderlecht, Kevin O'Connor, then the B team coach, said of the Society:"I know Peter Gilham keeps it under the radar a lot of the time, which I understand why they do that. It's a brilliant cause and they do an awful lot of good for the Club".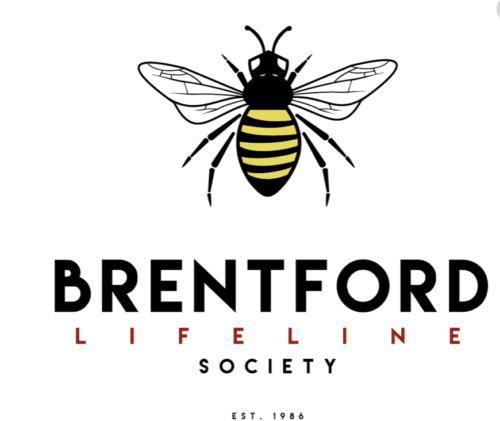 Peter highlights the player welfare which Lifeline provides alongside his own professional work at the Club . "As Chairman of Lifeline and Brentford's Player Welfare Manager that is close to my heart. For the last few seasons at Griffin Park it was integral because when you bring in so many players and staff from overseas, people tend to look after players but forget about their families and partners who come to a new country with no friends etc. In season when Marinus Dijkhuizen arrived as Head Coach we had 15 new people from overseas, 9 players and six staff, arrived. Some had partners, some had children as well".
Peter's wife Linda is Secretary of Lifeline and his 'right arm'. "Linda has always been involved, she looks after all the away travel for fans". Linda also helps with the third part of Peter's Bees role, his voluntary work as the PA match announcer, now in his 52nd season, the longest in the country. Peter and Linda's 'bubble' was especially valuable to Brentford during the final few games at Griffin Park when the stadium was closed to fans. Peter says; "I was asked to do the PA and the club needed somebody to sit next to me to operate the scoreboard and put the music on.  As we were a family unit, the club said 'would Linda be prepared to do it? 
"I really can't do what I do without her, I'm so lucky, to be honest , I'm 24/7 Brentford and Linda is probably 23/7 Brentford. She does like a little bit of time off!".
To join The Brentford Lifeline Society for just £2 a week, email lindajgilham@icloud.com and ask for an application form or download an application form here.