The estimable Nate Silver's FiveThirtyEight analytical website predicts that Watford, Newcastle and Norwich will be relegated with the Bees only having a 4% chance of relegation at the current time. He sees us as finishing comfortably in 13th position with 45 points – a massive 12 points more than Watford who he has going down in 18th place.
It does have to be said, however, that to my amazement he no longer sees us as having any chance of qualifying for the Champions League this season!
The final snippet from his rankings – and it is a gloriously satisfying one – has him placing us as 57th in his Global Club Soccer Rankings – four places higher than Leeds United. I am sure that this will have them choking into their beer at Elland Road.
To put our performance into context it is worth reminding ourselves that five of the last seven teams to be promoted to the Premier League via the Playoffs were relegated immediately and the other two barely survived by the skin of their teeth.
There have already  been some incredible moments and memories for us all to relish.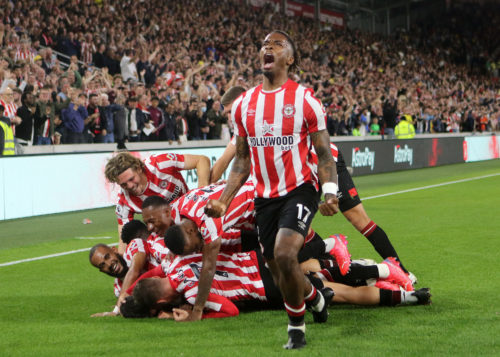 Who can possibly forget the boost, fillip, passion and vibrancy of the opening day victory over Arsenal, Thomas Frank celebrating with Woody, the community singing with Gary Neville and Jamie Carragher, Yoane Wissa's last gasp winner against West Ham which silenced the vociferous fans at the London Stadium, Ivan Toney's ice-cool perfection from the penalty spot, David Raya's saves and precise distribution, Kristoffer Ajer striding forward to turn defence into attack like a modern day reincarnation of Hermann Hreiðarsson, pummelling the Chelsea goal for 20 minutes somehow without reward, Marcus Forss's four goals against Oldham and, best of all, the home draw with Liverpool when the Bees perhaps came of age in the top flight?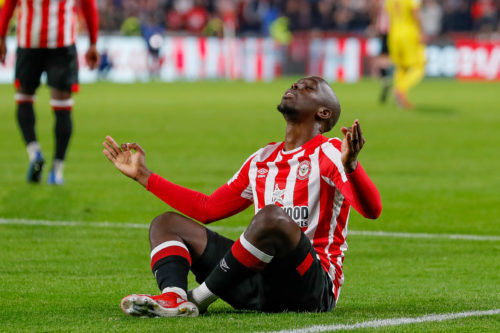 James Gheebrandt of The Times reflected on this amazing game a couple of weeks ago: "Even allowing for their surprisingly excellent start to the season, in which they took eight points from their first five matches, including beating Arsenal and Wolverhampton Wanderers, nobody gave them much chance of bloodying the nose of a giant."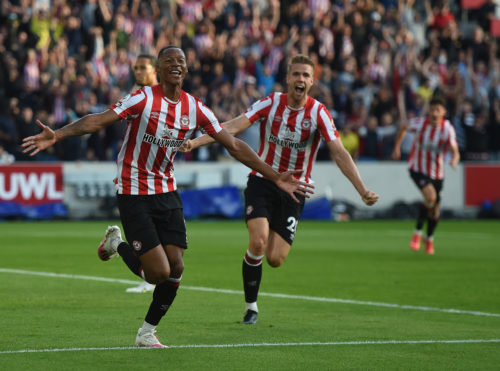 Ethan Pinnock's goal was scored from "a miniature masterpiece" of a free kick and the match itself was described by Gheerbrandt as "perhaps the best Premier League game I've covered in the six seasons that I've been reporting on football for The Times." I also will never forget the look of mutual respect and stunned mental exhaustion that passed between Thomas Frank and Jurgen Klopp as yet another late chance to win the game went begging. That expression symbolised perfectly what the season has meant to every Bees supporter to date.
There has been much well-deserved praise for Brentford throughout the media recently with Jamie Carragher voting our 2-0 win over Arsenal as his best moment of 2021/22 season so far in their Monday Night Football end of year awards and Mike Calvin nominating Thomas Frank as his Manager of the Year.
So how does the media expect us to perform for the rest of the season? 
The answer is – pretty well. 
The Daily Telegraph described us as "over-performing" and continued: "The Premier League rookies were tipped by many to go straight back down but they have punched well above their weight. Fast and flexible football has made them one of the league's most watchable sides and Thomas Frank is one of the top flight's most engaging managers."
High praise indeed, echoed by Alyson Rudd in The Times who has become a true believer: "Thomas Frank's team have a palpable strength of personality and somehow are coping well since the injury suffered seven weeks ago by David Raya, who is so crucial to their style of play as well as being a goalkeeper in form," with her and her colleagues predicting a ninth-place finish.
I will end this media round-up with the in-depth comments of Nick Ames in The Guardian who is also bullish about our prospects: "Brentford can be delighted with the first half of their Premier League bow. After 19 games they are 12th with 23 points and, even though there is plenty of football to be played, you would struggle to find a single onlooker who believes they will not secure another season in the top flight. That said, the victory over Aston Villa felt crucial given they had only won two games in their previous 11. It was earned through sheer grit and Thomas Frank had a fair point when he said afterwards that only Leeds have suffered comparable injury woes. Promoted sides often wilt when the ravages of the winter begin to kick in but Brentford, who dazzled with their flowing football in the Championship but have shown different sides to their game in the Premier League, have displayed the mentality of giants to pull through and prove doubters wrong."
Ames has raised two important points. Unlike other promoted teams who perhaps expect the Premier League to adapt to them, Brentford have adapted to meet the demands of the higher division. Norwich are a case in point, attempting to play the same brand of vibrant attacking football that got them promoted without the services of their best player Emiliano Buendia who helped get them there. No wonder they have struggled.
Whilst the Bees have certainly strengthened their squad they lack a game changer – somebody who can run at terrified opponents or make something special happen with a stroke of genius – in other words the likes of a Benrahma or a Dasilva.
The key point of difference is that the Brentford hierarchy has realised and taken this on board and adapted the team's style and pattern of play accordingly.
Rather than maintaining their traditional Championship style based on high possession and attacking flair, Brentford now employ a relentless and energetic pressing game intended to win the ball back as high up the pitch as possible and then to counter-attack at pace. Set pieces too are paramount as the team now includes a plethora of six footers, all gifted in the air. 
That being said what we do lack is a reliable set piece taker who can provide the necessary ammunition better than once in every three attempts.
Remember also that none of the Brentford squad that began the season had ever previously started a Premier League game beforehand and to a man they have more than risen to the occasion. As Shandon Baptiste told the Counter Attack podcast: "Everyone has come from nothing" which makes for a tight-knit and hungry squad eager to prove that they belong at the top table. 
Thomas Frank has rightly received many plaudits from people in and around the game as much for his openness and personality as his coaching and managerial ability. 
What do his players think about him? Let Mads Roerslev provide the answer: "His ability to manage people, and the respect he has, not just at Brentford, but everywhere, and his tactical abilities. It's all just on-point…. I think Frank is among the best right now. I think he's the best manager or head coach I have ever had."
"He knows the game and players want to play for him," was the view of Shandon Baptiste. 
Brian Riemer's role as defensive coach has become ever more important given the need to remain organised and vigilant at the back as we have already learned to our cost on several occasions that momentary lapses of concentration or carless mistakes are invariably and ruthlessly punished.
Goals too have been shared around the team with Toney and Mbeumo nowhere near as prolific as perhaps hoped, although Brian has hit the woodwork seven times and Ivan, described by team mate Mads Roerslev as a "physical monster" has adapted his role for the greater benefit of the team, and to date, thirteen different players, plus one generous opponent, have scored for the Bees in the EPL.
Perhaps the biggest problem so far this season and the one that has contributed the greatest to Brentford not occupying an even giddier position in the league table is injuries and illness.
Last season was bad enough with the likes of Norgaard, Henry, Baptiste, Goode, Dasilva, Jansson and Dalsgaard missing vast swathes of the season, but that pales into insignificance when you examine how badly the squad has been afflicted by both injuries and Covid in the first five months of the current season, and remember, Brentford do not possess the same squad resources, numbers, depth and quality than any of their divisional rivals. 
In other words, we have been competing for much of the season with one hand tied behind our back.
Perhaps the best way to illustrate this is to itemise just how many of the first 19 Premier League matches the team that began the season has missed through injury, illness or suspension:
Raya has missed 10 games
Ajer has missed 13 games
Jansson has missed 0 games
Pinnock has missed 1 game
Canos has missed 1 game
Onyeka has missed 1 game
Norgaard has missed 1 game
Janelt has missed 5 games
Henry has missed 3 games
Toney has missed 2 games
Mbeumo has missed 2 games
Other key squad players have also missed matches
Sorensen has missed 12 games
Wissa has missed 5 games
Baptiste has missed 6 games
Jensen has missed 3 games
Goode has missed 8 games
Roerslev has missed 2 games
Zanka has missed 8 games
Fosu has missed 9 games
There has been so much enforced chopping and changing since the beginning of October. No wonder the defence which seemed so organised, cohesive and almost impregnable early on in the season has only kept one clean sheet since the loss of David Raya, who combined his role as last line of defence and first line of attack so effectively, and that is no real indictment on Álvaro Fernández, who after an admittedly and quite understandably, shaky and unsure start has progressed by leaps and bounds in goal although he has yet to fully convince that he could become the permanent number one should Raya leave the club at some point.
One of the three central defenders has invariably been injured and at one time recently three of the six were unavailable for selection.
New figures released in The Times recently from www.premierinjuries.com revealed that injuries in the Premier League this season are up by more than 10%. There were 344 player injuries reported between the start of the season and the end of 2021. This can partially be explained by the disruption to pre-season training caused by the European Championships, the ravages of Covid preventing squad rotation and players being forced to return from previous injury prematurely when still not fully fit or prepared for the intensity of match action. A packed Christmas schedule certainly added to the problem.
It is the intensity and speed of thought required to cope with the physical and mental demands of the Premier League and the need to run 12 km every match that perhaps makes injuries inevitable and Brentford are not alone in their woes but have been harder hit than most.
What makes me even more confident about Brentford's prospects is the fact that at the time of writing vital players such as Mbeumo and Ajer are returning to fitness and available for selection with Henry apparently not too far behind. 
Most encouragingly, the club released a bizarre video yesterday of David Raya, swathed in a T-Rex dinosaur costume returning incognito to training to the universal acclaim of his team mates and seeming to move quite freely across his goal line, leaving only Zanka currently unaccounted for but apparently also close to a return along with Rico Henry, and Frank Onyeka away at the African Cup of Nations with Nigeria.
The first half of the season has been a wonderful learning experience for the club and its supporters and there is no reason to either hope or expect for anything different in the new year.