One minute you are a Bees fan getting moist-eyed singing 'Hey Jude' after beating Arsenal, the next minute your face with a tear streaming down it appears 4.4 million times around the world. It happened to Bees United member Brian Godfrey and two weeks later he still can't quite get used to it. "I was sitting in the front row of the South Stand with my daughter and the Sky camera was literally right in front of us, but because I was watching the game I didn't realise the cameraman was turning round pointing at us as often as he was apparently. During the game I was not aware that I was on but I've got a friend in the North Stand who said  'you kept appearing on the big screen' and I saw myself on the screen after the game. I've got problems with my eyes and they water profusely anyway and being down low at the side of the  pitch I said to my daughter I've got to get a baseball cap because of the glare from the floodlights, otherwise I will be crying at every match.
As Brian's fame spread his daughter,Helen Hope ,explained the background to the global sports website The Athletic;" We've got five generations of Bees supporters, starting from my great-grandad and grandad to my dad, me and my children.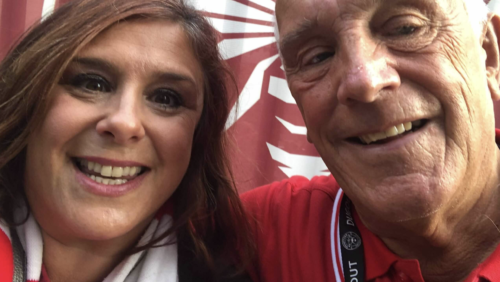 "The kids were at home watching the game and texting me throughout saying that they could see us on telly. When I woke up on Saturday morning, somebody had sent me a message to say, "Your dad is on Twitter!"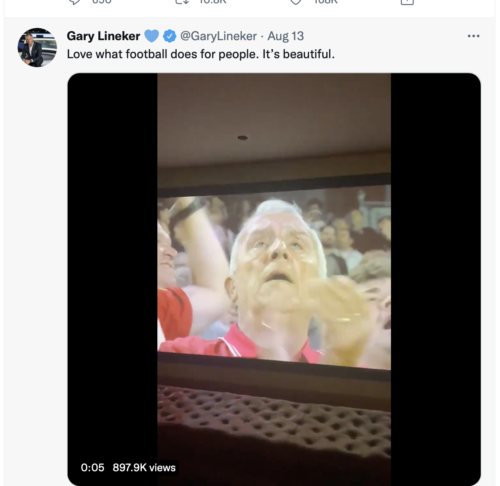 "Gary Lineker had tweeted the picture of him and he had gone viral. The whole thing has been madness. Then he was on Match Of The Day (on BBC TV on Saturday night). We allowed the kids to stay up to watch it for the first time because it was a big occasion with Brentford being on there.When my dad flashed up there were a lot of screams".
Brian's face had by now been seen around the world on the Premier League's global television feed and the next big step in fame came when Brentford's social media team put up a short video on the Chinese operated platform 'TikTok". This combined match video with the Lukas Graham song '7 years' so that the lyrics 'Soon I'll be 60 years old' appeared over shots of Brian. Soon the video went viral and was watched literally millions of times. Brian will confess to being a little older than 60, he's actually 74 and has been following the Bees for almost all his life. When it comes to the moment Brentford beat Arsenal he says;"I've been  going to Brentford for almost 70 years and I've never experienced anything quite like it".