The creation of Bees United was the end of a personal mission dating back to the attempted QPR takeover in 1967. I was in the Braemar Road stand when the inspirational Alan Simpson (script writer of Steptoe and Son) declared we would one day take over QPR, Fulham, and Chelsea! Of course it's never going to happen, partly because we need local rivals, and why the ESL is such a bad idea. 
Supporters were invited to buy shares, but all that really earned them was the right to attend the AGM each year. Two or three years later the Supporters Club proudly announced they had donated £1000 (around £13,000 today) to the club for new floodlights. I don't know what they received in return, but it certainly wasn't any influence over how the club was run, and I remember thinking at the time that continually giving the club money was just wrong. Of course this wasn't unique, supporters of football clubs all over the country had been raising money for their clubs, and the clubs had pretty much said, "Thanks very much," and spent it. BIAS and Bees United changed all that at Brentford.
Bees United owes its existence purely to BIAS, and the financial difficulties of Brentford FC in the late 1990s.With the football club sinking into ever increasing debt it was agreed that following Ron Noades's promise to hand the football club to the supporters, BIAS would finance the establishment of a supporters trust. The government had recently set up an organisation called 'Supporters Direct' and I attended meetings and seminars at the University of London's Birkbeck College, where it became obvious many clubs in all divisions were in serious financial difficulties
Brian Lomax who had founded the very first supporters trust at Northampton Town, and was later a club director, was the managing director of Supporters Direct and he was delighted Brentford supporters were going to be given an opportunity to make a genuine contribution to the future of their football club. A series of public meetings were held, and on one occasion Trevor Watkins of Supporters Direct, a former chairman of AFC Bournemouth who had led a fans consortium to save his own club, attended to answer any questions. 
A steering group took on the responsibility of launching our supporters trust at the Civic Centre in Hounslow shortly after our defeat to Port Vale in the LDV Vans Trophy Final in 2001. A brochure was designed and printed, a name was decided upon – we couldn't use the term "Trust" in our official title for legal reasons (hence the name Brentford Football Community Society Ltd.) but we could as part of a trading name. If I remember right 'Bees United' was suggested by Pete Johnson who edited the fanzine 'Hey Jude'. A BIAS member in his twenties, Dave Merritt, had offered to represent us at the launch of Supporters Direct. He would later become Chairman of Bees United and a director of Brentford FC.
Back in 2001 we approached a number of local businesses for support, and several helped in some way. The biggest surprise was provided by Fullers who had been a bit coy with what they would offer. I was therefore staggered on arrival at the Civic Centre in the afternoon prior to the launch on 26th April 2001 to find they had sent a van filled with crates of London Pride, which were all stacked against a wall. Nobody went thirsty that night!
Trevor Watkins, was present at the launch along with Ann Keen (MP for Brentford and Chiswick) and the Mayors of both Hounslow and Ealing (Dave Bond, Mayor of Ealing had been a supporter for about 60 years, and also a club steward). 
We were registered as an 'Industrial and Provident Society' on 26 June 2001, now Bees United was official.The 'Inaugural Annual General Meeting' was held in the Princess Royal pub before the Bees played Oldham in September (we drew 2-2).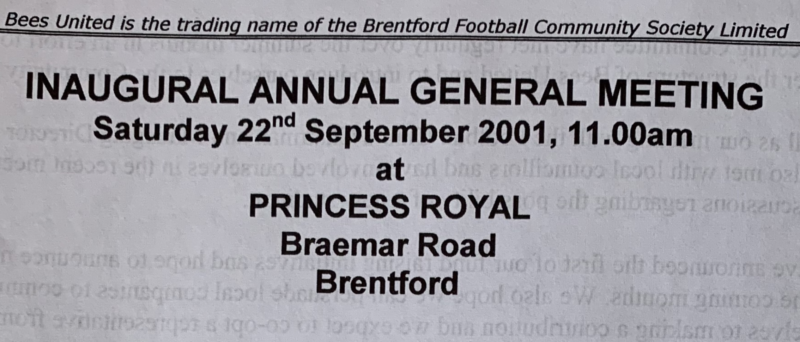 I told Gary Hargraves when he was the club's managing director that any money we raised, would only go to the club in the form of a loan. Bees United's initial loans to Brentford FC were well in excess of £150,000, and kept the club in business. In view of the role Bees United has played over the last few years, I think we have had a decent return for that money!