It started as a post from a fan on Facebook on Tuesday afternoon.


The response was understandably cautious even disbelieving but some fans said they noticed that after David Raya collided with Perez in the Leicester game he had been limping and had signalled to the bench that he would not be going up the pitch for a late corner.
At 7pm came confirmation from the club.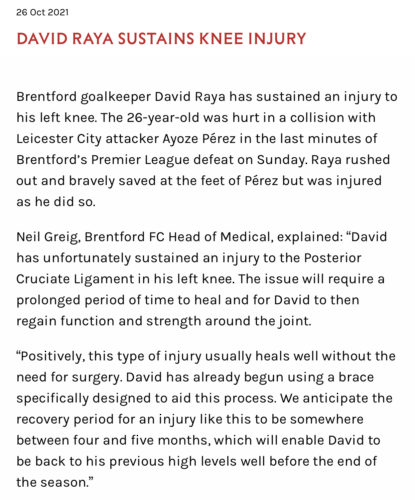 Then came a post from the man himself.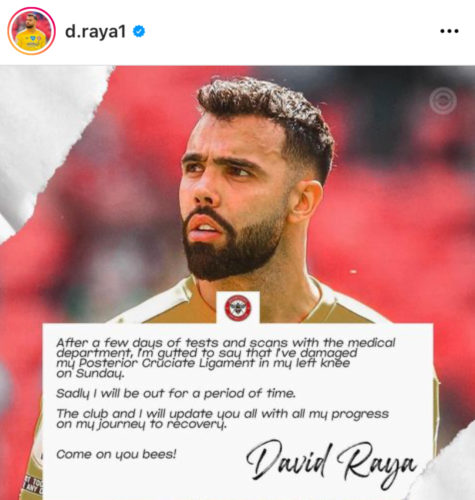 The reaction off field from hundreds of fans has been overwhelmingly sympathetic and supportive:'speedy recovery', 'get well soon bro' and 'we are all with you Dave' were just some of them.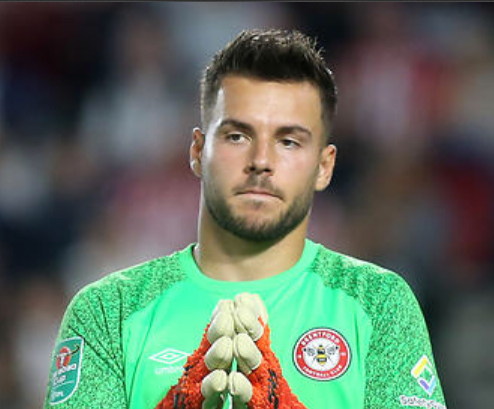 But what will it mean on the field where No2 keeper Alvaro Fernandez will take over. We asked BU Board member David Anderson of the Brentford FC Tactical podcast. Here's his analysis:
With the now public news of the Brentford No.1 David Raya picking up a serious injury towards the end of the Leicester match, shockwaves on what this means for Brentford are being felt around West London.
In very real terms, it means No.2 Goalkeeper ÁLVARO FERNÁNDEZ is going to be promoted into the top spot whether he is ready for the role or not.
What do Brentford lose with Raya and can Fernandez fill the void?
Raya is a sweeper keeper in every exaggerated sense of the word.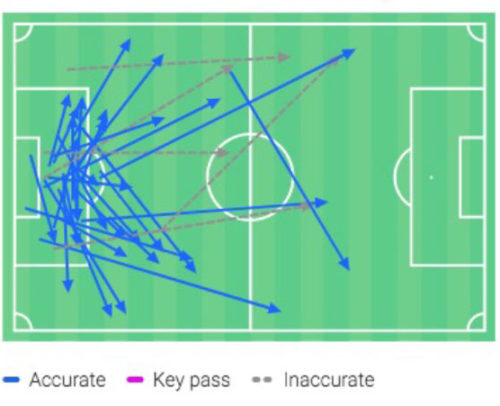 (Raya pass map from a gruelling MIllwall match in 2019)
Long accurate kicks upfield with either foot, short passes across the defensive line or skipping the defence and playing forward into midfield, Raya optimizes modern day goalkeeping and is equally comfortable outside of his box as well as in it.
Before signing for Brentford, Fernandez spent the last two years of his career playing for Huesca in Spain. On the way to the Segunda Liga title in 19/20, his first season at Huesca saw him become a penalty cult hero between the sticks finishing the campaign with a 43% success save rate. Attackers are attributed approx 80% chance of scoring form the spot in today's matches.
Playing a season in La Liga, the Spanish top flight, posed different issues for a goalkeeper. Standout defeats include losing 4-1 to a rampant Barcelona where Lionel Messi and Antoine Griezmann put on a distance shooting masterclass any world keeper would struggle to deal with. Conversely, a clean sheet on the final day of season 20/21 against a dangerous Valencia side shows what a competent stopper he can be.
Fernandez' experience differs from Raya's in that one has not spent both of the previous two years of his career at one of the best two teams in the league. The type of teams each other will have faced means experience differs too. There are very few teams in Spain with the same outlook as Cardiff, Burnley or even the super intensity of Barnsley. Raya has come up against this variety where La Liga matches can feel like training games when compared with the intensity of English football.
Spanish football is possession based, though, and defenders moving possession back to a goalkeeper comfortable on the ball is a regular occurrence.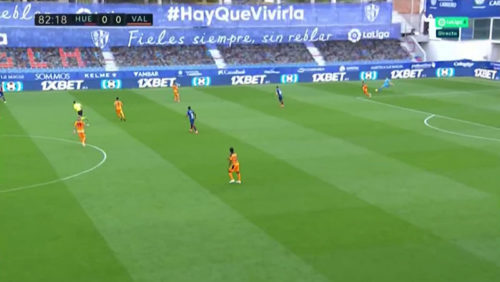 The next phase i.e. going long or building up patiently and playing through the thirds tends to be dictated by team strength. Huesca went long and ceded possession as far away from their goal as possible, something which has been greatly developed into an attacking asset by Thomas Frank in recent years.
If Brentford are to remain a team happy in both deep possession and building attacks by going long to the head of Toney when the time is right, Fernandez should be able to help the team persist with this.
Fernandez has consistently made less short passes than Raya in recent years but similarities in how the two smartly get down low to gather distance shots as well as impressive reflex saves much closer mean Brentford fans shouldn't believe their season is going down the drain.
Here we see a shot hit across Fernandez. A lower quality goalkeeper may parry this save into the dangerous central area for a waiting striker to earn a simple tap in. Instead, the save has gone back towards where it came from ready for a covering defender to clear.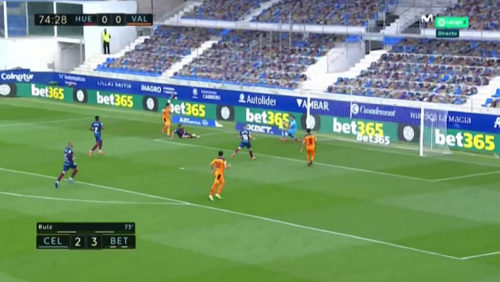 Here we see Fernandez spread himself in a similar style to De Gea's hockey reflex move to prevent Atletico Madrid's Koke making it 2-0 from point blank range in the 6 yard box.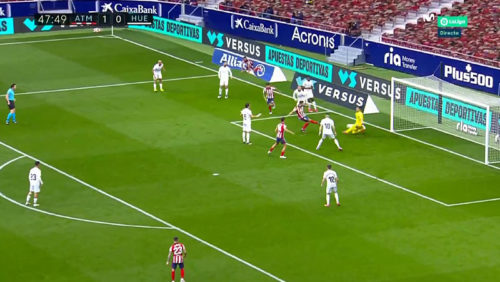 In summary, Fernandez has been largely untroubled in the Cup matches in which he has featured for Brentford. Here he is taking a high ball well from an overhit cross against Forest Green followed by him taking a cross into the box competently for Huesco against Cadiz.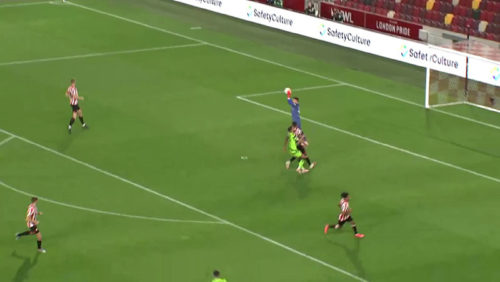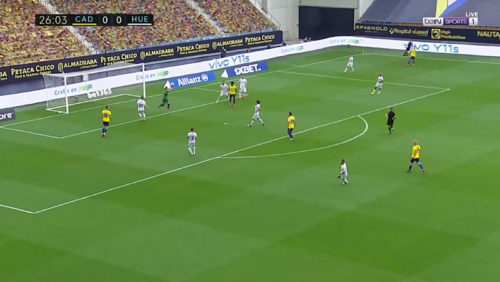 It won't be the first time a player on the Brentford conveyor belt has been propelled into starting team action before chosen player progression has taken place but this time stakes are a little higher.