SP Let's talk about the stadium. I get the impression that you made an enormous financial commitment, you hired good people, tough people to make a deal. But this was never your priority, because your priority was the football. Is that a fair summary?
MB Yes. I think so. I was always nervous about it, just because I know nothing about property. Well, all I know about property is it's full of very, very streetwise people with very, very sharp elbows. And Conor (Conor Hayes who oversaw the project for Matthew from 2016) is almost something out of 'Tinker, Tailor, Soldier, Spy', with the motto 'trust nobody'. In a property deal of this magnitude, a new stadium and 1000 units in this incredibly tight parcel of land, surrounded by railway tracks, you've got so many different entities that you're dealing with you have to have a sceptic in charge who can manage all of that. The other thing about these sorts of projects is that over a period of years the amount of investment required and the complexity of deals always increases. By the time Conor came on board, my financial  commitment had multiplied and the deal had become much more complex. Conor is always super cynical, so was the perfect person to manage a project like this.
SP So, given all this understandable scepticism about the property business in general, about some of the earlier plans, do you now get pleasure just sitting in the stadium ?
MB Oh, oh, yeah. Pleasure and relief. Yeah.
SP And it must be pretty good to see the people you did it for enjoying it so much themselves?
MB Yeah. I mean, it was a bit of shame that for the first year it was empty so it was a bit of a letdown. We were still in the bloody Championship and number two it was empty. So it was really only the Bournemouth game that I felt, 'oh, finally, finally', and then of course the Arsenal game, that was really memorable.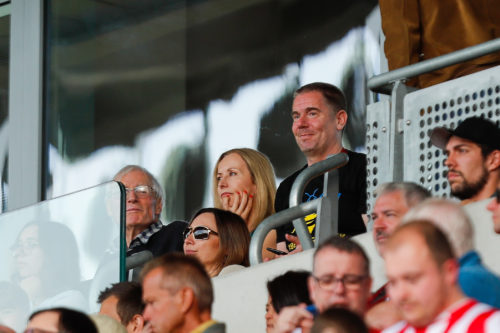 SP I just want to take you back to the Fulham playoff during lockdown. I was sitting behind you at Wembley, there were about a dozen of us there and it went wonky in the last few minutes and you were the calmest one of us all. There were one or two of us who shall remain nameless who were not very calm at that moment. I was thinking to myself that this is meant to be the biggest game in world football financially and you've just lost it and you're very calm.
MB No, to be perfectly honest the week leading up to it was miserable. When Smith-Rowe scored that goal for Huddersfield against West Brom (which gave Brentford the chance to leapfrog West Brom into an automatic promotion place in 2020 if the Bees beat Stoke in the next game) my wife and son celebrated like crazy and I was like, 'oh shit'. And there was a tiny bit of me got that feeling when Forss scored against Bournemouth. In fact, when Danjuma scored that breakaway goal for them to go two up, there was a part of me that thought, 'phew, thank God it's it's over'. Right? So just the nerves are so horrible in the week leading up to Fulham, as they were to be honest leading up to Yeovil, in fact I'd say Yeovil was even worse.  I could honestly say that it was so horrible that by  the time we got to extra time against Fulham I was just thinking: 'I want this to be over, at least in an hour's time it's going be over one way or another'. And I got into that state even after five minutes against Swansea. I thought 'at least in two hours this is going to be over'.
SP But did you that night after Fulham think next year we'll be back, well hopefully we won't have to be back because we'll get automatic but did you think we'll get promoted?
MB To be honest my rational way of looking at things was for the Fulham game I thought the numbers said, if we go up tonight, we've got an 80% chance to stay up and if we don't go up then we've got a 60% chance to go up the next year.So rather than being all or nothing, it was 80 versus 60. I mean, the thing that really stung was losing Ollie and Said.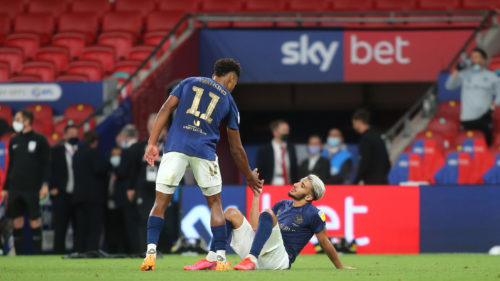 That's because all these great guys were so integral. So I was very confident that we would get there at some point because we were the second best team in the league that year behind Leeds. And we'd been pretty damn unlucky so I didn't feel this is disaster or that's our one chance of getting to the Premier League gone. I was very confident we'll get there but it's more like, 'what a pain in the arse'. We're going to have to deal with the sales of Ollie and Said and these things tend to be fraught.
SP There have been a few transfers that have been particularly fraught haven't there?
MB Yes. Football transfers can get very fraught.Obviously FIFA deregulating agents back in the day was a questionable decision and we sometimes feel the effects of that.
SP Brian Riemer did a podcast in Denmark where he said Ollie was distraught afterwards, partly because he lost but partly because he wanted to stay and be in the Premier League with Brentford. Is that a fair interpretation of it?
MB Yeah, let me put it this way, after we lost to Yeovil I was surprised at the after-party, some players seemed quite chipper. And it was kind of like them thinking 'well, okay, Brentford ain't gonna be in the Championship but I will be'. And so someone like Ollie would have been forgiven for thinking number one, 'I'm going to be in the Premier League come what may'. Number two, 'I'm going to be better off financially if it isn't Brentford'. But Ollie was absolutely crying his eyes out all night. Phil Giles saw him in the morning and he was still crying. Yeah, it's amazing.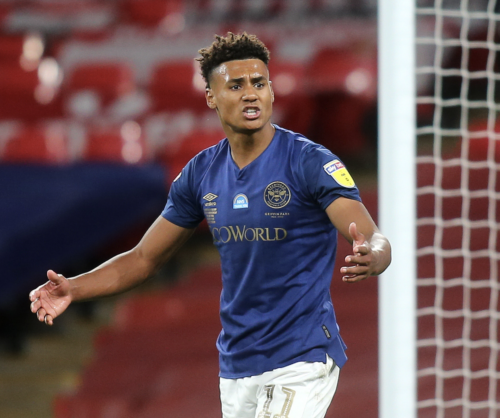 SP The other thing reflecting back to that night was that we've talked about your first investment of one million pounds, then your three million pounds but by this point you're 100 million pounds in.
MB Something like that, yeah.
SP You said earlier that there were some down ups and downs along the road, that was quite a big hill wasn't it.
MB Yeah. Yeah. Leading up to the Fulham game I saw this documentary about Mary Decker and Zola Budd (The Fall: Decker v Budd). That really put things into perspective, because Mary Decker was just too young in 1972. She's injured in 76. In 1980 there's a boycott. So 84 is a final chance. And if she doesn't win this, she's never ever going to win it again. This put it into perspective for me, that it wasn't like this is our one chance. I always knew we'd have more chances.
SP And so that day against Swansea you're five minutes into it. And you're thinking?
MB Five minutes I'm thinking, 'soon it will be over'. So Ras (Rasmus Ankersen) said something funny. At halftime against Swansea when we're two nil up I couldn't sit down, I was like pacing around nervously. And Ras said to me afterwards, 'you'd prepared yourself that we're going to lose even though I knew we had a 70% chance to win'. So I'd mentally prepared myself to lose and all of a sudden, I was having to sort of come to terms with, 'shit, we might win'.
SP So when Ivan Toney put the penalty away are you thinking, 'Oh, this could be alright after all'?
MB No, I'm just thinking, even when they get the red card my main thought is, 'how terrible is this going to be if we don't go up now? And if we don't go up now, we'll never ever, ever recover from it'.  About 30 seconds from the end I realise, 'shit, they're not going to have time to score and then score again'. It was funny, hearing Phil Giles later say, 'well, it was all a bit of an anti-climax, we scored too early on'.
SP You mentioned the home game against Arsenal earlier. That was the perfect way to start our time in the Premier League.
MB Yeah it was incredible.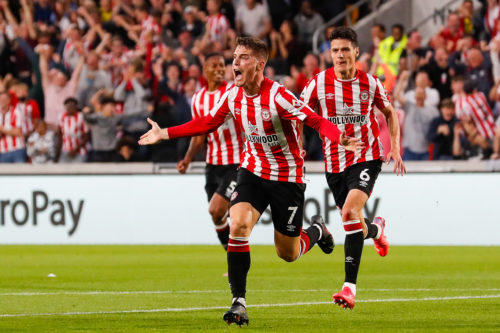 SP What are the other moments of this season that you remember best?
MB For me the highlights are Arsenal and Chelsea. Probably the the two games that I remember most fondly for the same reason were Watford at home and Burnley at home. In each case, we're playing a potential relegation rival. Just before Ghoddos got us the penalty against Watford I turned to my wife and just said, 'blow the final whistle, please blow the final whistle, I'll take this all day'. And I think just before Christian crossed for Ivan against Burnley I said to Phil Giles, 'I'll take a point all day long'. And Phil, in his way said, 'I don't think I would'. Some of the results have a more special meaning because of the way we have been treated by particular individuals connected to those clubs along the way but I will keep those to myself.  Fans will be able to guess those anyway.
SP I can imagine who those might be.
So to the future, what about the transfer market?
MB People have warned us and lo it has come to pass that it gets harder and harder, that the higher up you go the agent situation gets more difficult. I mean believe it or not in the lower leagues many agents genuinely want the best for their player, rather than let me cause disruption so I can engineer a move every year. But for example I read something about how we showed amazing calmness not to splash out the cash in January. In two cases everything was agreed with club, player, agent. And then they fell apart. So, it's not always as calm as it looks but these things happen.
SP And then the other side is the Eriksen situation, when Thomas first said, maybe I could get him, what were you thinking then?
MB Well, obviously there's a pretty limited data set for players who nearly die of cardiac arrest and then go back to playing top level football. Thomas was very, very bullish – exceptionally bullish. It's not unusual for head coaches or managers to say 'Oh, this this guy played for me 10 years ago, and he was great then' not realising that times have changed and this is a pretty extreme example of how times have changed. Thomas was absolutely glowing, glowing, glowing about Eriksen's personality, about his humility and modesty which has come to pass. Before then Norgaard was Thomas's favourite, he was so glowing about his personality too.
SP And what does the model tell you about the Eriksen effect? The perception among fans is that it's an enormous effect?
MB So, we've improved with him in the team but as ever there's a lot of randomness. We had this period of seven losses and one draw in eight games and we actually weren't playing that bad at all. In fact, we had times, like the first half against Man United to the whole game away to City we had times when we really played pretty well, indeed. And then maybe there were some wins subsequently, like away at Watford, where we weren't at our best. So the effect hasn't been as extreme as people think but certainly there has been a positive effect.
SP What have you made of him yourself ?
MB By all accounts he's an incredible, incredible professional in terms of his preparation and all around 24/7 professionalism.Everything I've seen on and off the field has confirmed that.
SP So Brentford's prospects for next season. What do you think?
MB Always the ambition is to get better and better. But having said that realistically at the start of any Premier League season there are the six clubs who hope to make it into the Champions League and then the other 14 saying, 'please for the love of God don't let's get relegated'. Randomness is such that it can happen, and it has happened, that you could be maybe the 10th best team, but you get unlucky enough to get relegated. The main thing we look at is the club's underlying performance and if that continues to improve, and we stay up – yeah, I'd be delighted.