The biggest newspaper in Malmo, Sweden says Pontus Jansson wants readers to know that he's not coming home yet but when he does it won't just be to retire. Pontus who says in his twitter profile that he 'Plays for Brentford FC & supports Malmo FF'  Sydsvenskan that 'Brentford is one of the most curious clubs in Europe. I try to learn as much as I can and one day bring it to MFF'.That's the Google translate version anyway. Bees fan Rune Dahl Franck helped us with a more human version of what Pontus has been saying to his fans back home.
Both eyebrows and expectations were raised among the Malmø FF loyals in December 2020 when news broke about Pontus Jansson having bought a property plot in the quiet seaside village of Lomma, just a 25 minute drive north of MFF. Sydsvenskan, the largest regional daily newspaper in the southwestern part of Sweden, broke the story and immediately called the club to ask the question on everybodys mind; Is Pontus finally coming home? "I'm afraid it's too early for Pontus to return now, but we constantly keep in touch"  MFFs Sporting Director Daniel Andersson said. 
He was spot on. Two years later Pontus Jansson, and soon to be father of two, still lives in London. He is having the time of his life, and just put pen on paper on a contract extension that ties him down at Brentford until the end of the 2022/23 season.  Sydsvenskan met Pontus last autumn when he and his wife since 2017 Åsa Thornell and their 3 year old daughter Bella walked through the sunny streets of Lomma, a 10 minute drive from the town of Arlov near Malmo where he grew up, to check on the ongoing construction work being carried out on their new house.
"My brother lives just around the corner and constantly sends us pictures and updates on how the project is coming along, but it's lovely to see it with our own eyes" he told the paper.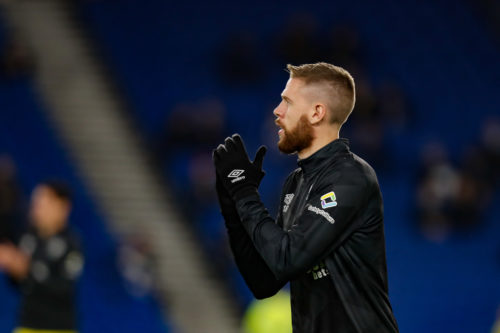 Pontus (31 years old on February 13th ) is deeply rooted in the county of Scania in South-West Sweden and the country's  third largest city Malmo. Time and time again he has expressed his wish and desire to return to the club he signed for at 15. After his debut on the first team in 2009 he played 106 games and scored 6 goals for Malmo FF before he tried his luck in Italy in 2014 at Torino FC in Serie-A. Two years later he was loaned out to Leeds. Even though he was popular among the fans at Elland Road, and enjoyed  life in West Yorkshire, he never felt at home. Not like in Malmo. After signing for Brentford and moving to Richmond in 2019 he is settling in and finally feeling at home again, just like in Malmo. . 
"This is the greenest part of London, and with the parks it's perfect for children.» he told Sydsvenskan. But, with the Corona-virus dictating what we can, and cannot do, since the beginning  of 2020 it took time for him and his family to get to know Richmond, Brentford and London in general.   
"Ever since we moved here the lockdown and pandemic has restricted our liberty to get to know London, but since the reopening, and life more or less returning to normal, we have had the chance to get to know London well. What a city it is. What a place to live! There's so much to do here for everybody. "I feel at home here, and I never thought I'd feel like this living any other place than in Malmo."   
One of the reasons he is settling in is his decision to stop playing for the National team. After 36 games on the U-17, U-19 and U-21 level and 27 at National team level he finally called it quits last summer. He hasn't looked back since. "I would not have been at the same happy place in my life, and felt the harmony I know feel, had I continued to play for the National team. I treasure the breaks I get both physically and metally. I need the breaks to recharge" he says. He admits never having had the same strong feeling playing for the National team, as when he is playing for his club.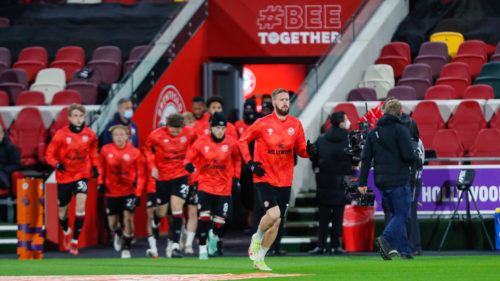 "Brentford is my passion. Playing for Brentford and taking care of my familiy is what I live for" His daughter Bella, who will become a big sister in March, is attending an English day nursery and is bilingual. Life is good for Pontus. "We are structured and have good daily routines, so I'll manage. Luckily my wife wants me to play so she can have a little time of her own too" 
Like most football-players his dream was to compete at the highest level. "From my first day at Leeds in Championship my dream was to take the next step, and play in Premier League. And here I am. Every day is a gift. Every training session is enjoyable and every game is unique".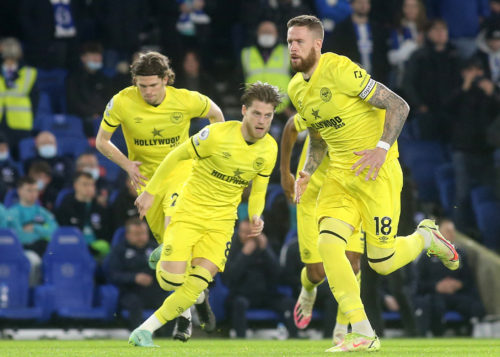 He admits to living his dream. "I never have time on a daily basis to think of it that way, but it hits me from time to time. I did an interview with Sky before this season and we talked about the fact that not many Swedes have captained a Premier League team. I'm very proud of the fact that I have." 
Pontus Jansson surprised a lot of people when he signed for Brenford in 2019. Even his agent Martin Dahlin was taken by surprise. Dahlin is a seasoned football player and prolific striker netting 29 times in 60 games for the Swedish National team in the 90s. He played for Malmo FF, Borussia Mönchengladbach, Roma, Hamburger SV and Blackburn before retiring in 1999. A true Swedish football legend having been part of the Sweden team finishing third at the 1994 FIFA world cup. 
"I had the chance to go to bigger clubs and maybe double my salary" Pontus says. Instead of having his agent do what agents do, Pontus called Brentford himself to ask if he might fit into their plans.  "I guess that's an odd and unique way of doing transfers, but I had a good feeling. It's safe to say I am very proud of my decision to sign for Brentford".
It didn't take long before Pontus became vital in Thomas Frank's plan for Brentford. According to Pontus both Rasmus Ankersen and the physioteam wasted no time before they started to pick his brain about the time he spent under the guidance of Marcelo Bielsa at Leeds."
Brentford had for some time wanted to make a real push for promotion and become a Premier League club. Work on building a brand new stadium and upgrading the training fascilites was going as planned when I arrived, but some have told me the club changed after I signed. That we lifted ourselves to the next level both on and off the pitch. I was appointed Club captain, and Brentford became my team. Now I'm involved in many different issues both on and off the pitch on a daily basis because I'm not afraid to take responsibility".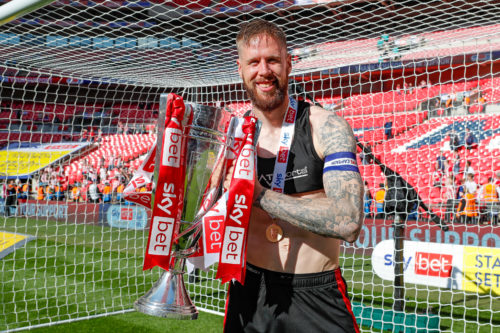 Jansson has complete faith in the Brentford way, and believes there is more to come."Brentford is unique in how we work. I believe you must have your own way of playing, and your own philosophy to stay in Premier League. We give 110 percent every minute of every game. We try to stand high with our defensive back line and press high to score goals. That inevitably leaves large areas on the  pitch for some of the fastest and strongest players in the world. It's very hard work both physically and mentally to play like this because you can't let your guard down for a single second, but we have to. You won't stay up if your plan is to defend yourself for 90 minutes".