We all hoped for something special in the final game at Griffin Park but who could have predicted this? Wonderful goals with our BMW re-tuned to perfection, exhaustive pressing as every player gave their all and, of course Brentford being Brentford, a scare towards the end. Those of us privileged to be inside the old stadium for the last time were left wishing there'd been thousands of fans in the stadium instead of just us, a couple of dozen directors and staff.
Before one of the biggest nights in the club's history, just one step away from a game that could put us in the Premiership, there was barely an ounce of atmosphere. Even the last playing of 'Hey Jude' at Griffin Park was low key. But Peter Gilham launched his final 'Brentfooooord' and straight from kick-off it was clear that the Bees were in better shape for this game than the Swans who seemed daunted by the occasion. Rico Henry was back after his red card from the first leg was rescinded, just as Thomas Frank had predicted it would be. Josh Dasilva dropped to the bench to allow both Emiliano Marcondes and Matthias Jensen to start in midfield alongside Christian Norgaard.
And it was Jensen, who was poor in that first leg, who made the first goal with a contender for pass of the season, one Romaine Sawyers would have been proud of. The move started when David Raya, clearing up after a Swansea free kick, launched the ball to Jensen in right midfield.The Dane spotted a narrow path through to Ollie Watkins, a mere 50 yards ahead, and delivered the pass with such accuracy that Ollie was through on goal with defenders trailing in his wake. He despatched it with precision and power and ran off making his trademark finger to his lips salute to the imaginary away fans or was it a message to the Swansea bench for comments they made after Sunday's game.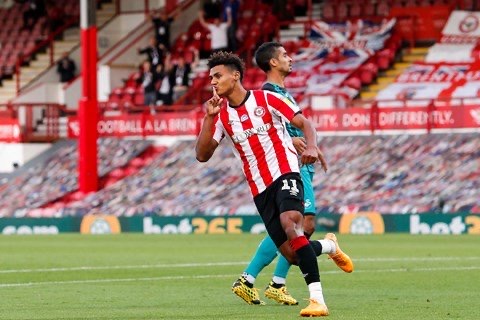 Bees were now level on aggregate and with the momentum to go ahead. It only took four minutes. Said Benrahma spotted Marcondes signalling a run into the box and the Algerian placed the cross perfectly onto his head.  Two-nil, two-one on aggregrate. Swansea almost pegged it back when Gallagher was through on goal but David Raya pushed the shot away with such power that none of those following up got a second go at it. For the rest of the half Brentford were dominant and there could have easily been two more Bees goals.
For those of us who feared Swansea must make a better fist of the second half there was immediate relief when Rico Henry sped down the left wing and put over a cross which Bryan Mbeumo met first time lashing it into the goal .Even with a two-goal advantage Brentford never gave up pressing Swansea all over the pitch. Watkins was back to his very best, winning balls in the air, chasing down chances, harrying defenders. Benrahma too was everywhere he needed to be. This was a 100% team performance delivered with 100% effort.There was no real chance of Swansea scoring.
But then they did. A ball through the middle appeared to pose no immediate threat but Pontus Jansson, who until that point had mastered all that Ayew and Brewster could throw at him, tried a scorpion kick that went wrong. Brewster just needed to lob it over Raya. Pontus was furious with himself for what he later called 'a sloppy, very bad mistake, my first this season' and Said Benrahma went back to reassure his captain it wasn't the end of the world.Suddenly the silent Swansea delegation in the Braemar Road stand rose to a man urging their team on. For the rest of the game the rival camps in the stands shouted themselves hoarse as Swansea raised their game but never really enough to threaten a goal. Sergi Canos came on for Bryan Mbeumo and he brought fresh energy as Brentford not only held off Swansea but went close themselves with Benrahma taking a snap shot that went just over the bar.
After the game Thomas Frank said the team had been irritated by the outcome of the first leg and that had been a driving force for the second. He'd told the team: 'we can't not win in the final game at Griffin Park'. The players had been shown a video in which Bees fans talked about how important the game was to them. 
Had the fans been in the stadium 'Celebration' would have been played and the teams would have done a long lap of honour to salute their supporters. Instead the players hugged each other and Thomas Frank then came to wave to Matthew Benham, his wife and son, and his club officials.He also embraced his own son
What else do you do when your team has won a place in a Wembley final in the final game at your ground. Well Matthew Benham was keen to get on the pitch before it was eventually ripped ip and try a crossbar challenge. 'I want to do a Trotta" he said.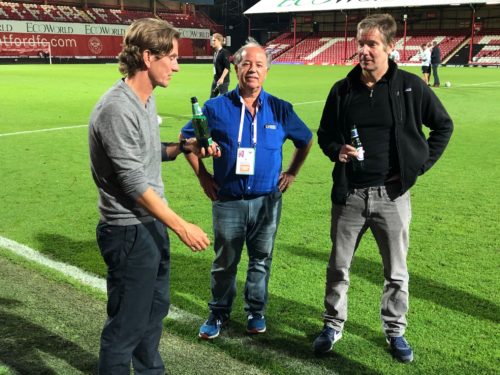 He and chairman Cliff Crown enjoyed a relaxed beer with Thomas Frank at the side of the pitch. Outside fans were gathering in Braemar Road celebrating the victory. Matthew made a brief 'balcony appearance' outside the boardroom to salute them.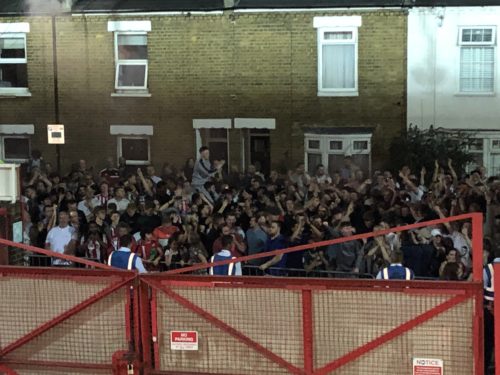 There were choruses of 'there's only one Matthew Benham' and 'only one Peter Gilham' who also waved to the crowd.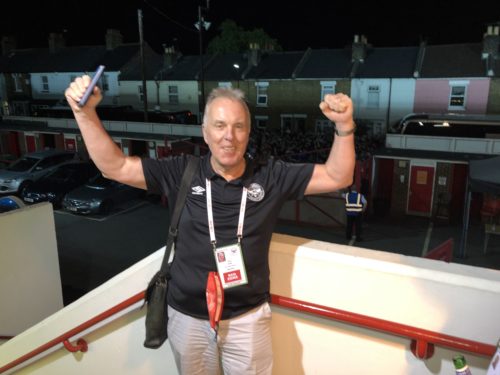 Supporters also made their way round to Brook Road to what is normally the away fans entrance but is the 'COVID protocol' way in and out for the home players. Singing and cheering could be heard after eleven o'clock. Finally just before eleven thirty, Matthew Benham left the building and the Griffin Park floodlights went off for the last time.
Associate Director and long-term club sponsor Join Herting had taken his usual directors seat box for the last time.
Chief Executive Jon Varney savoured his season ticket seat for a final few minutes. I sat in the paddock where I first stood with my father over sixty years ago. It was sad to be saying goodbye but in truth our thoughts were also on Wembley.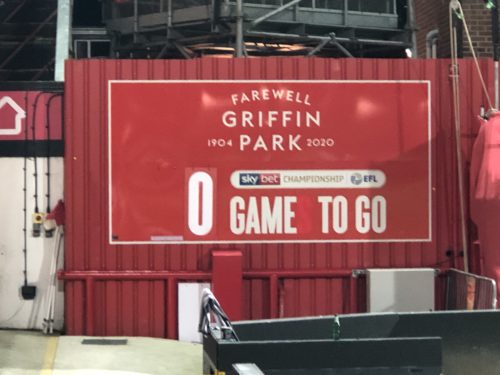 Brentford: Raya; Dalsgaard, Jansson, Pinnock, Henry; Jensen, Nørgaard, Marcondes (sub Dasilva); Mbeumo (Canós), Benrahma, Watkins
Swansea City: Mulder; Naughton (Celina), van der Hoorn ( Cabango), Guehi; Roberts, Fulton (Dhanda), Grimes, Bidwell; Gallagher; Ayew, Brewst