At the end it was a sad sight. David Raya wanted to get off the pitch and into the dressing room as fast as possible. Thomas Frank stood with a shell-shocked Christian Norgaard alone in the centre of the Wembley turf. Sergi Canos had to be consoled by his coach and colleagues. All that hope, all that promise had come to nothing. Yet the irony was that outplayed as the Bees were for much of this undistinguished match they were still in it with a chance with fifteen minutes to go in extra time.
So what really hurt was that it was the third time at the crunch point of this resumed season that the Bees had failed to take a promotion opportunity. A brilliant season had ended in anti-climax.
Many of the games since the COVID break have been played in a weird atmosphere, but this game took weirdness to a new level. Ninety thousand seats in a stadium with just the lightest sprinkle of them occupied. Instead the wonderful display of Brentford fan flags was moved from Griffin Park  to what would have been the Bees end.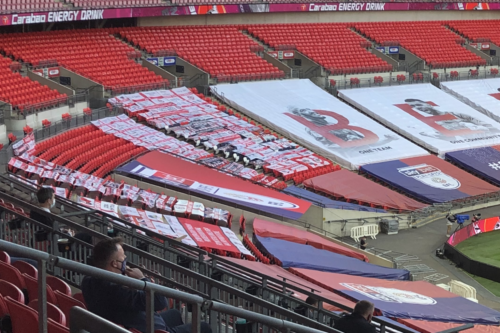 The man doing the COVID checks in a tent at the front door of Wembley told me there were 800 names on his expected attendance list. I'm not sure where they all were but they weren't watching the game. Shout 'Come On The Bees' at the top of your voice and it echoed round the stadium. You could hear the players and they could hear you.
From the start it was clear that Fulham were going to be put one hell of a press on the Brentford centre-backs to prevent them playing out from the back. Preston were the first to develop this tactic and others had copied it since. Fulham took it to new extremes, their front line lining up three abreast in front of the Brentford back four for the first quarter of the game. Nobody in the Bees midfield could find any space to take a pass from Jansson or Pinnock as the Fulham midfield doubled Brentford's trouble by stifling any forward movement. We barely left our own half, instead relying on long balls to the ever willing runner Ollie Watkins.
A first half stat told the story: one Fulham midfielder, Tom Cairney, completed more passes than Brentford's three put together. Admittedly on half an hour Christian Norgaard had taken the full force of Harrison Reed's boot on his foot, for which Reed got a yellow and after that little was seen of the Dane. Brentford were relieved to have gone in at half-time nil-nil.
After fifteen minutes of the second half Thomas Frank made an inevitable change to his midfield  but it wasn't to take one of them off. Instead he brought off Bryan Mbeumo who was having a game this young player will want to forget, moved Josh Dasilva forward on the right and Emiliano Marcondes into midfield. Things got a bit better and there was a further marginal improvement when Sergi Canos took over from Dasilva but Fulham were still more forceful going forward even if they didn't make that many chances.In the Fulham technical area Aleksander Mitrovic, returning from injury, was an ever-present sub lurking in the hope of coming on. But Scott Parker waited until the final few of the 90 minutes to do that.
In the stadium there was a rush to the toilets before extra time began. For those neutrals watching at home on TV the decision was whether to watch another half an hour of what was not a great advert for Championship football. Bees fans had no choice but to carry on, painful as it was at times. Their team was fifteen minutes away from penalties when there was a sequence of events that led to Fulham taking the lead. David Raya who had been having a good game until that point was at the beginning and end of it. As Fulham attacked on the left Raya rushed from his goal out of the box and headed the ball. It fell to Onomah and Norgaard brought him down. While Mitrovic grabbed Marcondes by the throat and threw him to the ground and Jansson grappled with Hector, Joe Bryan was plotting what to do with the free-kick. He looked purposefully towards the blue and white lines of players across the box but it was a disguise, instead of swinging it over for a header as everybody expected he fired directly into the left hand corner of Raya's net. It left the Spanish goalkeeper stranded as he anticipated a cross that never came. He changed direction too late. Fulham were ahead. Effectively that decided it. Fulham coach Scott Parker said later they'd studied Raya in previous games and spotted he over-anticipated crosses.
In response Thomas Frank went four, or was it five, up front going for an equaliser but Joe Bryan got a second good if more conventional goal after a one-two in the box. In the final minute of the 120 Henrik Dalsgaard got one back for the Bees but it was too late.
Afterwards Frank -asked about top players now being sold- said that Brentford would start the season with a very strong side "but with who I don't know yet."Bees fans will be wondering that too. His son sat up with the Brentford delegation above the royal box obviously disappointed that his dad's team had lost. But when Matthew Benham left Wembley with his family he was remarkably calm, this £160m chance to recoup his £100m investment in Brentford had gone but there would be others and one starts in just over a month. 
Brentford: Raya; Dalsgaard, Jansson, Pinnock, Henry (sub Fosu ); Jensen (Dervişoğlu ), Nørgaard, Dasilva ( Canós ); Mbeumo (Marcondes), Watkins, Benrahma
Fulham: Rodák; Odoi (Christie), Hector, Ream, Bryan; Reed, Cairney; Kebano (Knockaert), Onomah ( Le Marchand ), Decordova-Reid ( Mitrović ); Kamara (Instead the Cavaleiro)