At 8pm on Friday 2nd October Brentford supporter Sav Kyriacou pushed a button to launch a documentary about the Club in which the only voices heard are those of fans.Drink was taken to celebrate and promote the climax of the project so special beermats were created to mark the moment.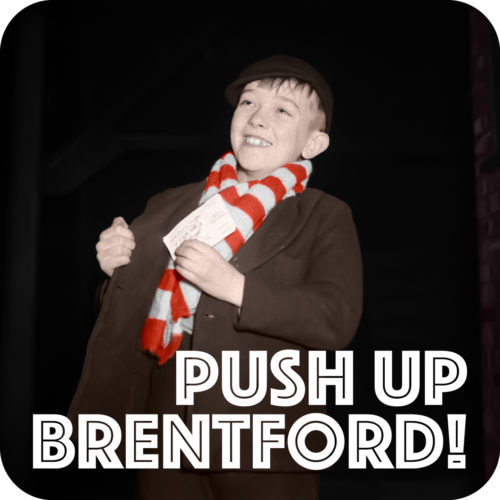 In April we reported  on how Sav had put together a team of 16 volunteers and trained them in technical and interviewing skills. They interviewed Brentford fans and former players and managers about their memories of their club. We also reported on how the pandemic had forced them to stop filming for the project, called 'Push Up Brentford' after the legendary rallying cry of Bees fan Tony Sceats.
Sav has updated us on what's happened since; "In July when the rules began to be relaxed a little we did a couple more interviews to get some extra elements. We did a rough cut of the film and showed it to all the volunteers to get their feedback which was interesting and has improved the documentary. The final version has come out at a smidgeon over an hour. Physical copies have ben made on DVDs for the volunteers and the archives and now we are ready to show it. We've called it  'Push Up Brentford, a fans eye oral history of Brentford Football Club' . The reason for that extra title was that before we started editing we had a zoom meeting of all the volunteers. One thing that came out of it was that the volunteers  all felt we shouldn't include the interviews we'd done with players, managers, photographers and journalists. Concentrating on the fans eye view gives it a more certain narrative." The next stage is the digital distribution. "The whole point is that it is important for us to get as many views as possible. We are funded through the National Lottery Heritage Fund which means we don't have to sell it, we don't have to make money back from it. So anybody will be able to see it for free through the Push Up Brentford website."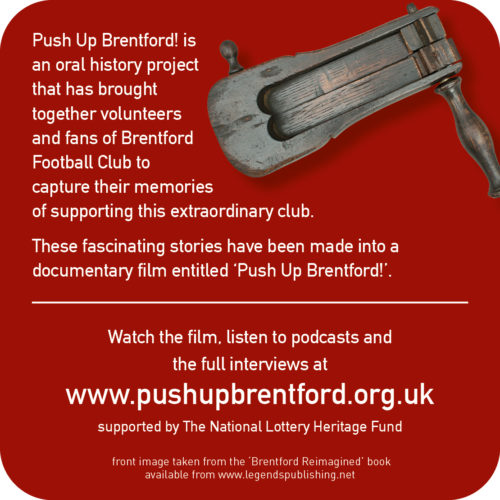 Looking back on the project Sav says the highlight was sitting and listening to people telling their stories. "I didn't really want to do this project to start with because I'm a Brentford fan and I just felt too close to the subject. Then people persuaded me and I thought 'OK lets do it'. Still I worried that I might get a bit bored because I'd heard all the stories. But it was never boring because everybody's viewpoint of the same issue, say Dave Webb or Ron Noades, was different, coming from a completely different angle. There were so many things I found interesting, for example the ins and outs of Bees United.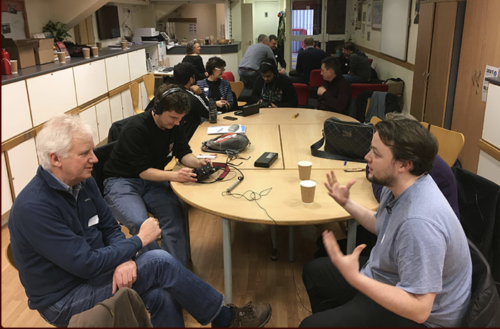 "The volunteers were brilliant. It's not my film, it's theirs. They came up with the themes and the questions to ask. Having some volunteers who were Brentford fans and mostly interested in the club but also other volunteers who were not fans and were more attracted by the social history made for a very good mix. The non-Brentford fans thought up some interesting questions and asked for interviewees such as Claire the Griffin landlady and Kenny who lived by the Braemar Road turnstile.
"Lockdown happening was a real pain because there were a few more interviews we wanted to get. For example Buzz Bee, I really wanted to get Buzz Bee. I know who he is and when we had a chat by email he was ready to do an interview in costume so you wouldn't know who he was. I was so looking forward to that but the COVID restrictions at the time meant I wasn't able to met up with him. I was really quite sad about that."